My daughter is obsessed with doughnuts at the moment.  For her birthday we gave her a doughnut maker wrapped in doughnut wrapping paper which she opened whilst wearing her doughnut pyjamas.  So of course she had to have a dairy free doughnut cake!  I had a busy baking weekend as we had a Halloween party to go to, so of course I made some of my Halloween gingerbread biscuits to take along with us and share!

You can customise this dairy free doughnut cake.  For example:
The cake could be plain sponge cake or any variation such as chocolate.
The dairy free buttercream can be made different flavours, e.g. vanilla, chocolate or strawberry.
Different colour icing and sprinkles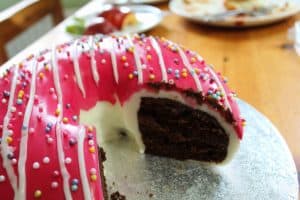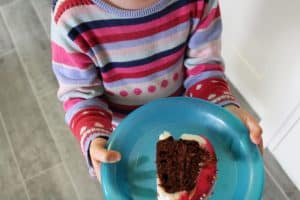 More Celebration Cake Ideas
If you like this, you might also like these dairy free celebration cake recipes:

Cake
For my dairy free doughnut cake I followed a recipe from Coeliac UK, using dairy-free spread instead of butter. I also doubled the recipe to make a nice fat round doughnut.  It's a moist cake, not too delicate so can handle being decorated, and keeps well.  Top tip: this cake mix is very thick.  When you put it into the tin, you will need to spread it with the back of a spoon.  Press down around the edges to exaggerate the dome at the top.  This will make it easier later on as you won't need to do as much carving to create the doughnut shape.
If you need an egg free cake, I'd suggest trying Crazy Cake from Sweet Little Bluebird (which can be made gluten free) or the only vegan chocolate cake recipe you'll ever need by Free From Farmhouse (not gluten free).
Or if you're a cake mix kind of person, I'd highly recommend Mrs O's Fuss Free Cake Mixes.  I've used her gluten and egg free vanilla cake mix in the past and it tastes really good.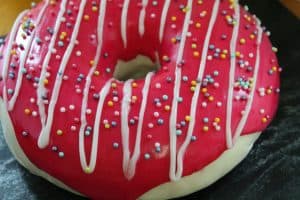 Buttercream
Buttercream: I made dairy-free chocolate buttercream following a recipe from Charlotte's Lively Kitchen.  I didn't have any Stork baking block (which is dairy free) so I just used more dairy free spread, which worked fine.  You could also cheat and use Betty Crocker vanilla buttercream style icing or chocolate fudge icing, both of which are dairy, egg, wheat and soya free!
Fondant
I used 1kg Renshaw fondant icing in champagne and 250g pink fondant icing.
Drizzle
I used a tube of white designer icing from Sainsbury's as I happened to have some in the cupboard.  You could just mix icing sugar and water and use a piping bag or drizzle with a spoon.

Sprinkles
Look for LARGE sprinkles so that they look in proportion to the rest of the cake.  Just brush the iced cake with a little bit of water to get them to stick.
To put my dairy free doughnut cake together I used this tutorial on YouTube.  I didn't do the shiny glaze at the end.
Here's my finished dairy free doughnut cake, complete with candles, ready to go!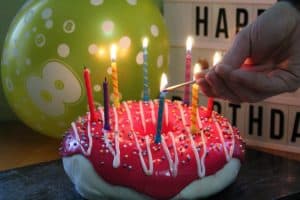 Like this? Subscribe now to get all my latest recipes and blog posts direct to your inbox!