Today's guest post is written by Conrad and Uzma. They are excited to bring you this fantastic recipe for tomato free meatball pasta to share! Tomato is the base for so many sauces, especially pasta sauce! It can be difficult to avoid, but here's a great alternative they've created for those with tomato allergy.
Jump to Recipe
Are you a tomato allergy sufferer? I bet you thought you'd never be able to eat a rich tomatoey Bolognese style sauce. Well, here's a real treat that is guaranteed to bring a smile to your face!
Living with Tomato Allergy
Tomato Allergy is unusual, but more common than you might think.
As a family full of allergy sufferers including tomato, dairy, and potato, we know only too well how difficult it can be to feed everyone safely on a restricted diet. Even now we still get caught out every now and then. Just recently, a well-known brand of dairy free cheese gave our son an upset tummy. We e-mailed the company, only to discover that the cheese is made with potato (not listed on the ingredients!).
Cooking Tomato Free
I personally suffered from tomato allergy from a very young age and learned to avoid anything containing tomato.  Just by getting a drop of tomato juice on my skin, I can end up looking like I've been in a fight!  When I discovered my daughter also had the same issues with tomato, I decided to investigate a way of emulating the tomato taste and texture using other vegetables.  I had searched in the supermarkets and online for a product that would do the job. But I couldn't find anything at the time, so decided to have a go at making my own. After several months of dabbling and tweaking, Ally's Tomato Free Sauce was created! Finally, she did not have to avoid all those wonderful foods such as pizza, lasagne or even plain old baked beans, that I had missed out on for most of my life.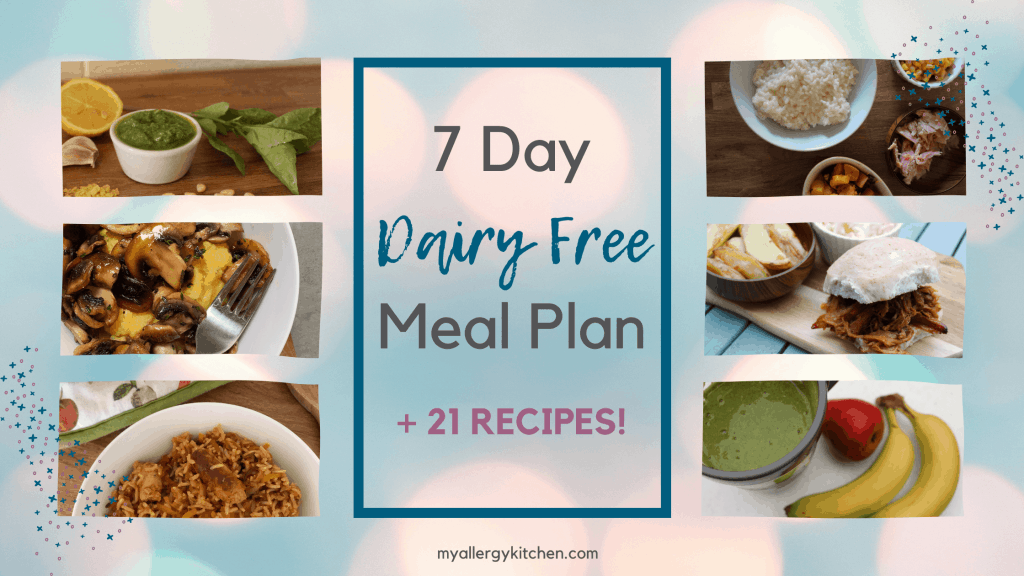 Tomato Freedom!
We use our sauce as a direct replacement for tomatoes. We also use unsweetened soya alternatives to dairy in all our cooking (the sweetened soya milk tastes a bit like ice-cream so probably not the best idea if you are making a white pasta sauce). It is so liberating being able to eat home-made pizza with our ketchup as a tomato replacement (that my kids love making). I remember the first time we made Spaghetti Bolognese with the sauce and I literally sat laughing whilst eating, with a big silly grin on my face. And from there we went on to make this tomato free meatball pasta, and many more recipes! Funny how something so simple can have such a huge impact on your life.
The great news is Ally's Tomato Free sauce and ketchup are now available in the UK via TomatoFree.co.uk. Get an EXCLUSIVE 10% off with the code 'MAK10' at checkout.
We hope you enjoy making and eating this meal as much as we do! Thanks for reading! The Browns.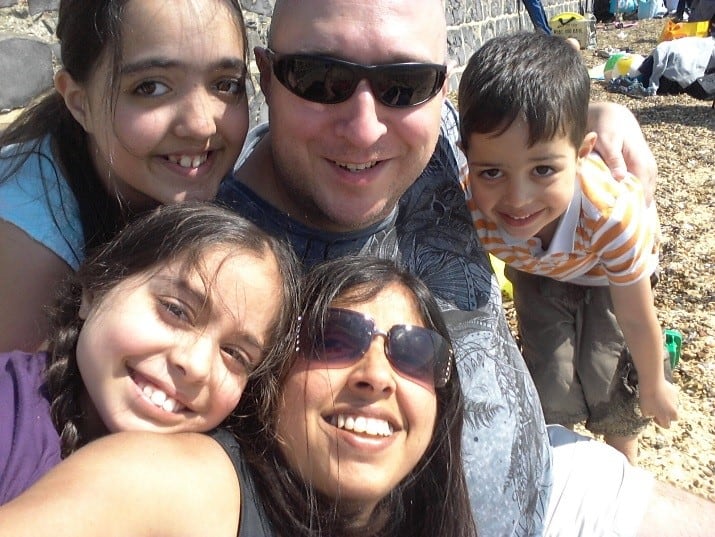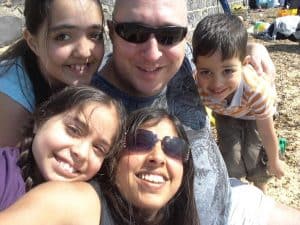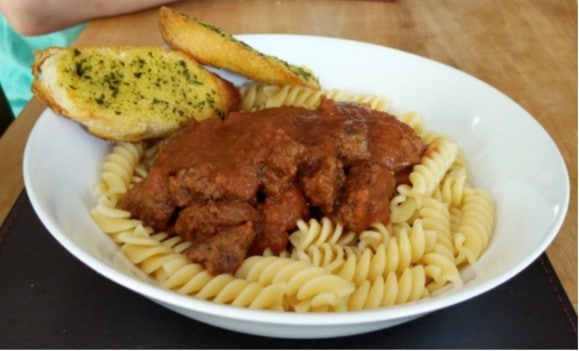 Tomato Free Meatball Pasta with Garlic Bread
Ingredients
For the Meatball Pasta
1-2

jars

Ally's Tomato Free Sauce

½

pint

vegetable stock

1

onion

finely chopped

2

cloves

garlic

finely chopped

12

beef meatballs (or vegetarian alternative)

3

cups

dried fusilli pasta

olive oil

fine sea salt and pepper for seasoning
For the Garlic Bread
1

part baked baguette (can be found in most supermarkets)

2

teaspoon

garlic granules

2

teaspoon

dried basil or parsley

4

tablespoon

dairy free spread

drizzle

olive oil
Instructions
For the Meatballs
Add the finely chopped onions, garlic and your favourite meatballs (or even some beef burgers that have been cut into quarters if you are out of meatballs!) to a pan with a little olive oil over a medium flame and keep moving it all around until the onions are sizzling and soft and the meatballs have browned.

Add the jar of Ally's Tomato Free Sauce and the vegetable stock and simmer for 15 minutes, stirring occasionally.  Add a little salt and pepper to taste.

If you are making this meal for your family, you may cut the meatballs up into quarters, so the kids think they are getting more ?.
For the Pasta
Boil a large pan of water. Add a good pinch of sea salt.

Add the pasta to the pan and bring back to the boil, then turn down the heat to simmer for around 10 minutes, stirring occasionally.

Taste the pasta to see if it is cooked – it should be soft with just a slight bite. Once cooked, drain well, then add a drizzle of olive oil to help the pasta from sticking together.
For the Garlic Bread
Slice the part-baked baguette at an angle to fill a large baking tray.

Melt the butter and thoroughly mix in the garlic granules and dried herbs.

Spread about a tablespoon of the melted garlic butter to each slice of bread in the baking tray – You can use a tablespoon to pour it on, then use the back of the spoon to spread it evenly across the slice. Try to give each slice a good coverage and then drizzle olive oil over the top. 

Bake in a preheated oven at 220 degrees for ten minutes until the edges have turned golden but the centre is still soft (or leave alittle longer if you prefer it crunchy).
Check out more recipes in my Dairy Free Recipe Archive!