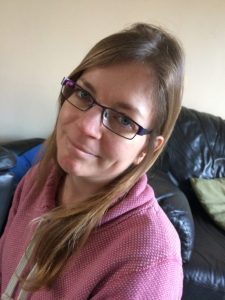 Hello, thanks so much for visiting my blog.  Here's my story:
In 2014 my youngest daughter was born and within just a few weeks we found that she was allergic to cow's milk.  By the time she was one year old we discovered that she actually had multiple food allergies – dairy, soya, wheat, oats, egg and peas, beans and pulses.  Now she is 4 and, following the guidance of her paediatrician and dietician, we have successfully managed to reintroduce some foods, so we are down to just dairy and soya allergies.
Meanwhile, my husband and eldest daughter have IBS and they have been put on the low-FODMAPs diet by our GP to manage their symptoms.  I have spent hours trawling the web for information about food allergies, IBS, nutrition, exclusion diets, and the latest research on allergies.  I've worked hard to come up with recipes that my whole family can enjoy, and develop a meal plan that means I can get breakfast, lunch and dinner on the table every day without having a nervous breakdown.
My aim with my blog is to share what I've learned with other people who are struggling with this issue themselves, to raise awareness of food allergies and intolerances and how it affects day to day life, and to provide allergy-friendly recipes that are suitable for the whole family and taste good enough to eat even if you don't have any allergies.  I also write about other related issues like pregnancy and breastfeeding, weaning, and the latest research into allergies.
On this blog you will find recipes that are gluten-free, dairy-free, soya-free and egg-free.  Many of them are also suitable if you are vegetarian or vegan, or following a 'clean eating', 'real food' or 'paleo' diet (a diet which is naturally gluten-, dairy- and soya-free).  As a busy mum of two, I try to make sure my recipes are quick and easy to prepare, or can be prepared ahead of time, and don't use too many expensive ingredients.  Most of my recipes are based around meat, fish, vegetables, fruit, nuts, seeds, herbs, spices and healthy fats.
I hope you like what you find here.  I'd love to hear from you so please get in touch, either by leaving a comment or via social media – Instagram, Facebook, Twitter and Pinterest..