[AD - This post contains affiliate links from which I may earn a commission if you make a purchase. As an Amazon Associate I earn from qualifying purchases]
In the early days of living with my daughter's food allergies, I used to pride myself on cooking everything from scratch. It was as if I was on some sort of noble struggle, a way of sticking two fingers up to the universe. Going to make it impossible for me to cook yummy things are you? Well I'll show you!
However, we are now 6 years in to living with allergies and my medal has not arrived, no statue has been erected, and I'm a bit fed up of spending all my life in the kitchen. Now I want shortcuts, I want easy, AND I want delicious - as well as being allergy friendly. So if you're like me, and you want a mouthwatering, decadent cake with a minimum of fuss, you'll love this amazingly easy dairy free chocolate explosion cake!
Jump to:
No More Missing Out
If someone in your family has food allergies/intolerances or other special diet, then you'll know that it doesn't just affect the individual - it has a wider impact on the whole family. It affects mealtimes, the selection of snacks available in the home, the choice of restaurants when eating out. There is a constant balance between not wanting the person with allergies to feel left out, but without everyone else missing out too.
This year, my older daughter asked for a chocolate explosion cake for her birthday. This presents a challenge because my younger daughter is allergic to both dairy and soya - ingredients that are found in almost all chocolate. Soya is even found in most 'free from' chocolate and is particularly tricky to avoid.
However, I am one determined mama and I was on a quest to ensure my older daughter got her birthday wish, while still being allergy friendly for my younger daughter. It's not much of a birthday treat if you have to leave your little sister out, is it?!
So was I successful? Well, you can judge for yourself: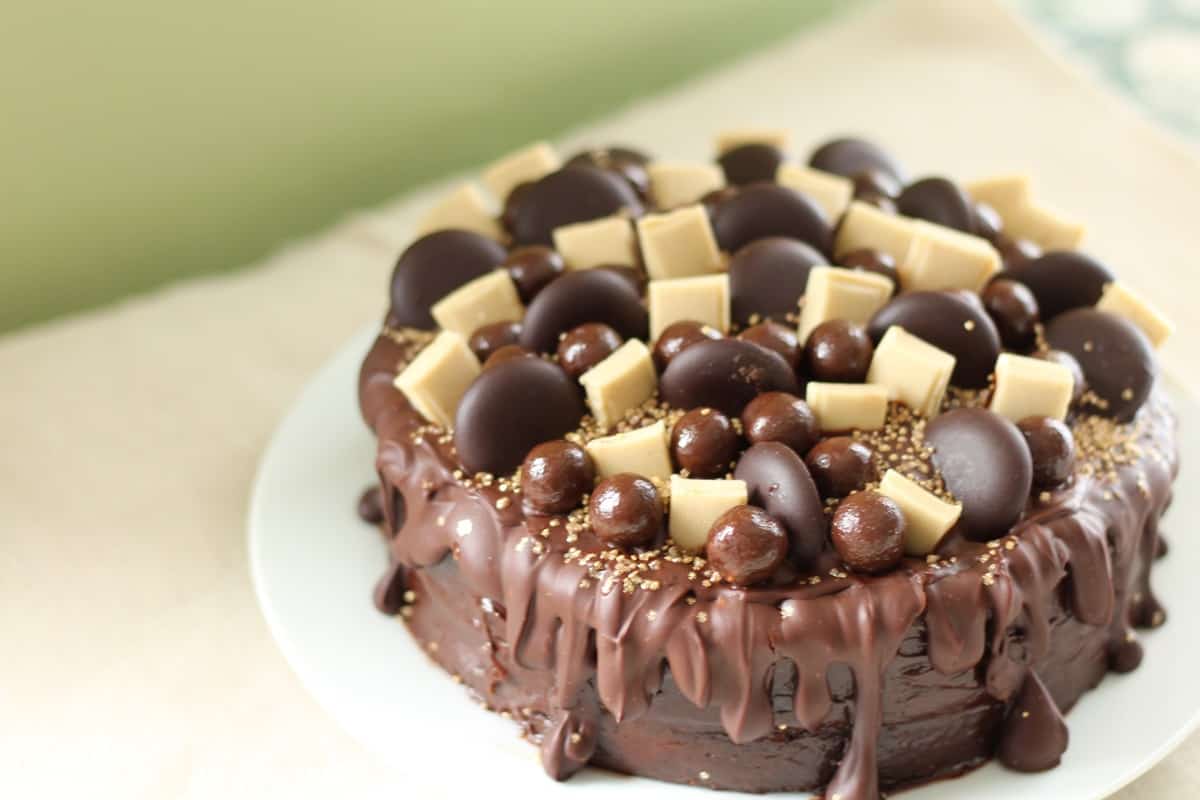 What You Need
Everything you need to make this cake is free from dairy and soya by ingredients. However, some of them are listed as 'may contains' for dairy and soya - this is ok for us but may not be safe for everyone. Please check that products are suitable for your own dietary needs.
Many of these products can be picked up at the supermarket, or you can buy online using the links below.
This dairy free chocolate explosion cake includes the following elements:
You'll also need 2 x 20cm round cake tins to bake the cake in.
To make the cake, start by making the chocolate cake according to the packet instructions. Once it is baked and cooled, you can spread the chocolate icing over the top. Then, melt the ganache ingredients together and drip down the sides of the cake with a spoon. Spread any remaining ganache over the top.
Next, add the chocolate buttons, white chocolate and Gnawbles on top of the ganache. Carefully press them down into the cake if necessary to make them stand up. Finally, sprinkle the gold glimmer sugar over the top and leave the ganache to set before serving.
Jump to Recipe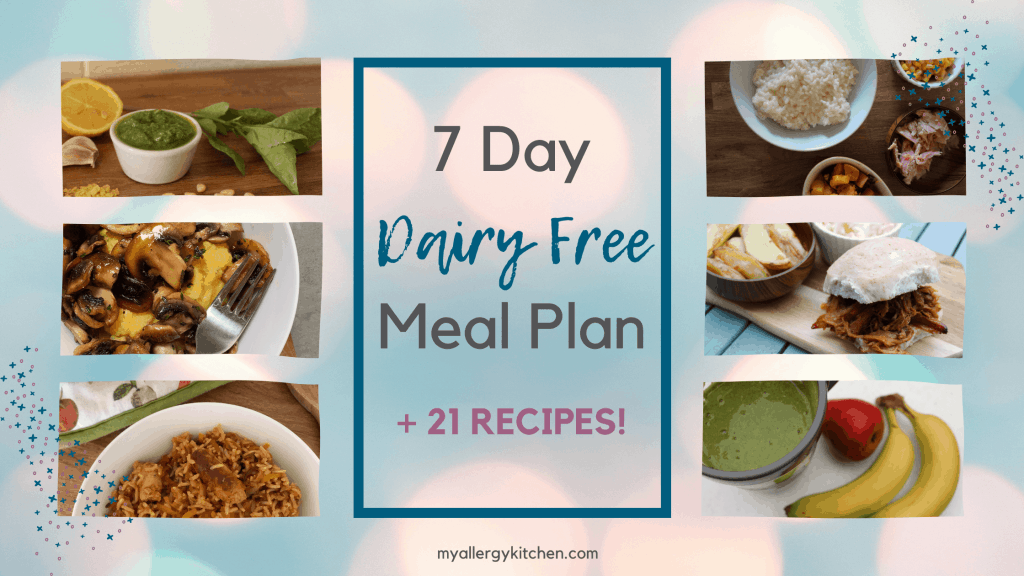 Adaptations for Other Allergies/Special Diets
Want to make this for other special diets? Here's how:
Vegan/Egg Free
For an egg free and vegan version of this cake, you can make the Betty Crocker cake using your favourite egg replacer. Betty Crocker and PETA suggest the following options: applesauce, bananas, flaxseed, instant mashed potato or diet fizzy drinks.
To the best of my knowledge, all the other products used to make and decorate this cake do not contain egg or any animal products in the ingredients, and should be suitable for vegans (please check labels to be sure).
Gluten Free
To make this cake gluten free, try Creative Nature Cacao Rich Chocolate Cake Baking Mix (save 10% with code MYALLERGYKITCHEN10) which is free from all top 14 allergens. Just add any milk/milk alternative plus oil. The other products used to make this cake are gluten free to the best of my knowledge (please check labels to be sure).
More Celebration Cake Ideas
If you like this, you might also like these dairy free celebration cake recipes:
Here's the full recipe: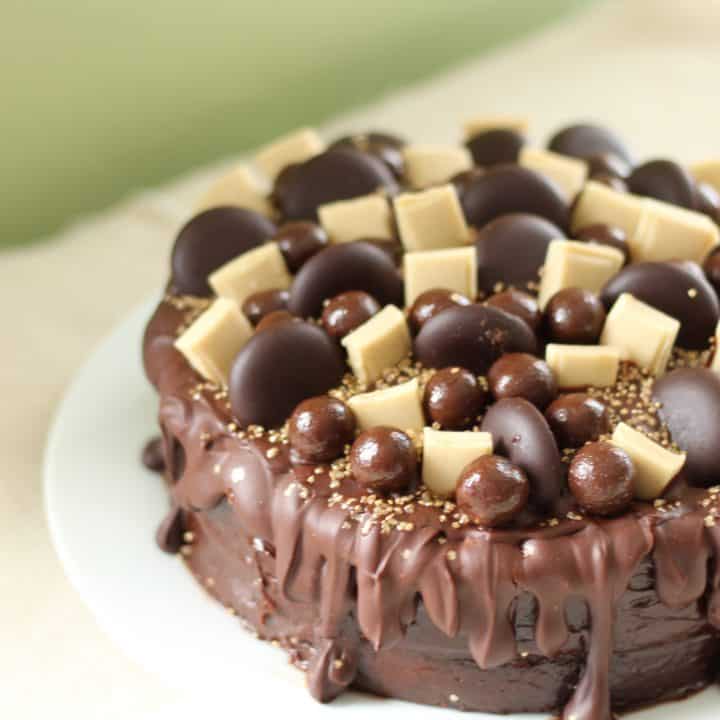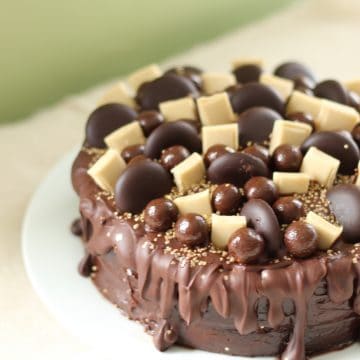 Easy Dairy Free Chocolate Explosion Cake Recipe
Ingredients
For the cake
425

g

pack Betty Crocker Tempting Chocolate Cake mix

125

ml

vegetable oil

230

ml

water

3

medium free range eggs

400

g

Betty Crocker Tempting Chocolate Icing
For the chocolate drip ganache
1

cup

oat cream

100

g

Lindt 70% dark chocolate

85

g

Nomo creamy chocolate bar
For decorating
96

g

Enjoy giant chocolate buttons

80

g

Vivani iChoc 'Feel Free' white chocolate bar

broken into squares

30

g

Creamy Mylk Chocolate Gnawbles

1-2

tablespoon

gold glimmer sugar
Instructions
Preheat your oven to 180C/160C fan/Gas Mark 4. Grease 2 x 20cm cake tins.

Mix togther the cake mix, vegetable oil, water and eggs for 2-3 minutes until smooth and creamy. This can be done by hand or with an electric mixer.

Divide the mixture evenly between the two cake tins. Bake for around 25 minutes, or until a cocktail stick inserted into the centre of the cake comes out clean. Remove from the oven. Take the cakes out of their tins and allow to cool completely on a wire rack.

Once cool, sandwich the two cakes together and cover with Betty Crocker Tempting Chocolate Icing.

To make the ganache, place the oat cream and chocolate in a saucepan over a low heat. Cook until the chocolate has completely melted and the mixture is well combined, stirring frequently. Remove from the heat.

To check the ganache is the right consistency to make the drip topping, drip a spoonful down the side of your bowl. Allow the ganache to cool until it is the consistency you want. [Note: I made my ganache in advance and stored it in the fridge, then re-warmed it in the microwave when I was ready to make the drip topping. This made it easier to get the correct consistency].

Drip spoonfuls of ganache down the sides of the cake, forming a ring all the way around the top of the cake. Spread any remaining ganache over the top of the cake. Push your chocolate buttons, white chocolate pieces and Gnawbles into the ganache and down slightly into the cake if needed. Sprinkle with gold glimmer sugar.