Warning: Undefined array key "HTTP_ACCEPT" in /customers/7/a/b/myallergykitchen.com/httpd.www/wp-content/plugins/gourmet-ads/Classes/GA_VAST_Mobile_Detect.php on line 18
Why is chocolate and orange such a heavenly combination of flavours?  This decadent chocolate orange drizzle cake will wow your friends, and they won't even notice it's gluten and dairy free!  It looks impressive but it's actually very easy to make.  A soft, moist loaf cake is a classic recipe, but adding orange drizzle and melted chocolate on top takes it to another level.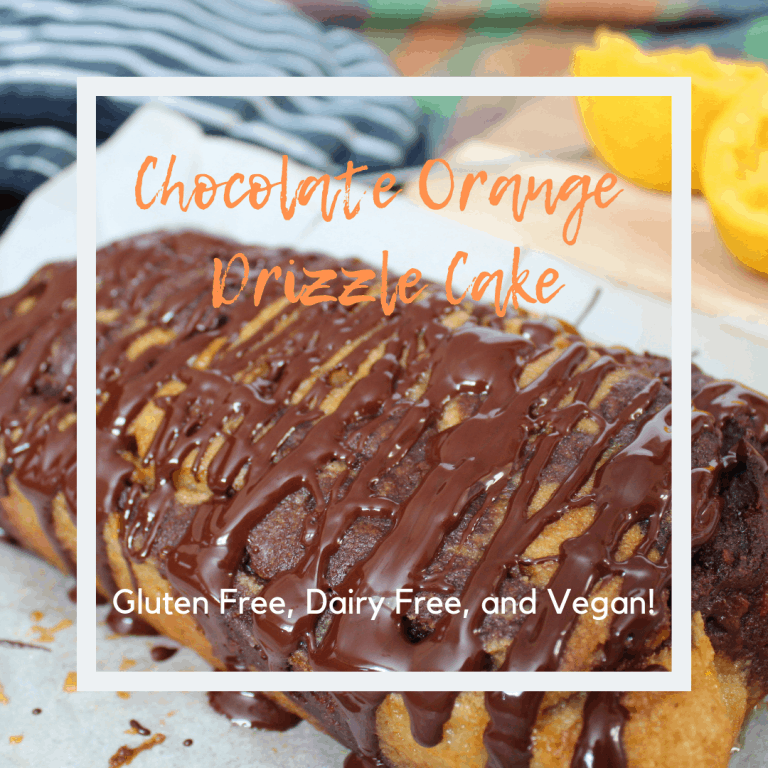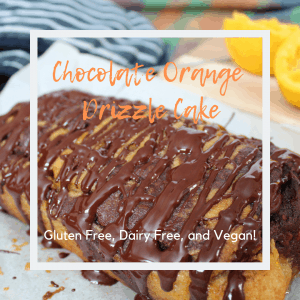 I was inspired to create this recipe after watching Ruth Davidson make one on Celebrity Great British Bake Off 2018.  It looked so delicious, I just had to make a gluten and dairy free version.  That was back in March and I have made it a few times, just to make sure the recipe is absolutely perfect.  Since then, I've developed a vegan version too.  I've even made it for a school cake sale - I was rather disappointed as it sold out and I didn't get to eat any of my own cake!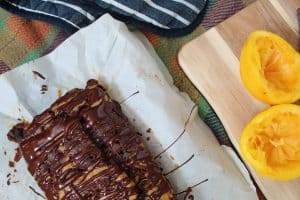 This decadent, indulgent cake is a great treat to bring to coffee with friends or family parties, especially if you are baking for a crowd with a range special dietary needs.  This is an inclusive recipe that will suit lots of different allergies, intolerances, or dietary preferances, but tastes so yummy you can serve it to everyone.  Just don't count on having any leftovers afterwards!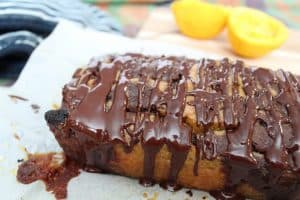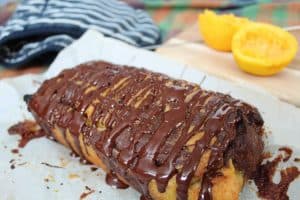 More Celebration Ideas
If you like this, you might also like these dairy free cake/dessert recipes: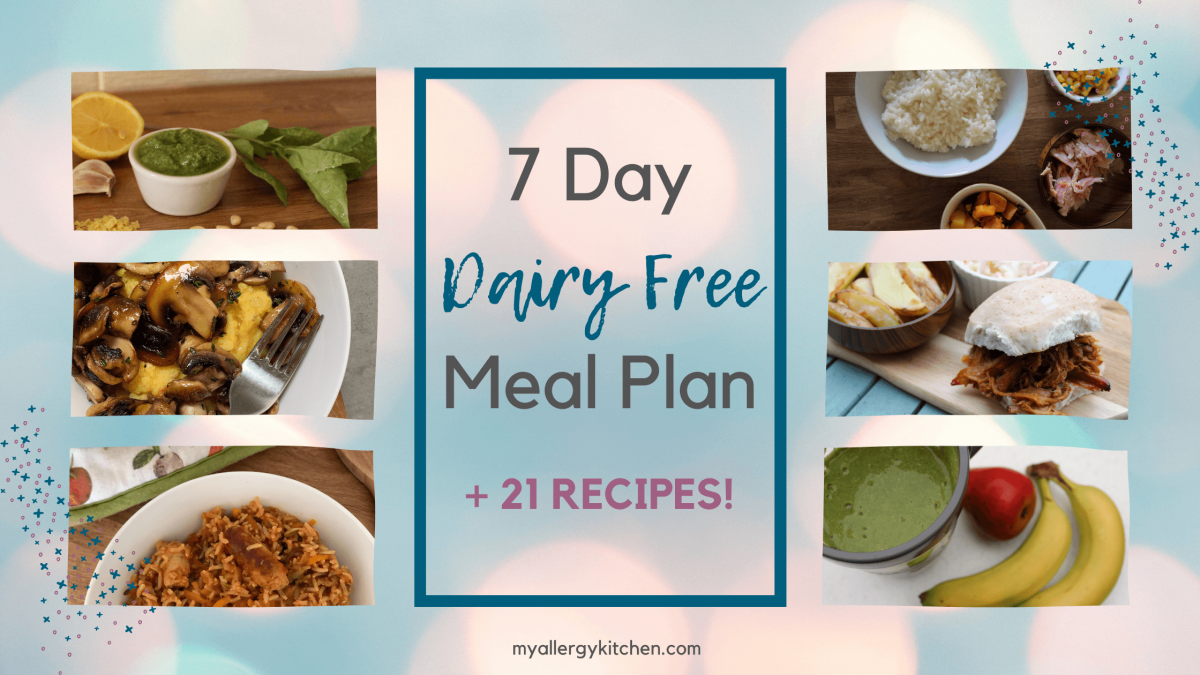 How To Make Chocolate Orange Drizzle Cake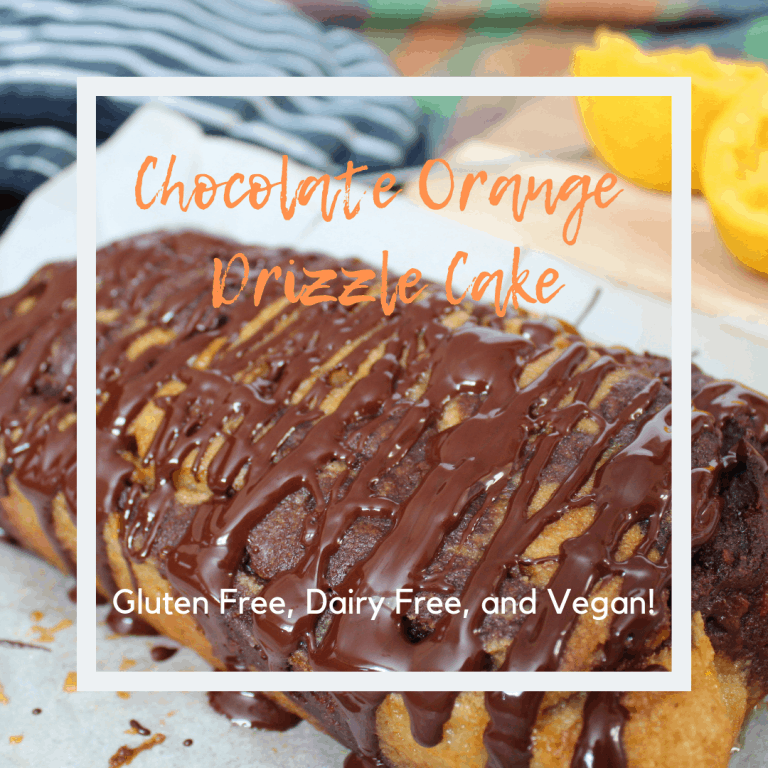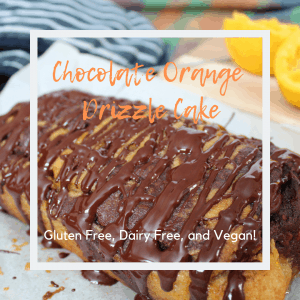 Chocolate Orange Drizzle Cake
Ingredients
For the cake:

225

g

dairy free spread

plus extra for greasing

225

g

caster sugar

225

g

gluten free self-raising flour

8

teaspoon

Orgran egg replacer + 8 tablespoon water

or 4 large eggs, beaten

1

tablespoon

dairy free milk alternative

3

tablespoon

cocoa powder

sifted

1

large orange

zest and 1 tablespoon orange juice

For the drizzle:

75

g

golden caster sugar

Juice of 1 orange

less 1 tbsp

For the topping:

50

g

dairy free dark chocolate
Instructions
Preheat the oven to 180C/fan 160C/gas 4. Grease and line a 2lb loaf tin with baking parchment.

For egg-free version, mix together 8 teaspoon Orgran egg replacer with 8 tablespoon water. Whisk well to get rid of any lumps.

In a large bowl, mix together the dairy free spread (225g), caster sugar (225g), eggs or egg replacer and flour (225g). Beat until creamy and smooth. Put half the cake mixture into another bowl.

In one bowl, mix in the dairy free milk (1 tbsp), followed by the cocoa powder (3 tbsp).

In the other bowl, mix in the orange juice (1 tbsp) and zest.

Put spoonfuls of cake mixture into the tin, alternating between the two flavours. Swirl a skewer through the mixture to create a marble effect. Smooth the top of the cake with the back of a spoon, if needed.

Bake in the oven for 45 - 55 mins, until a skewer or cocktail stick inserted into the middle of the cake comes out clean.

Allow the cake to cool in the tin while you prepare the drizzle. Mix the sugar (75g) and orange juice in a small bowl. Prick the top of the cake all over with a fork or skewer. Pour over the drizzle mixture. This will soak into the cake and form a sugary crust on the top as it dries.

Finally, break the dairy free dark chocolate pieces and melt in a microwaveable bowl or in a saucepan. Remove the cake from the tin and use a spoon to drizzle the chocolate on top.

Leave to cool completely before serving, so that the orange drizzle and chocolate topping can set.
Like this? Subscribe now to get my monthly newsletter direct to your inbox!