As an Amazon Associate I earn from qualifying purchases.
This blog post contains affiliate links from which I may earn a commission.
Did you know one in five children in the UK suffer from childhood eczema? That's six children in every school classroom! My eldest daughter developed childhood eczema from around 8 months old. She is now nearly 10. We've tried lots of different eczema remedies over the years, and I wanted to share what works (and what doesn't!)
Fortunately, we have come a long way on our eczema journey. When she was younger, she would get bad flare ups, especially in the summer. Suddenly the eczema would spread, with red, itchy, scaly skin covering her legs, arms, torso and face. The doctors could only offer us a reigime of thick, sticky ointments to moisturise and steroids to calm down the inflammation. Eventually we reached a point where she was starting to need stronger and stronger steroids to take control of the flare ups, and I decided enough was enough.
Over the past year we have worked really hard to understand the underlying causes of eczema, and heal my daughter's skin. Happily, we have had great success and no longer use any prescribed emollients or steroids. Although the eczema hasn't completely disappeared, she now only has a couple of small patches that rarely flare up. Thankfully, we can manage this just using natural remedies.
What is Childhood Eczema?
Eczema is part of a group of related health issues known as 'atopy'. This family of conditions includes eczema, asthma and allergies - including food allergies, hayfever, pet allergies and so on. These tend to run in families. So if you have any of these conditions, there's a higher chance that your kids will get at least one of them too. It's very common for children to have all three of these atopic diseases together.
If your child suffers with childhood eczema, they will have red, dry itchy skin. Eczema is actually thought to be a lifelong condition that comes and goes. This means your child may appear to outgrow their eczema as they get older, but it is likely that it will return in later life.
How is Childhood Eczema Treated?
The conventional treatment for eczema is (1) to moisturise the skin regularly to reduce flare-ups and (2) to use steroids to treat flare ups. You should also avoid using soaps or bubble bath for washing as these can dry out the skin and irritate it. Instead, you should use products especially designed for sensitive skin or eczema.
However, moisturisers and steroids only deal with the surface-level symptoms, and don't tackle the underling causes of eczema. Now, for many children, that's just fine, and they will be happy with the level of relief they get from using their creams. But for some kids, it's like pouring water into a volcano - it might seem to temporarily 'cool things down' at the surface, but there's still something else going on underneath, and so the eczema just keeps coming back. For other kids, having to apply sticky ointment multiple times a day might seem even worse than the eczema itself! Or you may even find that the creams don't really make that much difference, no matter how religiously you use them.
An Holistic View of Eczema
Conventional medicine hasn't really got to grips with the underlying causes of eczema yet. Our best understanding actually comes from holistic medicine. The holistic view of eczema is that it is a sign that something inside the body is not functioning as well as it should. This causes inflammation in the body, which shows up in some people as eczema. It could be a problem with digesting food, absorbing nutrients, transporting those nutrients around the body and utilising them, eliminating waste from the body, or a combination of these. So, if your child has eczema, you don't just need to think abour their skin, you need to think about healing from the inside out.
Treating Childhood Eczema Naturally
If your little one is suffering with childhood eczema there is plenty that you can do to help them. Here are some of the tips and tricks we have found most helpful.
1. Know Your Triggers
Personally, I find it much easier to manage my daughter's eczema by preventing a flare up rather than treating one. Knowing what triggers a flare up for your child can empower you. But be prepared that this can take a little bit of detective work, because everyone's eczema triggers are different.
Common triggers include:
Soap, shampoo and detergent
Chemicals in cleaning products, air fresheners, toiletries etc
Heat
Sweat
Sunscreen
Allergies - including environmental allergies, pet allergies and food allergies
Synthetic fabrics
Stress
Dry air (e.g. from central heating in winter)
Dribble (e.g. in teething babies)
2. Diet
We know that food allergies can sometimes be a trigger for eczema. Removing known allergens from your child's diet can sometimes stop eczema entirely! If you suspect that this is the case, please speak to a health professional for help getting a formal diagnosis.
But even if food allergies are not an issue, diet can still play an enormous part in your child's eczema. I'd say sorting out my daughter's diet has made the biggest impact on her eczema, out of all the things we've tried.
As I mentioned before, we can look at eczema as a sign that something in the body is not working as well as it should be. What you eat can either give your body the nutrients and energy it needs to work effectively and heal - or it can create even more work for your body to do.
Standard Western diets include a lot of processed foods, sugar, dairy, grains and meat. These are all foods that are hard work for your body to break down and deal with. On the other hand, fresh, raw foods such as fruit and vegetables are easy for your body to digest and will give you all the energy and nutrients you need to function well.
Please don't misunderstand me - I am not recommending a strictly raw vegan diet! Of course, if you want to try that then go for it! Personally, I feel that although it might work to heal eczema very quickly, it would be super tough to stick to! Instead, think about ways you can increase the amount of fruits and vegetables in your child's diet. For example, try to add an extra portion of fruit/veg to every meal. If your child is hungry in between meals, offer them an apple or a carrot as a snack first, instead of crisps or biscuits. Of course, they can eat the crisps or biscuits later if they are still hungry - just make raw fruit and veg top of the list.
If you want to understand more about the link between diet and eczema, and to get practical support in changing your child's diet, check out The Eczema Expert free Facebook group. The knowledge I have gained from this group has really shifted my perspective on diet and health for the whole family!
3. Bathing Routine
Some doctors will advise you to wash as little as possible if you have eczema, others will recommend daily baths. So experiment and find what works best for your child. Always use lukewarm water, as hot water can be irritating for eczema-prone skin.
Whatever washing routine suits your child, remember to always use eczema-friendly products. We always use Green People shampoo and Jason shower gel, because they are gentle on the skin.
That's not all! We also use some natural remedies at bathtimes that go even further to help nourish and detoxify the skin. Read on and I'll take you through each one.
4. Oat Baths
Oats have natural skin-soothing properties that are really beneficial for eczema. They are anti-inflammatory and moisturising. However, you don't have to dunk your kid in a bath of porridge to take advantage of this - or clean up the mess afterwards!
Simply cut up a pair of tights and add some plain old breakfast oats to make oaty 'tea-bags' that you can pop into your child's bath. We use one at every bath time instead of a prescribed bath emollient. Run it under the tap or swirl them around until the water turns milky white. My kids love doing this in the bath, they use it to make cups of 'tea' which they tip into the bathwater. Then just throw away the 'tea-bag' once you are done.
Alternatively you can buy specialist bath and shower products containing colloidal oatmeal, such as these ones from Aveeno:
5. Epsom Salts
Magnesium - it's an essential nutrient in the body and helps to calm inflammation. This makes it hugely important in the fight against eczema. Unfortunately, modern farming practices have depleted the levels of magnesium in the soil. As a result, our food contains much less magnesium than it used to, and so we can easily become deficient.
Epsom salts are magnesium sulfate and can be added to your bath. It's actually much easier for your body to absorb magnesium through the skin, rather than by taking supplements orally. We use Westlab Epsom salts in the bath twice a week, at the same time as our oaty tea bags.
My Itchy Little World has a great interview with a dermatologist that explains more about the link between magnesium and eczema and how to use Epsom salt baths.
6. Dead Sea Mineral Mud
This is literally mud taken from the Dead Sea. This mud contains very high levels of minerals, which help to nourish the skin and remove impurities. It's often used as a beauty treatment, but it's also a fabulous natural treatment for eczema.
Simply apply it to any areas of skin that are dry, inflamed, red or itchy and allow it to dry. It can feel tingly as it works its magic. Once dry, just rinse off in the bath or shower.
Just be warned, the mud is very black so I wouldn't try this with an active baby or toddler! But it works well with a slightly older child who might be happy to sit and listen to a story while it dries.
We use this Mystic Moments Dead Sea Mineral Mud - you only need a small amount each time so one packet will last months.
7. Coconut Oil
Moisturising is crucial for managing eczema. Over time, we have managed to wean my daughter off her yukky prescribed emollients. With her oat and Epsom salt baths and/or Dead Sea mineral mud, her skin is already pretty well moisturised when she gets out of the bath or shower. But on the odd occasion where her skin is bothering her, we top up her moisture levels with coconut oil. We also use coconut oil before wet wrapping (see below). You can get coconut oil from any supermarket - buy the best quality you can afford.
8. Wet Wrapping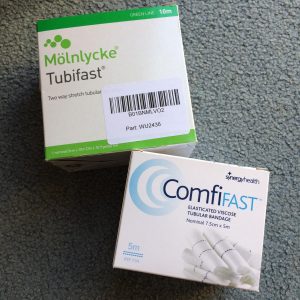 Wet wrapping is a simple technique for soothing itchy red eczema. Cool, wet bandages are applied to moisturised skin, with dry bandages over the top. You can leave the bandages on for a couple of hours. This helps the body to absorb the moisturiser even more effectively. It's also a great technique to use if your child's eczema flares up when the weather is hot as it cools the skin right down. These special bandages are tube shaped, so you put them on like a sleeve. We use the green one for arms and the blue one for legs.
9. Cotton Clothing and Bedding
Cotton is the best fabric for kids with eczema. It allows the skin to breathe and doesn't irritate it. Look for 100% cotton and avoid synthetic fabrics. We buy:
Bedding from Children's Rooms
Cotton-rich school uniform from Marks and Spencer - if you are super organised and buy it in June or July they usually give good discounts!
100% cotton school uniform and especially tights from Eco Outfitters.
10. Safe Cleaning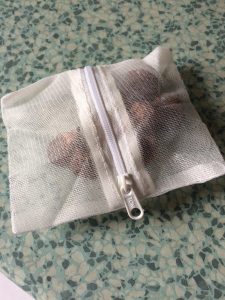 Firstly, for laundry you must use something suitable for sensitive skin. I swear by soap nuts - and for once this will actually save you money! A big bag of soap nuts costs around £14 and lasts for 300 washes. You put them in a little bag and pop them into the washing machine with the clothes. You don't need to use any fabric softener with these. I also use Ecozone stain remover which works really well for most stains (I do use Vanish as backup!). To clean the rest of the house I prefer Ecover products, which I have been using for years.
Every child is different so it can take time to work out what irritates your little one's eczema and what can help to soothe it.  Do you have any other self-help tips for eczema that I have missed?  Share in the comments below.