We have been to Center Parcs 5 times in the last 6 years! One of the reasons why we keep going back is that they are so good at handling food allergies. We have been to three different Center Parcs villages in the UK and they all have the same processes in place to help food allergy sufferers. Even when my daughter had 6 food allergies and I was breastfeeding without those allergens they were still able to cater for our needs. This summer (2019) we visited Center Parcs at Elveden Forest in Suffolk. Here's my review of visiting Center Parcs with food allergies.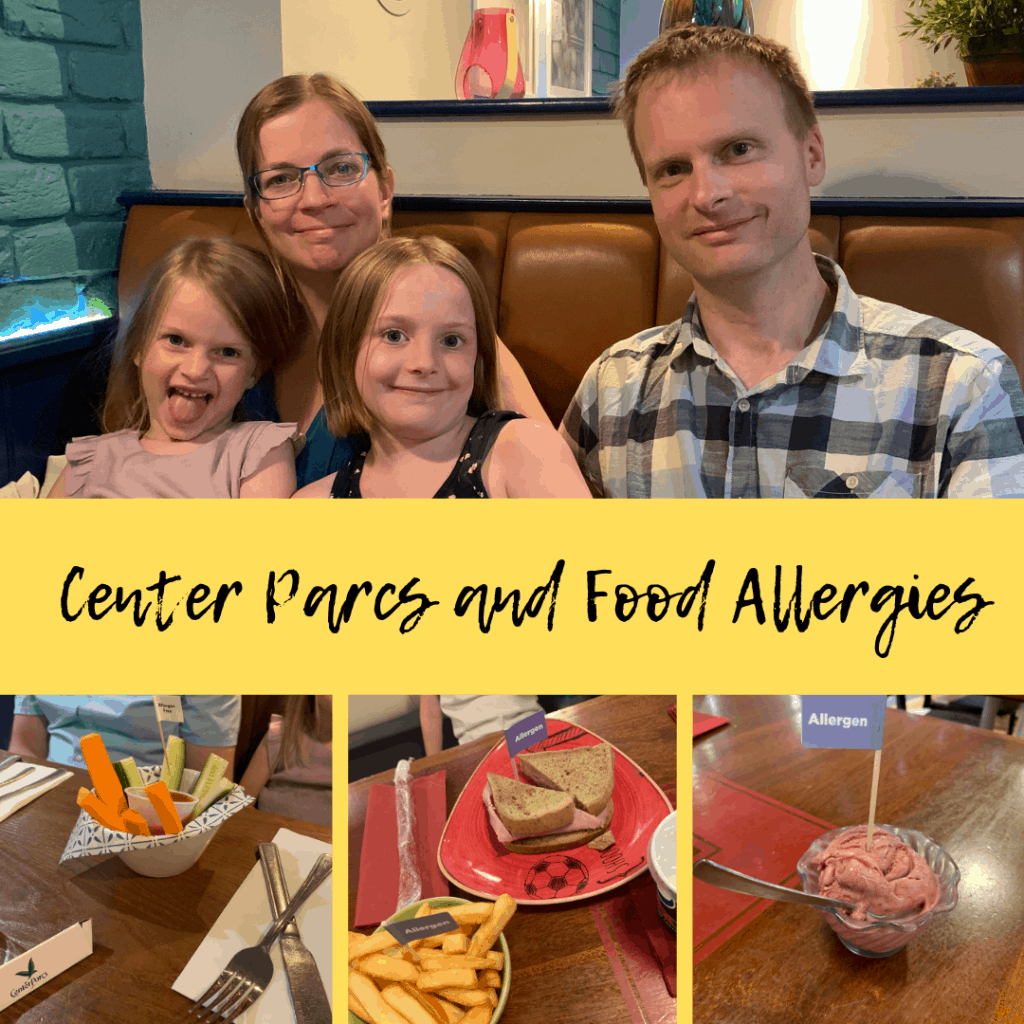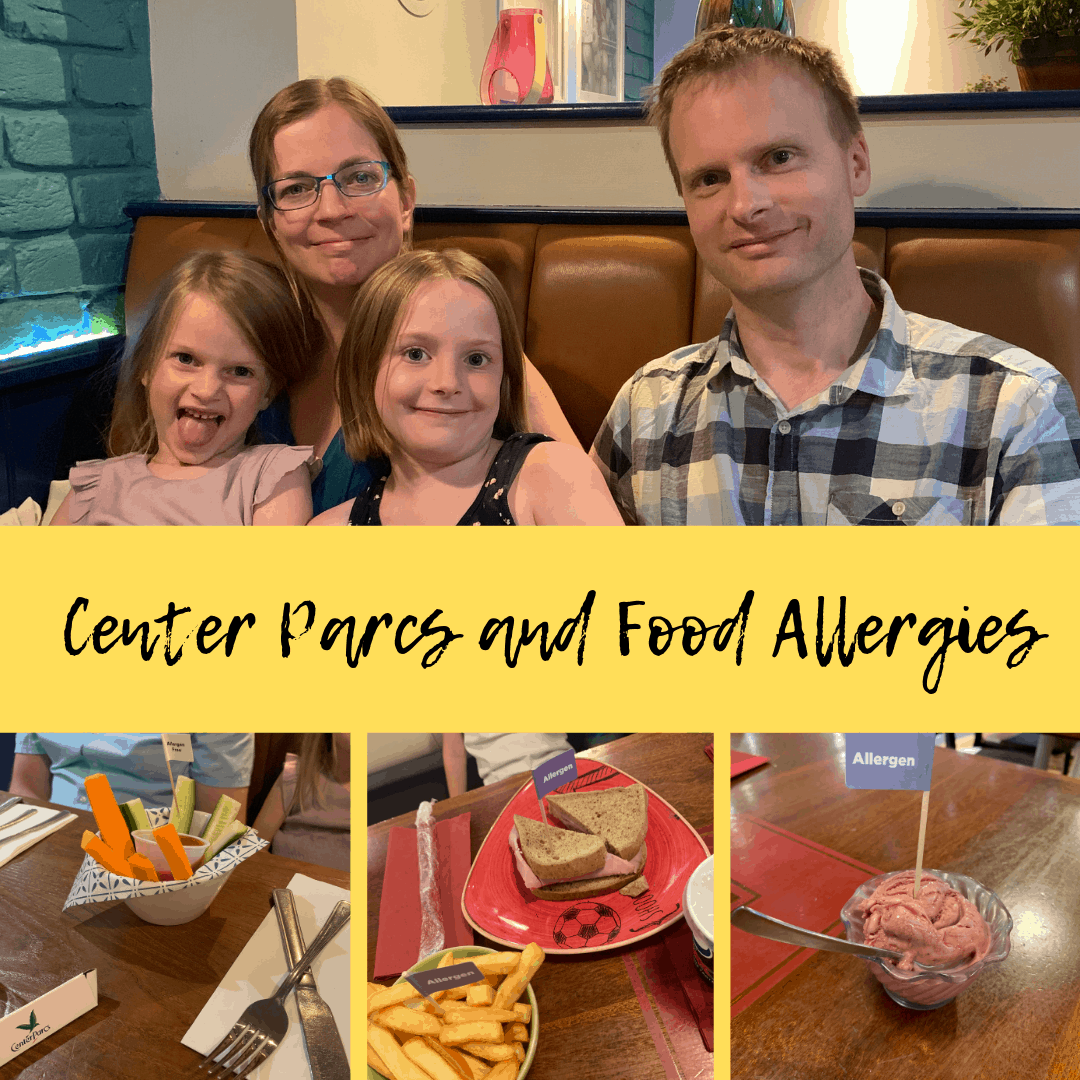 Center Parcs Accommodation
Center Parcs lodges are self-catering and come with a fully equipped kitchen. It has all the pots and pans, utensils, plates and equipment to cook your family's meals for the entire stay if you wanted to. It also has a fridge, oven, microwave, dishwasher, toaster, kettle and coffee machine. (Note: if you're gluten-free you may need to bring your own toaster to avoid cross contamination). The patio area also includes a brick-built disposable BBQ stand for al-fresco cooking!
Parcmarket
Center Parcs' own mini supermarket currently stocks Co-op foods as well as some local/independent products and familiar brands too. It is a small supermarket so it includes all the basics you need, including fresh fruit and veg, and it does have a free from section. However, due to the size it is only a limited range - and of course it has higher prices than your typical supermarket. So I'd recommend bringing plenty of food with you and just using the Parcmarket to top up during your stay.
Center Parcs Restaurants
For me, this is the biggest draw of Center Parcs as someone with a child with food allergies. They are so welcoming and friendly to people with food allergies and they are really working hard to put processes in place to make eating out a safe and enjoyable experience. And, guess what! They actually have not just one but several restaurants on site where you could happily eat out with allergies and intolerances!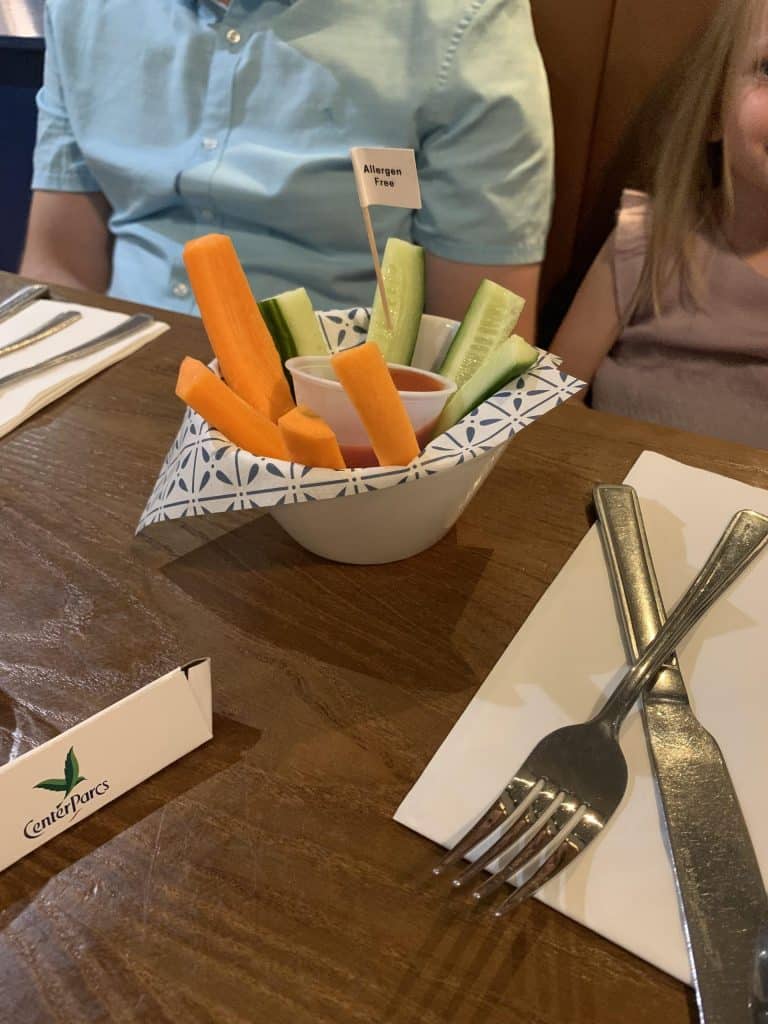 Their allergen menus are available online so you can browse in advance. They also have some chain restaurants and cafes like Bella Italia, Cafe Rouge and Starbucks which have their own allergen menus. In terms of what's on offer, we actually had a choice of what to order for my daughter! Many of the restaurants also offer a dairy free menu, gluten free menu, or vegan menu.
They have also put a lot of thought into what allergy customers need. The waiting staff always took details of my daughter's allergies and took her order first. My daughter was always brought her own cutlery wrapped in clingfilm to prevent cross-contamination. Plus her food always arrived with an allergen flag, which is reassuring to know that those in the kitchen are aware of the allergies.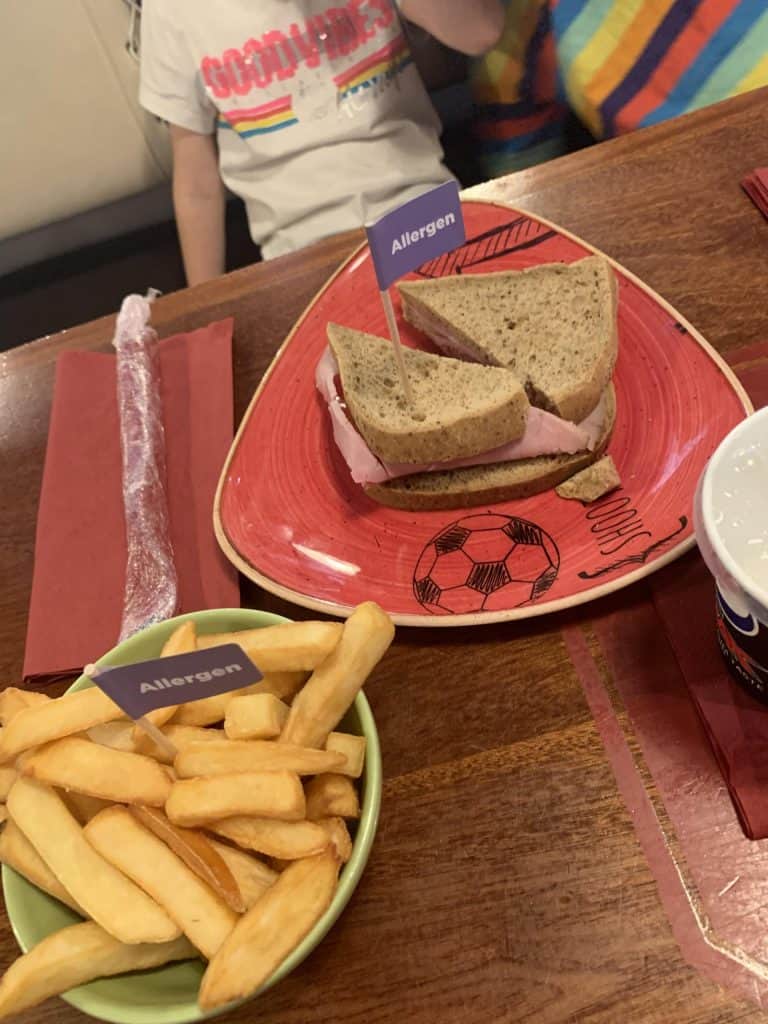 Mistakes
We did have one occasion where a mistake was made - my daughter's dessert was brought by a different waitress and didn't have an allergen flag in it. She had ordered dairy-free sorbet from the gelato cart at Bella Italia. A couple of hours later she did have diarrhoea, and again the following day. We suspect that the sorbet may have been served with a contaminated ice cream scoop. I am thankful that she only had a mild reaction, but I have emailed Bella Italia to let them know about it as for someone else this could be extremely dangerous. So if your food arrives without an allergen flag make sure you question it!
Book Ahead
Center Parcs restaurants do get very busy especially at peak times. As a result, I would always suggest booking in advance. Whenever possible, book at a quieter time so the staff are not too rushed. Alternatively the Sports Cafe doesn't take bookings so you can just turn up there, but again it does get busy at peak times.
Being able to eat out easily on holiday feels like such a treat. And actually it just felt like a normal family holiday. When we wanted to eat out, I didn't have to spend hours researching in advance or phoning ahead. The waiting staff were all very clued up about allergies. They were always happy to answer any questions or go and check ingredients in the kitchen. We ate out multiple times during our stay which is such a luxury for us these days. We don't tend to eat out much nowadays. Questioning waiters is a hassle and we are limited in which restaurants we can go to, so it gets a bit boring.
Takeaway
In addition to the restaurants, Center Parcs do also offer a takeaway option. Again, their allergen menu is online. We were able to order spaghetti bolognese for my daughter while we had a Chinese (a no-go for her because of soya). And the food came with an allergy safe sticker on the top, which is again very reassuring that those in the kitchen were aware of what I discussed over the phone when ordering.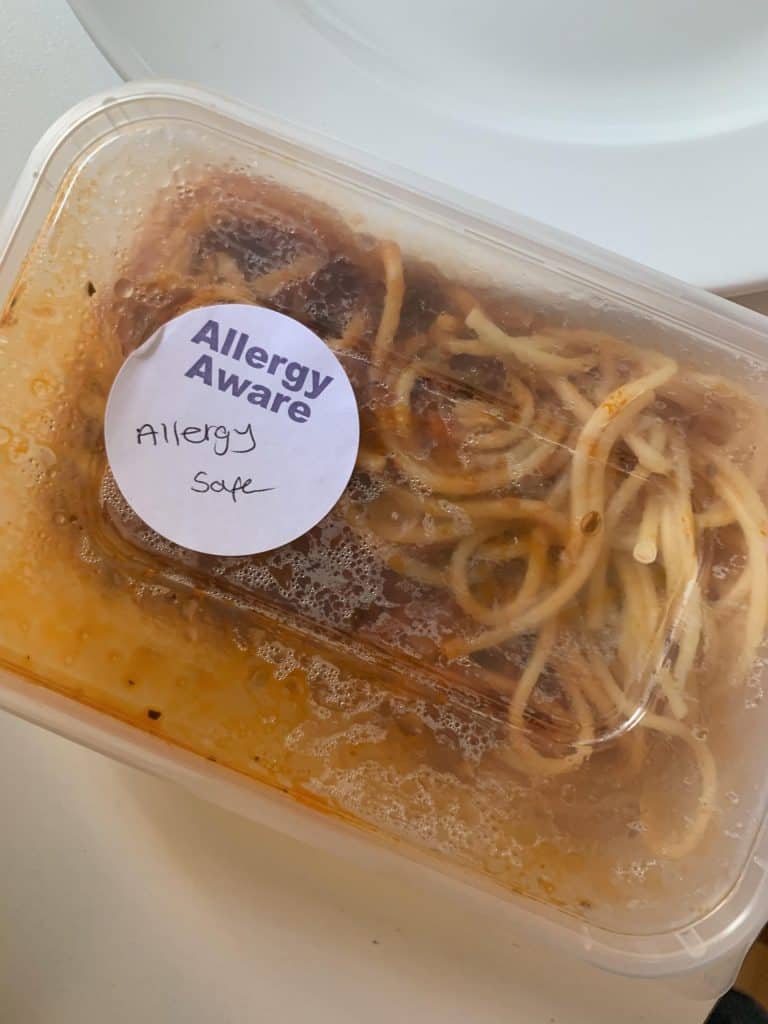 All in all, I would definitely recommend Center Parcs as a great holiday destination for food allergy sufferers. Are you a fan of Center Parcs? How has your experience been visiting Center Parcs with food allergies?