Treat Trunk is a healthy snack box subscription service for the whole family, delivered to your door every month. Containing a mixture of new and independent brands along with a few old favourites, all the snacks are vegan. This makes them perfect for those who need to avoid dairy and/or egg.
Plus, the snacks are carefully selected to include only those made with natural ingredients - no junk. Great to pop into lunchboxes, for after school, or just when you're out and about. As an allergy parent, you always gotta have snacks in your bag, right?
In addition, the box includes a couple of grown-up treats for parents. We often get so busy taking care of the kids, the house, and everything else, that we forget to look after ourselves. Having a healthy snack to hand is a great way to stop reaching for the biscuits!
[AD - AFFILIATE. This post contains affiliate links from which I may earn a commission.]
Jump to:
What Is A Treat Trunk?
Finding natural, healthy snacks can be time consuming, so Treat Trunk does the hard work for you and sends you a selection of snacks every month. One less job for us parents to worry about!
The exact contents of the box vary each month, so you always get a fun surprise, (or you can email them at hello@treattrunk.co.uk for full details). You can see a sample below and they have more pictures of past boxes on their site.
Each Treat Trunk box contains 22-25 snacks for £35.99, or Treat Trunk Mini with 12-15 snacks for £19.99. They also offer a one off 'gift' Treat Trunk for £39.99 which you could use as a trial.
At first I thought it this sounded expensive. But I soon realised that to buy all these snacks myself would mean spending a lot of time trawling around health food shops. Or, I could order them from each company individually. But again, this would be time consuming, not to mention the astronomical postage costs that would be involved. As prices include delivery, Treat Trunk offers great value for money.
What About Allergies?
As the snacks are vegan-friendly, they are all dairy and egg free, woohoo! However, some are 'may contain' milk or egg due to the factory they are made in. However, if you let Sally know you can't have these, she won't put them in your trunk.
Apart from dairy and egg, the snacks do contain other allergens. Many of the snacks do contain nuts. Some contain soya. Plus, some have wheat, spelt or oats, or are made in a location where wheat is processed, so they cannot be classed as 100% gluten-free.
However, if you have a particular dietary need, you can email Sally at hello@treattrunk.co.uk and she will do her best to help you. She can create a bespoke box to meet your needs and has a number of customers with different allergies - including potato and banana!
What's The Story Behind Treat Trunk?
I 'met' Sally on Facebook several years ago through a local parenting group. Over the years we have become good friends in real life. She has two young children, and has started the Treat Trunk business from home with her husband, Adam. She's one of the healthiest people I know, and she's absolutely dedicated to giving her children the best start in life with a super healthy diet and lifestyle.
Now she's sharing her passion for health and nutrition with the world through her business!
What's In The Box?
Even the Treat Trunk packaging is fun! It's styled like a luggage trunk with cool stickers on the outside. Inside, the snacks are wrapped in tissue paper and sealed with a personalised sticker with our names on. This lively packaging is really appealing and distinctive and my girls always love it when they see the box arrive.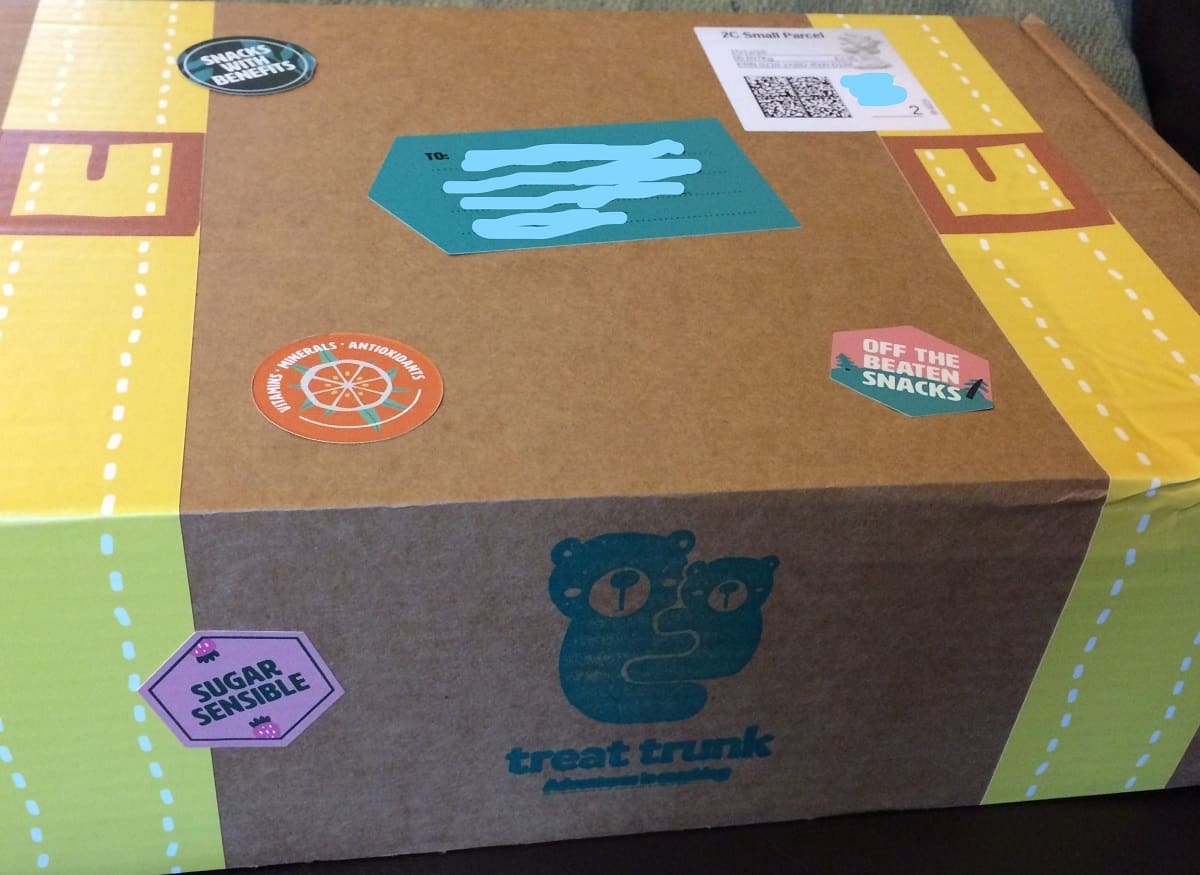 And of course, the most important part...the snacks!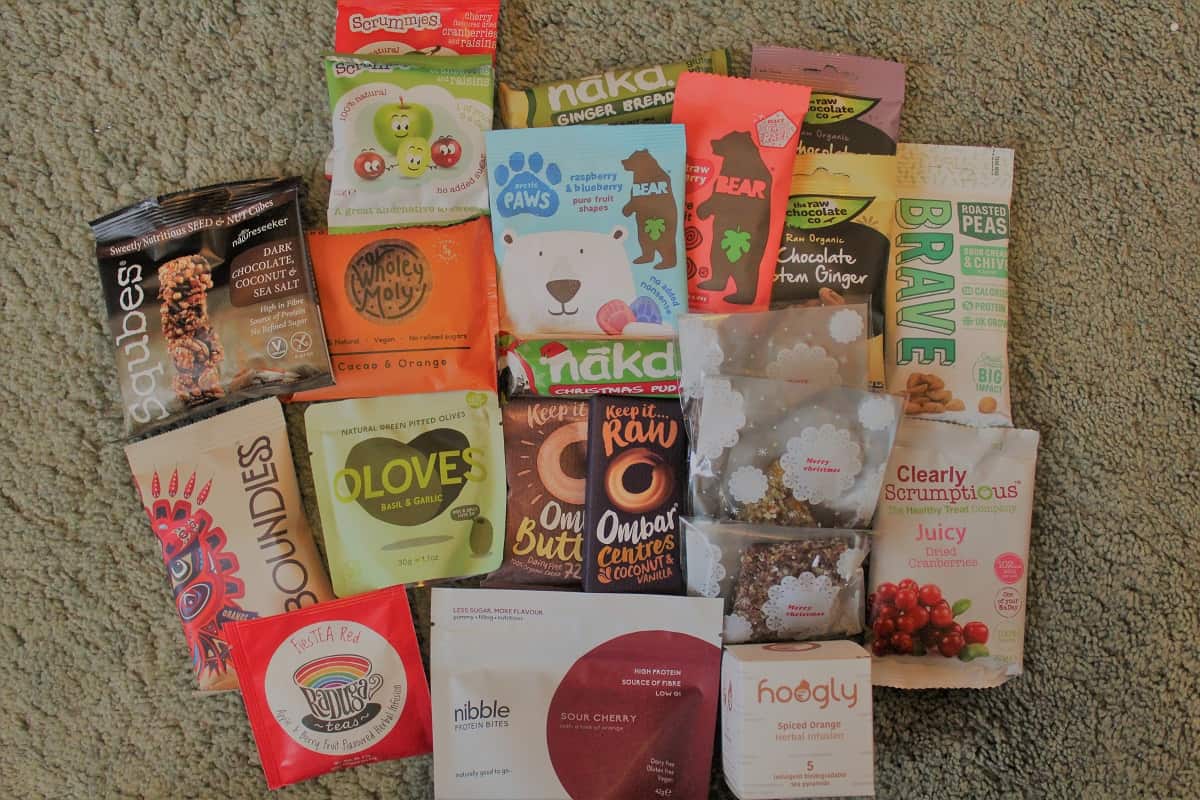 It is always really exciting to find what surprises are inside, with lots of "oohs" and "aahs". The girls always want to get stuck straight in - I do have to remind them that it's a *month's* worth of snacks and not all to be eaten in one go!
Our Favourites
My two girls tend to love the fruit snacks and bars. And of course they love the chocolate! They loved being able to choose what they wanted from a selection. This encourages them to try new things that they wouldn't normally have eaten.
For me, I always enjoy the herbal teas and the more grown up chocolate snacks. As a busy mum, I know that prioritising self care helps keep my batteries fully charged so that I can support my family. I'm not into makeup, spa days or shoes, so spending money on a Treat Trunk is my little luxury. The treats are always something a bit interesting that I wouldn't normally think to buy for so it does feel special each and every month.
I also find the protein bars and savoury snacks really handy for hectic, on-the-go days. It means I can just quickly grab something from my Treat Trunk and know that I am nourishing my body and giving myself the energy I need to get things done. I tell you what, I certainly wish Treat Trunk had been around when I was breastfeeding my baby with food allergies!
Final Verdict
So, is a Treat Trunk subscription really worth it? Well, I've been a subscriber to Treat Trunk since January 2019, and as a recommendation I think that speaks for itself! In all that time I don't think we've had any repeats - I don't know how Sally manages to keep coming up with new snacks!
We started off with the full size box but now we get the mini box (£19.99) which suits us better. Both of my children and my husband are quite fussy eaters and prefer to stick to what they know, whereas I am a much more adventurous eater! So they will try out one or two snacks each month, but I end up eating most of them. So we found that we didn't need a full size box, but the mini box is perfect for our needs.
And I love the fact that I'm supporting both a local business mum that I know as well as some small independent snack companies.
Hmm...writing this has made my tummy rumble...pass me a snack!
Want more allergy-friendly product and lifestyle ideas? Check out all my reviews.
.
.
.