We are not vegan but are trying to eat less meat for ethical reasons.  I have been looking for a mince alternative that is suitable for all our allergies and intolerances - which means it needs to be soya and wheat free (among others).  Could Sunflower Hack (sunflower mince) be the solution?
I received a free sample of Sunflower Hack for the purpose of this post.  However this review is my honest opinion of the product.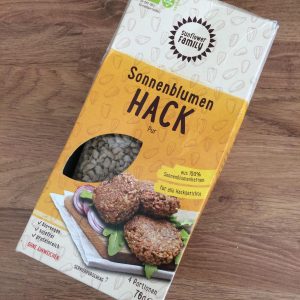 What is Sunflower Mince?
Sunflower Hack is a new vegan mince alternative, made by Sunflower Family, with just one ingredient.  It is made from 100% organic sunflower seeds so it doesn't contain any additives or anything nasty.  It's only been available in the UK for a couple of years, and won the World Food Innovation Award for best Free From Food in 2018. 
Sunflower mince can be used for anything you would use meat mince for - bolognese, chili, pizza topping, shepherd's pie, and even burgers. It contains 50g protein and 20g fibre per 100g, and is suitable for a low-carb diet too.  Sunflower seeds are low-FODMAP so they should be suitable for sensitive tummies!
Cooking with Sunflower Mince
I decided to make Bolognese sauce with the Sunflower Hack as it's one of our family favourites. It was really easy to cook with, I just browned the vegetables as usual and added the sunflower mince along with some extra water. In fact, it was actually quicker because I didn't have to 'brown' it before adding the rest of the ingredients.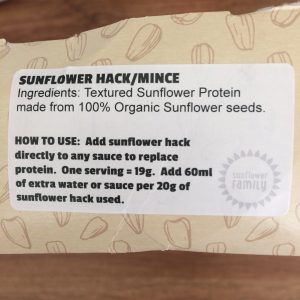 As you can see it doesn't look any different from normal Bolognese sauce. My children didn't notice the difference - even my super-fussy 7-year-old! It did taste a little bit different to me, it has a sort of savoury umami flavour, a little bit like marmite or soya sauce. It's quite hard to describe - it was only subtle and still tasty.
Both children cleared their plates and said it was delicious. For me that is the acid test - if my kids won't eat it then I won't buy it!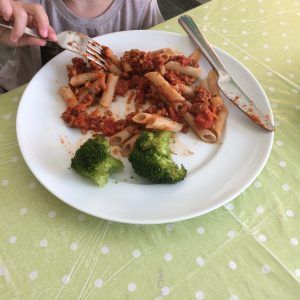 How much sunflower mince is in the pack?
The pack looks tiny and is very light, because all the moisture has been taken out. When you cook it, it reabsorbs the liquid and bulks up. One pack was enough to serve the 4 of us for dinner and have leftovers again for dinner the next day. That's 4 adult servings and 4 child servings from one pack. 
How much does Sunflower Hack cost?
In the UK, you can buy sunflower hack from £3.99 per pack. Or buy a bulk pack of 6 for £22.00, which is even less per pack. This is a little more expensive than some vegetarian mince alternatives. But this one is organic, completely vegan and free from all common allergens - it's up to you whether that's worth paying more for.
I would happily eat it again, but because of the price it's not something I would buy regularly.  However if I was vegan, as we have allergies in the family that mean other vegan mince is not suitable for us, then I would be willing to pay the extra price! (Maybe one day? My husband is not convinced!)
To find out more and buy sunflower hack, head over to wholesozo.com and follow @sunflowerfamily on Instagram.
Have you tried sunflower mince? What is your favourite meat-free mince?