Updated for 2023! These food allergy apps can help you with everything from working out what your allergy triggers are, to getting emergency help in case of a reaction. In addition, there are apps for managing allergies in daily life too, that can help you shop, cook and eat out safely with food allergies. Thanks to modern technology, your phone can help you navigate the world with food allergies more easily and have more positive experiences.
[AD - This post contains affiliate links from which I may earn a commission.]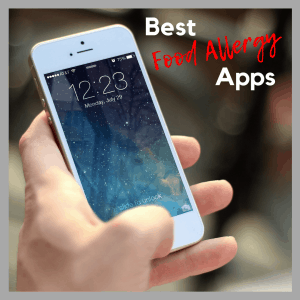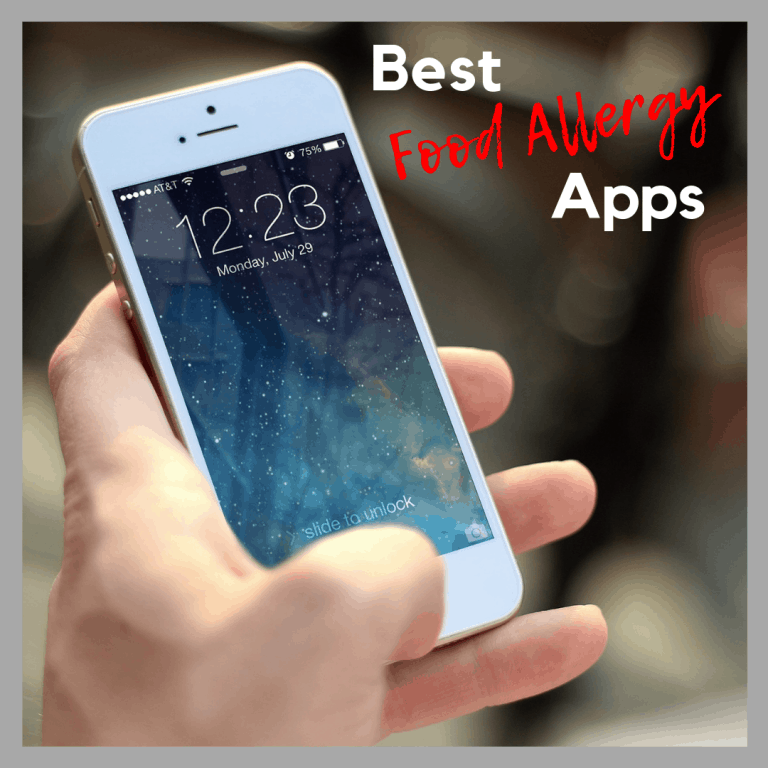 Jump to:
The Alan App
Great for:

Messaging System - communicate with others with food allergies
Emergency Section - epinephrine instructions, caregiver's guide to allergies, medical contacts
Interactive features - allergy translator, symptom tracker, restaurant menus, allergy-friendly recipes

Locations: the United States, Canada, England, and most countries
Price: Free
The Alan App (Allergy Life Alliance Network) is an all-in-one mobile application that provides an emergency care section, interactive resources, and a messaging system.
Communicating with others who have food allergies is made easier with The Alan App. Through our mobile application, users of any age group will be able to message others with any concerns they may have. We also have group chats for different age groups - whether the user is a parent, teenager, or young adult, they will be able to freely share their experiences or ask questions.
In addition to a group chat, the app has an allergy symptom tracker to record and discover potential allergens, as well as an emergency section to quickly access crucial information. The Alan App is the first of its kind - a community-based pocket guide.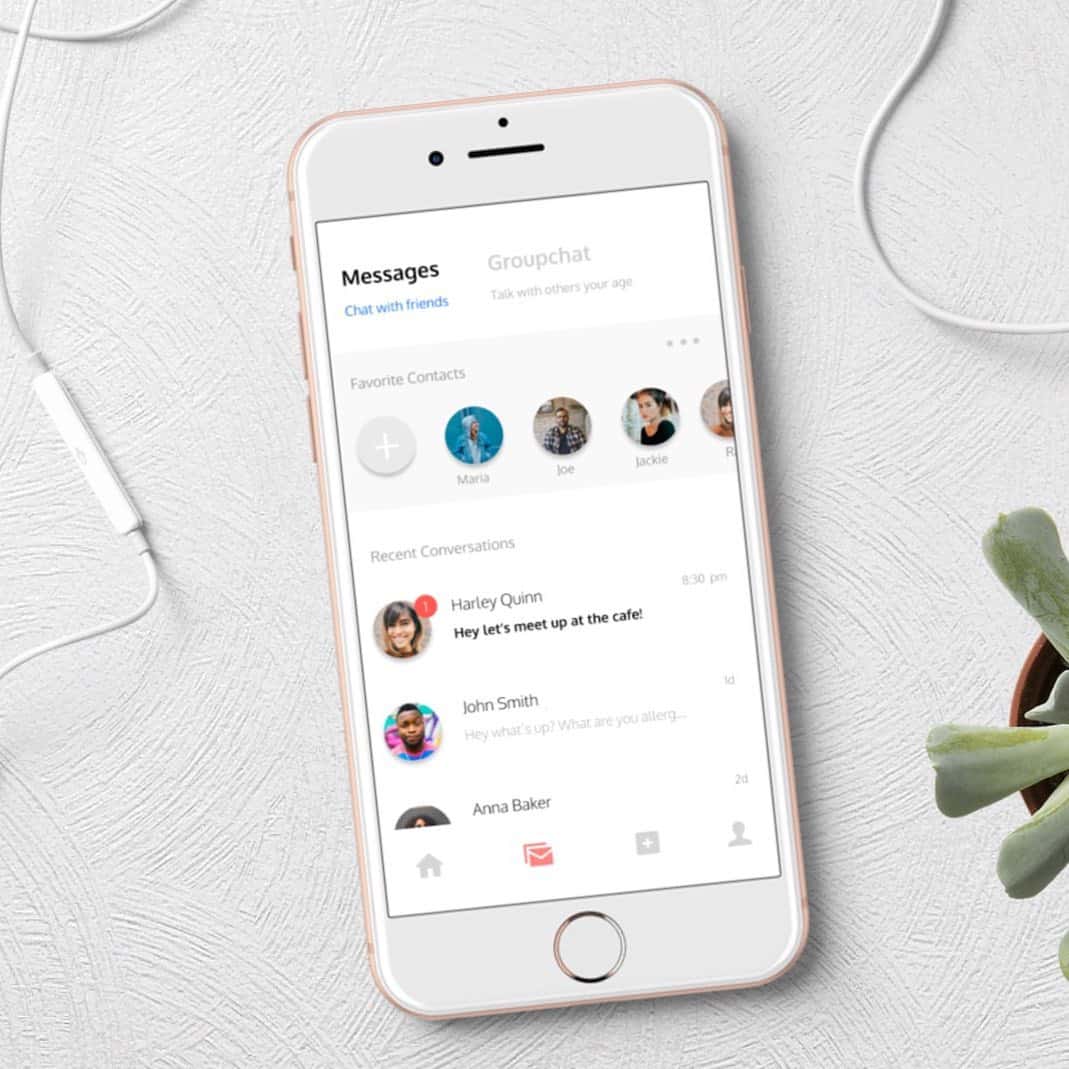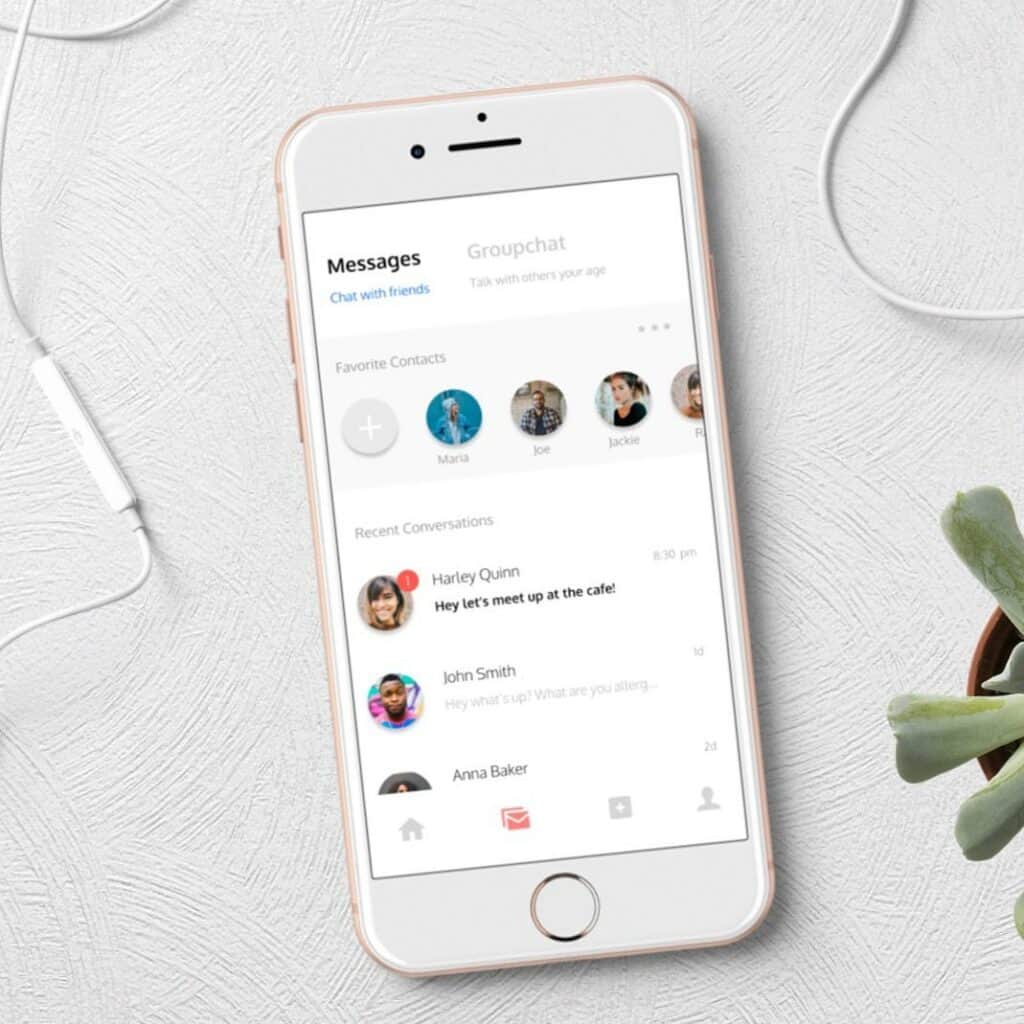 Great for:

Keeping up with food recalls
Explaining allergies to restaurants in 21 languages
Scanning barcodes to rule out unsafe food products
Getting emergency help (911 calling, notifying emergency contacts)
Interactive features: allergy translator, reaction management guide, shareable reaction diary, friends & family briefing tools, medication expiration alerts

Locations: Available in most countries, but best performance where English is the native language
Price: Free with in-app upgrade options
The Allergy Force food allergy app is a multi-function mobile app that makes life with food allergies safer and more convenient. Its set of 20+ everyday and emergency features help users live more freely with peace of mind.
For every day, the app offers free features that help users explain their allergies to others, learn about food recalls, remember to carry their epinephrine and to renew it before it expires. For emergencies, the app offers free features like 911 calling with simultaneous emergency contact notification, a customizable reaction management guide, and a diary to log reaction details for the allergist. It's like an 'allergy mom' in your pocket. Users can upgrade in app for access to more features for $1.99/month or $19.99/year.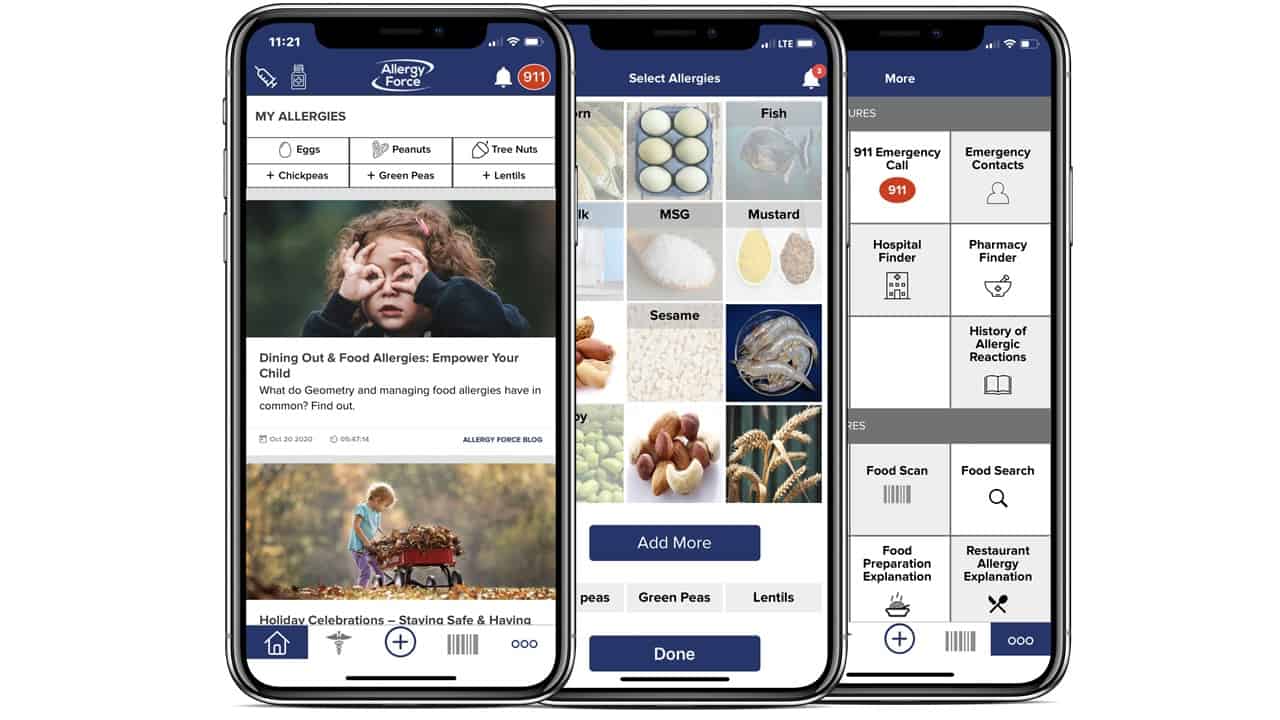 Great for: Identifying your food triggers
Price: Free with premium subscription option
Available on iOS and Android
This app is a food and symptoms tracker. Useful if you're still in the process of getting a diagnosis, you can input your data by photo or barcode, as well as typing in information. You can track a range of symptoms and add voice notes. The app will analyse your data and identify your triggers for you. Used by NHS doctors and with excellent reviews from users on the App Store.
Great for: Finding Emergency Help, Traveling Abroad, Finding Allergy-Friendly Products, University/College Students
Price: Free with upgrade options
The EpiCenter App is AssureTech's newest technology that calls emergency services, alerts your contacts, locates the nearest hospital, and displays a medical I.D. during an allergic reaction. Plus, they have partnered with Equal Eats to also provide food allergy translations in the app for over 200 allergens in 40+ languages - including a "help" message for emergencies. You'll also have access to a number of allergy-related products that you can purchase directly through the app.
The emergency features are always free, and premium users can access advanced functions and also save on products sold through the App. Premium memberships start at $4.99 / month - get a free 30 day trial.
Are you living in the U.K. or Ireland? AssureTech has partnered with Coza Group to develop a local version of the software called TEAL. TEAL includes the same features above, but also have added features for users in the region. You can learn more about this new technology here.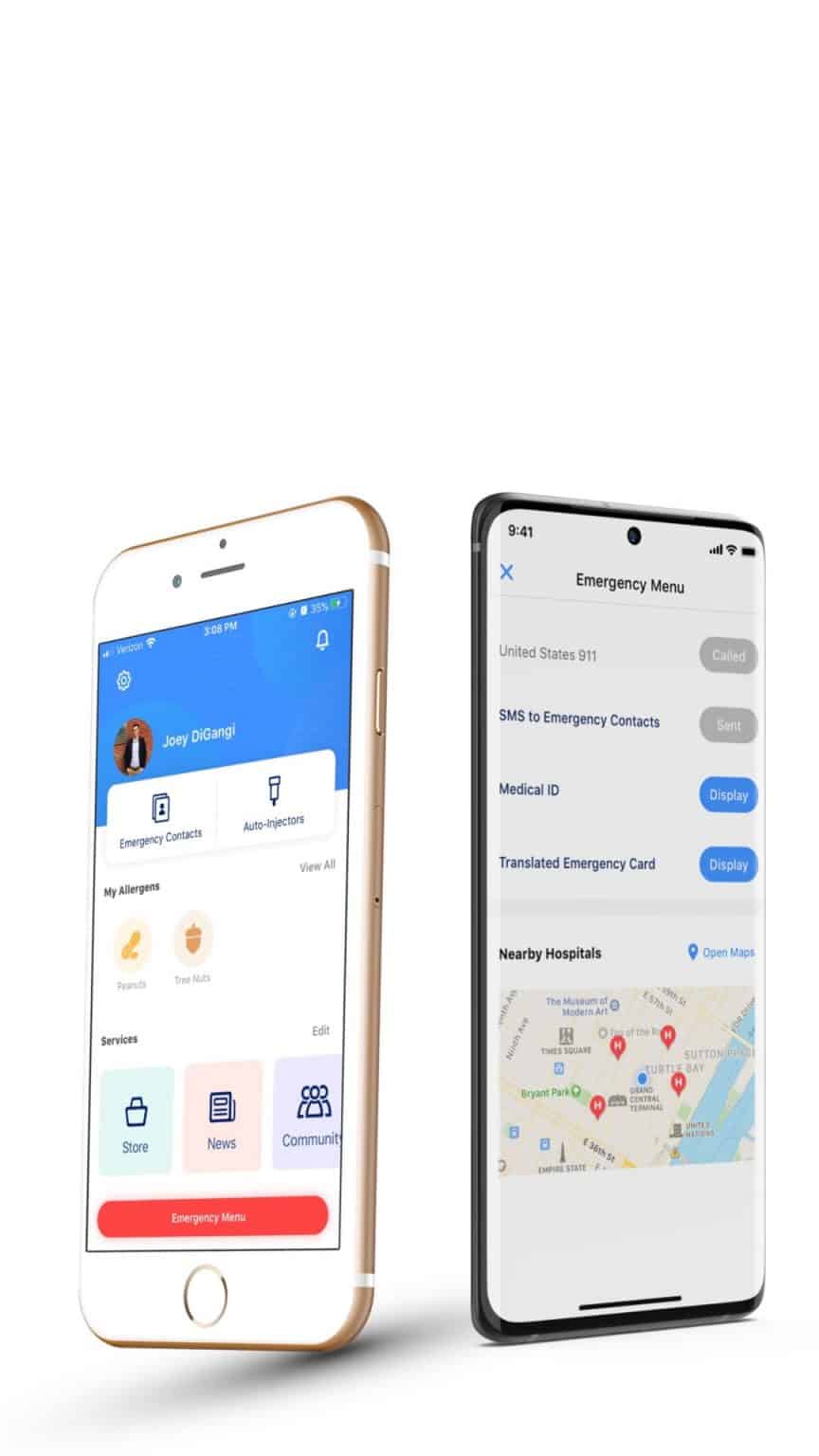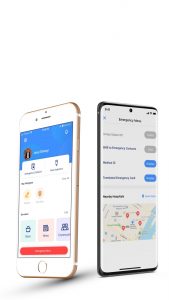 Great for:

Shopping for groceries
Multiple/complex dietary requirements

Available on: iOS and Android
Locations: USA
Price: Free with premium subscription option
Fig stands for Food is Good and with this app, it can be! This app helps you find food you can eat, and can be customised for a wide range of dietary needs including allergies, intolerances and lifestyle choices. Set up your profile and it will tell you what is suitable for you at the grocery store you're at. You can also scan individual products to see if the ingredients are ok for you. If not, it will show you suggested suitable alternatives at that store!
The free version of the app gives you five scans per month and unlimited searches. Upgrading to a paid subscription gives you unlimited scans and access to more features.
Great for:

Maternal and child dietary intake
Child symptomatology
Food trialing tracking

Locations: All
Price: Free with premium option for data exports: $2.99
The Free to Feed App allows parents to track mother's and child's food intake, especially vital for breastfeeding families. The log also features symptom input with picture uploads. This provides a single space for parents to easily look for reaction trends, track food trialing, and annotate day/times for food passes and fails. All of this information is shown in an easy to read history tab or exported into an excel spreadsheet.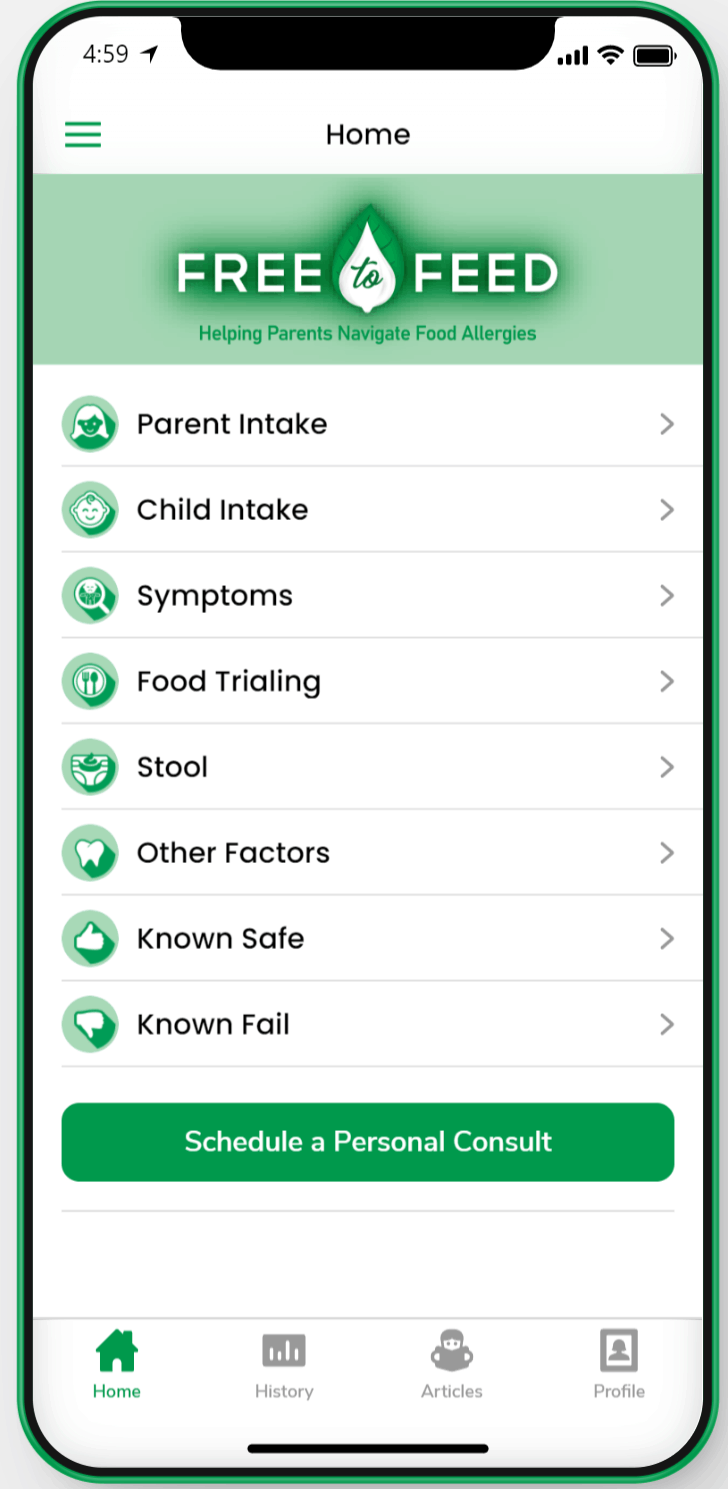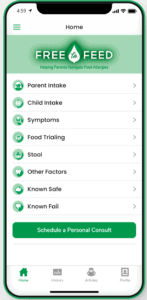 Great for:

Combining Allergies and Diets for ultra-personalization
Viewing suitable dishes you CAN eat
Discovering new allergy-safe restaurants to eat-in or order online

Price: $14 USD for lifetime access (75% preorder discount)
Locations: Available for preorder in the US, UK, Canada and Australia.
Available on: iOS & Android
Discover 100% allergen-free restaurants and hidden gems that offer allergy-safe preparation methods. See all the dishes you can eat at each restaurant. With thousands of restaurants and a full range of cuisines, you're sure to find something safe to eat.
Personalize your restaurant search to your dietary restrictions with over 9 special diets and 29 allergy or intolerance options. Select individual ingredients marked to be avoided, either as a preference, intolerance or a severe allergy. Depending on how you mark an ingredient, we will show you needed information about a dish and a restaurant accordingly.
After four years of development, Honeycomb is the ultimate restaurant search tool for anyone with a dietary restriction.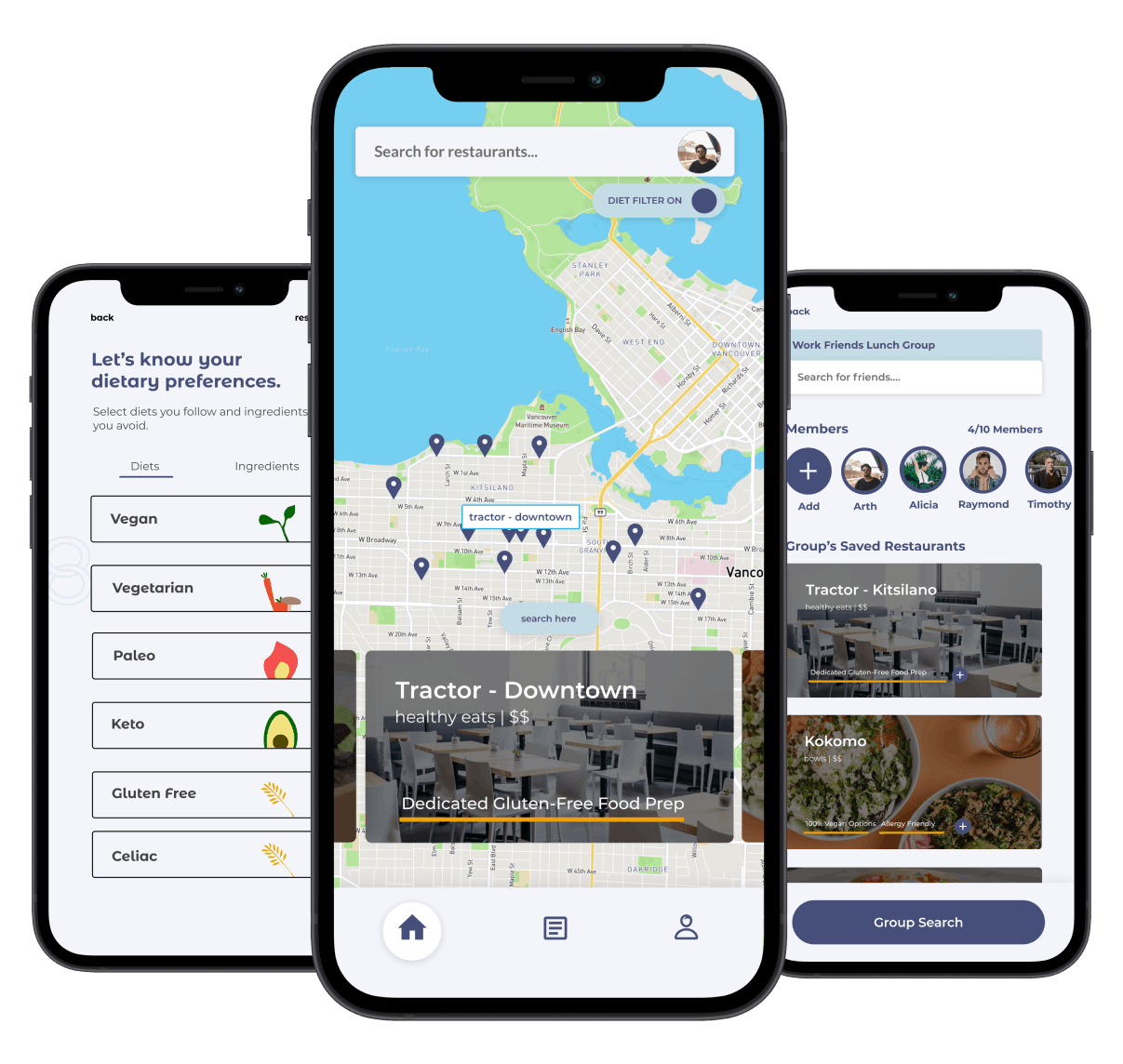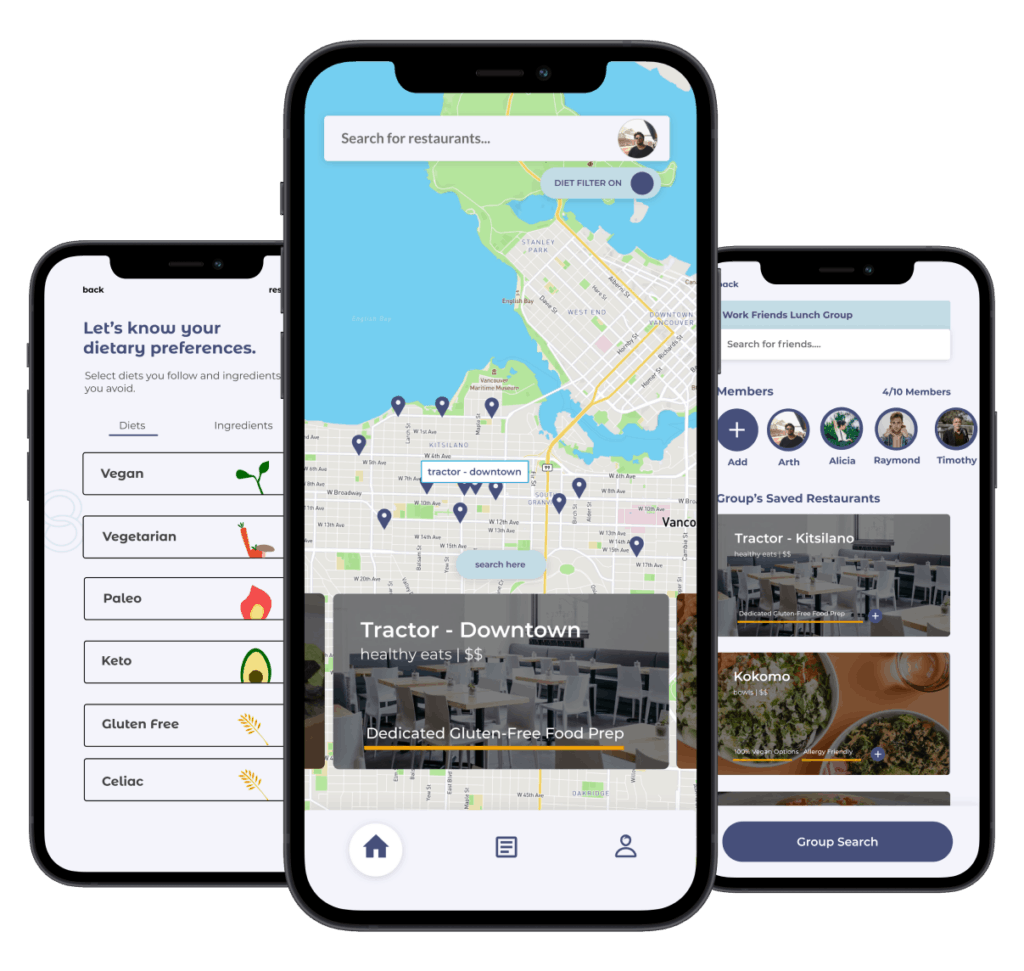 Great for: Identifying trigger foods
Price: £2.99
Available on iOS and Android
This app allows you to track diet and symptoms to identify which foods are causing you problems. It can help you track symptoms over time to see if they get better or worse - perfect if you are doing an exclusion diet. It analyses possible triggers for you and creates charts and reports to share with health professionals.
Great for:

Finding nut free products.
Locating nearby stockists and online shopping options.
Finding local nut free bakeries (USA and Canada) by state/province.

Price: Free
Locations: United States, Canada & UK
Available on: iOS and Android
Vivoplan was created by a father of a child with nut allergies, because there were not enough reliable resources online to look for new products to try. Hence he decided to create a search engine that makes it easy to find nut free products and which stores sell them in your area. Vivoplan's mission is to help the millions of people and families that live with nut allergies by being a safe and reliable source to find nut free products.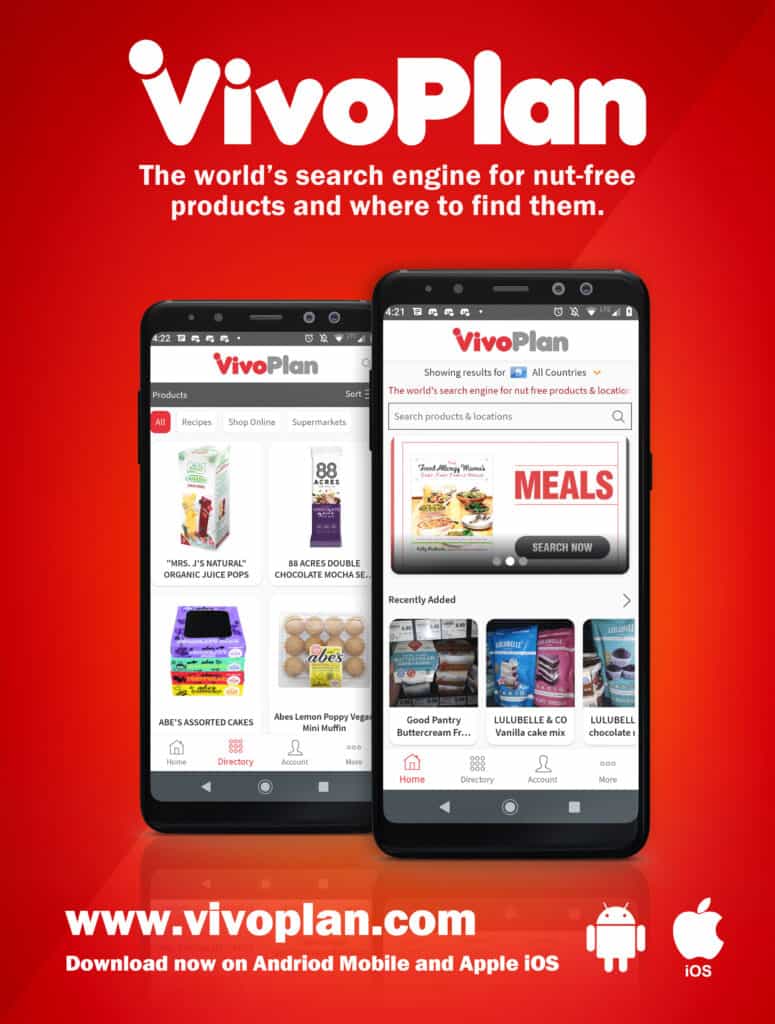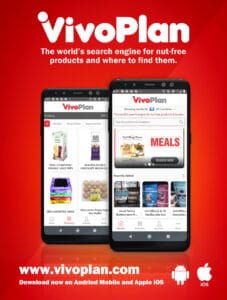 Great for: Finding recipes according to dietary requirements
Price: Free
Available on iOS and Android
Not just for people with allergies, this is a real food-lover's app with over 2 million recipes and 30 million users worldwide. This app gives you personalised recipe recommendations based on your dietary requirements and preferences. It can also create personalised shopping lists, add scheduling to your calendar, and includes video tutorials and oven timers. It even has high tech features like controlling control smart ovens, setting the oven temperature and time for you!
Related: Best Allergy Podcasts
This blog post is updated regularly. Spotted a mistake or broken link? Please leave a comment below.