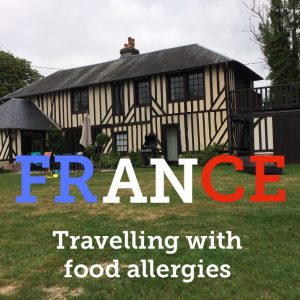 Bonjour! I am just back from a week in France with my lovely husband, 2 children and my brother too.  It was our first family trip abroad.  In the past my younger daughter had so many food allergies I was just too worried about not being able to find anything to eat.  Now she is down to 'just' dairy and soya allergies we decided to give it a go. Children with food allergies shouldn't miss out on all the fun experiences that their peers get to have.  It's just a matter of finding a way to do things safely and making sure there is enough safe food to eat.  It needs a bit more planning and preparation in advance.  I'm hoping that sharing our experiences will help give you lovely readers more confidence to try it too!
Accommodation
When you have food allergies, the easiest choice when travelling is self-catering accommodation, especially for a longer visit.  It gives the most control and flexibility over food.  We booked a self-catering cottage in rural Normandy in northern France through Air BnB (if you click through you'll get £25 credit when you sign up and I'll get a £15 referral credit as well).  As well as the all-important kitchen, we had a heated outdoor swimming pool which is where we spent most of the week!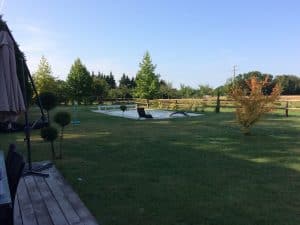 What to bring
I did an online shop with all free from food essentials which was delivered the night before we left.  I left it in the shopping bags and just loaded it into the car when it was time to go.  My order included:
gluten free pasta (for my older daughter and husband who are low-FODMAPs)
dairy-free pesto
baked beans
gluten free bread
longlife milk alternative
dairy free spread
gluten free pizza bases
lots and lots of allergy friendly treats and snacks, including the all important dairy- and soya-free chocolate in case of emergency!
gluten-free baguettes
gluten-free chocolate buns (as an alternative to the croissants and pain au chocolat we would be eating in France)
I also packed antihistamines just in case of an allergic reaction - don't forget to take whatever emergency medication your child needs!  On my phone, I had made a note of key food allergy-related phrases to help with communication.
Travelling
We travelled in the car by Eurotunnel.  As we only live 30 minutes drive from Folkestone it was the quickest (and cheapest) option.  Our expected travel time door-to-door was about 5 hours, not including any stops/delays/traffic.  I packed an enormous picnic with way more food than we really needed, just in case it took longer than we anticipated.
In the end, our Eurotunnel train was delayed by about 30 minutes. Then, due to *ahem* navigation issues, our journey actually took about 8 hours altogether.  We ended up stopping at a motorway services in France where there was a limited choice. We just bought the kids some chips -  the only safe option I could see that they would actually eat.  That was fine as I'd packed plenty of raw veggies, fruit and protein to bring with us so they still just about had a balanced meal!  It actually worked out brilliantly as everyone was fed on the journey and when we arrived at the house in the evening we all jumped straight into the pool!
Supermarkets
We stayed in a hamlet in rural France - so this could be very different to larger towns or cities.  In the village closest to where we were staying there was one small Carrefour supermarket.  We also went to what was called a 'hypermarket' (Intermarche) which was about a 15-minute drive away, but was still fairly small.  Nothing like the enormous Carrefour hypermarket in Calais!
Tip: Don't forget that supermarket opening hours in France are different to the UK.  Shops often close for a lunch break.  On Sundays they may be closed altogether or only open in the mornings.  Larger out-of-town supermarkets may be open longer hours.
In each supermarket there was some free from food, but not as big of a selection as we are used to in the UK.  The big brands in the free from section are Allegro, Gerble, Schar and Bjorg.  For dairy alternatives I saw soya and almond milk, I didn't really see much in the way of oat milk or coconut milk products.  For gluten free food there was bread, pasta, biscuits, breakfast cereal and so on, so that was well catered for.  I noticed that a lot of the Allergo products were labelled as gluten- and lactose-free.  But many of the foods did contain soya or other allergens.  There wasn't much food that was completely allergen-free.  I also didn't see any dairy-free cheese.  We did find Genius gluten-free bread, which was a surprise to me!
Over the week we ate 2 BBQs, spaghetti bolognese (we found a jar of sauce that was suitable), chips and pizza (we bought some for us adults and I made a gluten free one for the kiddies).  For the BBQ we found that all the sausages we looked at were gluten free, and steak hache too (basically a posh burger made with fresh mince).  We also did 'picky bits' for lunch with baguettes, ham, salad, crisps, fruit, etc in a big spread on the table.  Everyone was well fed and no one went hungry.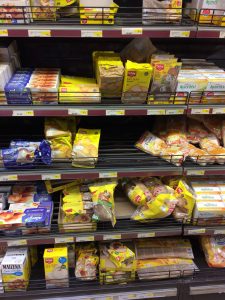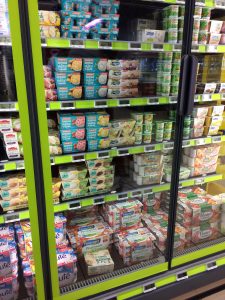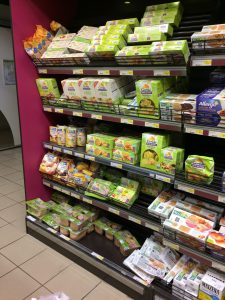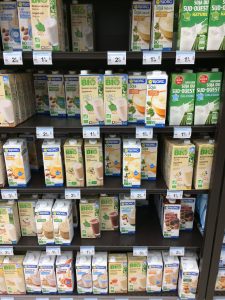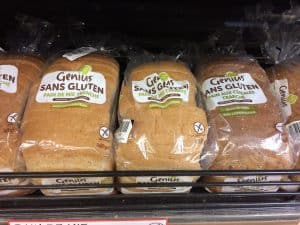 Packaging
France has the same allergen labelling laws as the UK (and across the EU).  This means that the top 14 allergens must be highlighted in some way in the ingredients listing.  For a translation of these common allergens and more, Allergy Action has a fantastic French translation card.  In the examples below you can see lait (milk), oeufs (eggs), soja (soya), and lupin (lupin).  Some other key phrases to look our for include:
Peut contenir des traces de... (May contain traces of...)
Fabrique dans un atelier qui utilise... (Made in a factory which also processes...)
Garanti sans gluten, sans lactose et sans lait. (Guaranteed gluten-free, lactose-free and milk-free)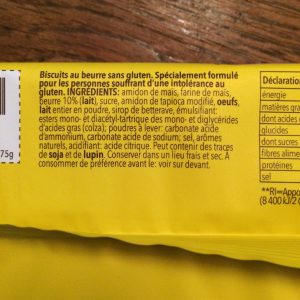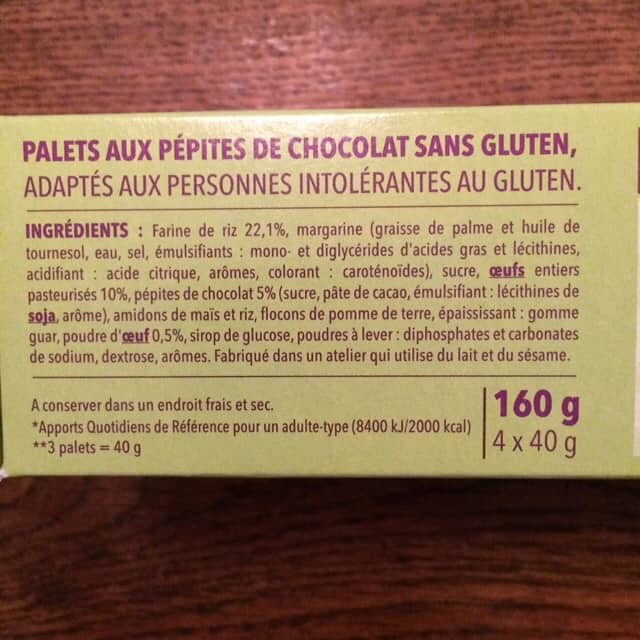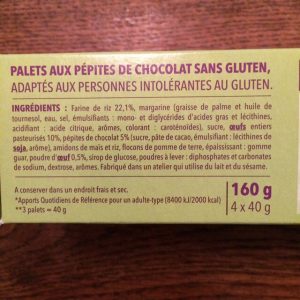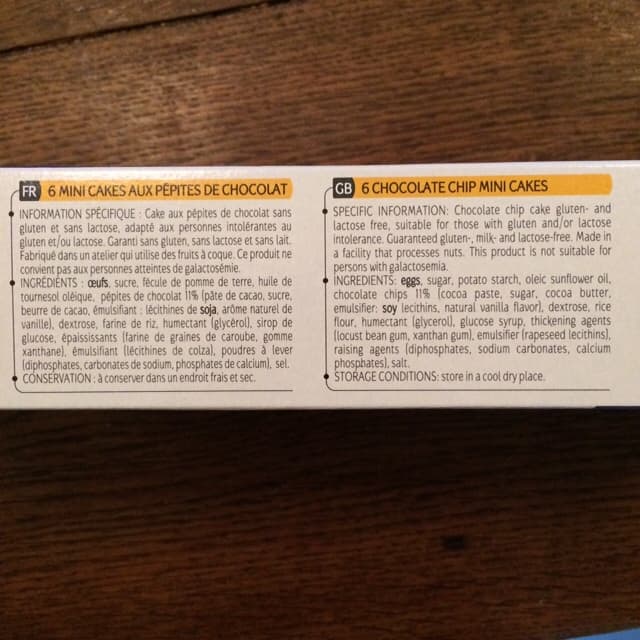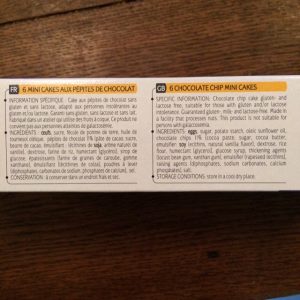 Eating out
We actually only ended up eating out twice during our stay. The kids were having so much fun in the pool they didn't want to go out very much.  And if the kids were happy, we were happy! We also discovered that all the restaurants nearby opened at 7pm, which we felt was a bit too late for the children.  I don't know if this is typical for France, if children don't eat out in restaurants much or if they are just used to staying up later?
We went to a bistro in our local village for lunch, where we were able to order chicken and chips for the children.  I used the phrases I'd saved to my phone in advance to help me tell the waitress about our allergies and check that the food was ok.  I had hoped to order some sorbet for my daughter's dessert but sadly it contained soya.  Although I was a bit disappointed I was glad that we had managed to communicate successfully.  Luckily she was happy to go without.
Another day we were at the beach and wanted to eat out.  We walked up and down looking at restaurant menus but couldn't see anything we really fancied (read: that the kids would eat) - and ended up getting some chips (notice a theme here??!) from a takeaway kiosk.
I didn't see any mention of food allergies anywhere on menus, nor did I see any of the signs you get in the UK along the lines of 'please let us know if you have a food allergy'.  There were no allergen menus and no gluten-free menus.  All the places we looked at were small independent cafes and bistros.  The situation may be different in big towns and cities - can anyone fill me in on this?
Summary
All in all, we had a fantastic holiday.  Everyone got fed.  No one got ill.  The girls ate an awful lot of sausages and chips over the week.  This is one of their favourite meals, so they were happy.  I would normally feed them a more balanced and varied diet at home.  However, I felt that was an acceptable compromise in order to have a week in France, without spending hours reading labels in the supermarket, slaving over a hot stove, or negotiating with waiters.  It was my holiday too after all!  We also found a few French free from foods that they hadn't seen before and were excited to try, so we still had that experience of tasting food from different countries, even if it wasn't quite the norm!
Even in rural France, the supermarkets do still have some free from foods, although not quite as much as in England.  If you're travelling to rural France be prepared and bring plenty of food with you.  You should be able to find things to eat but my motto is always prepare for the worst, hope for the best!  As I mentioned earlier, I took lots of food with us just in case.  In the end, I brought about half of it back with us.
If you want to go to France, don't let allergies stand in your way!  Be prepared, plan ahead, and when you are away, relax and focus on all the amazing memories you are making.  It is a bit more hard work for us allergy parents to travel abroad but it is well worth the extra effort.
Anyone else been travelling to France with allergies?  How was it for you?  Has anyone visited larger towns or cities or had a different experience?
Read more about experiences of Travelling with Multiple Food Allergies