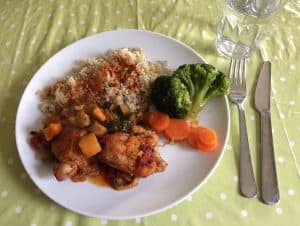 This Spanish chicken is a recipe I came up with last week. I needed to use up a load of vegetables that were starting to look a bit sorry for themselves at the bottom of my fridge drawer, combined with some chicken portions and some store cupboard ingredients. It's a recipe that you can easily make ahead of time and reheat later, so it's handy for busy days. For example, you could make it on a Sunday evening and eat it for Monday's dinner. Or cook it while your little one is napping to make that evening witching hour less stressful! I like to serve it with rice and a side of vegetables or salad.
For those with allergies, the great news is that this recipe is naturally free from gluten, dairy, soya and egg.  You only need 'normal' ingredients so no need to buy any special 'free-from' foods. Just make sure your stock cube and spices are suitable for your allergies.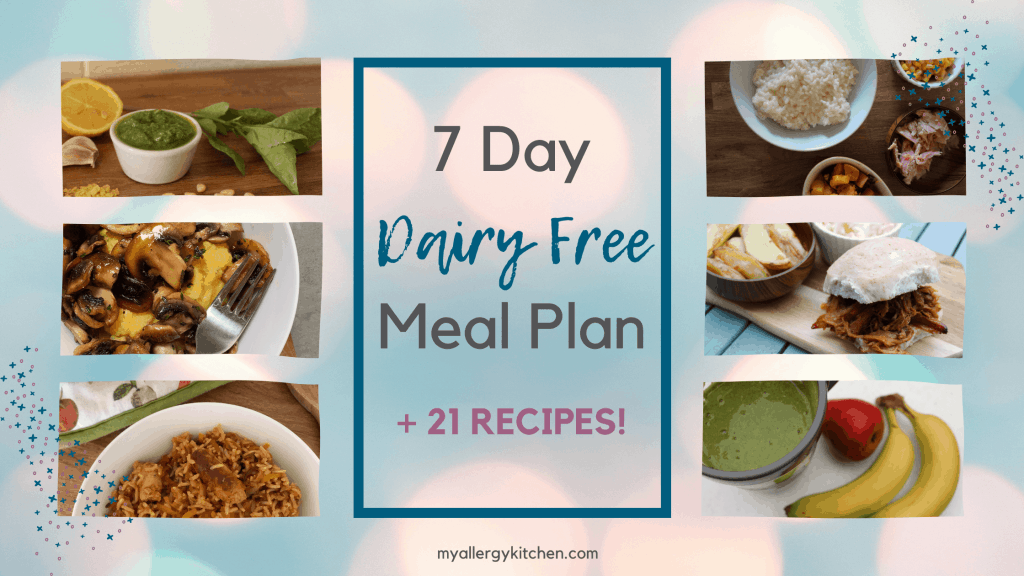 I'm a very lazy cook. Ok, strike that, I'm a very busy mum! So I love simple recipes that I can make in one pot with a minimum of faffing about. If you're like me, why not try my Easy Moroccan Lamb or Easy Tuscan Inspired Pork Belly?
The Mediterranean vegetables and gentle spices will whisk you away to warmer climes. It's only lightly spiced, so you can even feed it to babies. It's great to introduce little ones to a variety of flavours from a young age so they get used to different tastes. Of course, if you're not cooking for a baby and you like a bit more of a kick, you could add some chilli flakes! My tongue is a total wuss so these spices suit me just fine.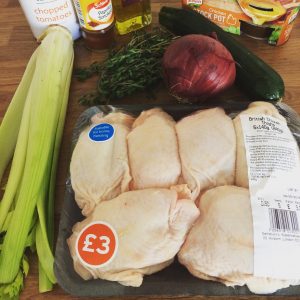 How to Make Spanish Chicken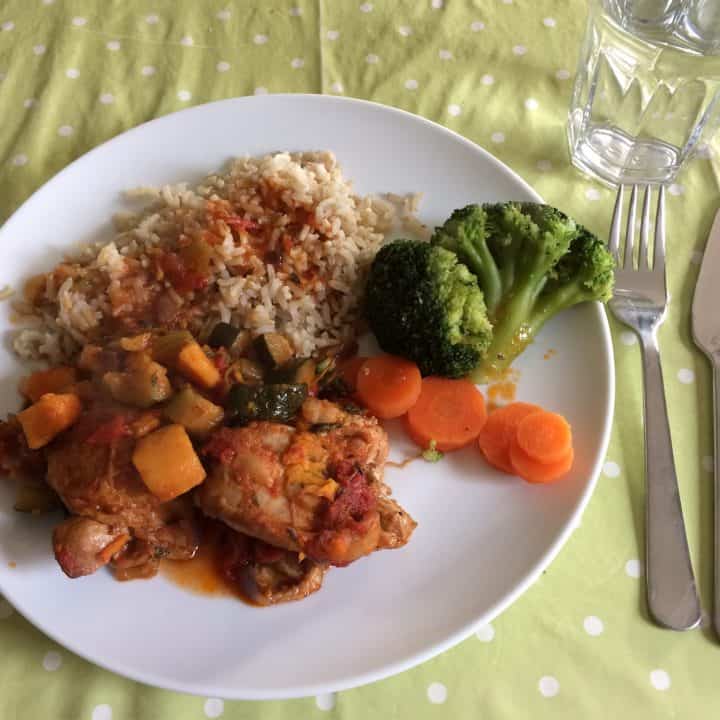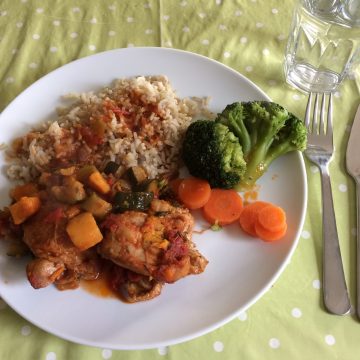 Spanish Chicken (Allergy Friendly)
Ingredients
8

chicken thighs/4 chicken breasts/a mixture of the two

2

tablespoon

garlic oil

1

red onion

1

courgette

2

stalks celery

1

sweet potato

400

g

tin chopped tomatoes

1

chicken stock cube

1

tablespoon

tomato puree

1

teaspoon

smoked paprika

1

teaspoon

dried thyme

Salt and pepper
Instructions
Preheat oven to 200C.

Heat a large oven proof dish over a high heat with 2 tablespoon garlic oil.

Brown the chicken portions on both sides - do this in batches if necessary. While the chicken is cooking, finely chop all the vegetables.

Once the chicken in browned, remove it from the pan and put to one side.

Turn down the heat and add all the vegetables in the same pan. Cook until softened, stirring frequently (about 10 minutes).

Add all the other ingredients into the pan, except the chicken. Half fill the tomato tin with water and add to the mixture (approx 200ml). Stir well to combine and bring to a boil.

Add the chicken back into the pan and mix in with the sauce.

Cover and cook in the oven for 30 minutes.