Flour, yeast, water, sugar and salt. These are the basic ingredients for making bread by hand. However, the sliced bread you can buy in supermarkets bears no resemblance to proper homemade bread. Back when I was at school, I learned about the Chorleywood Bread Process as part of my Food Technology GCSE. (Side note - my coursework was to adapt lemon cheesecake for a diabetic diet. This meant I got to make lemon cheesecake over and over again - best coursework ever!). This factory method of producing bread uses more added ingredients and mechanical mixing so that the bread can be made more quickly. One of the ingredients that is very often added to bread is soya flour. This makes finding a loaf of soya free bread a tricky prospect for those with a soya allergy.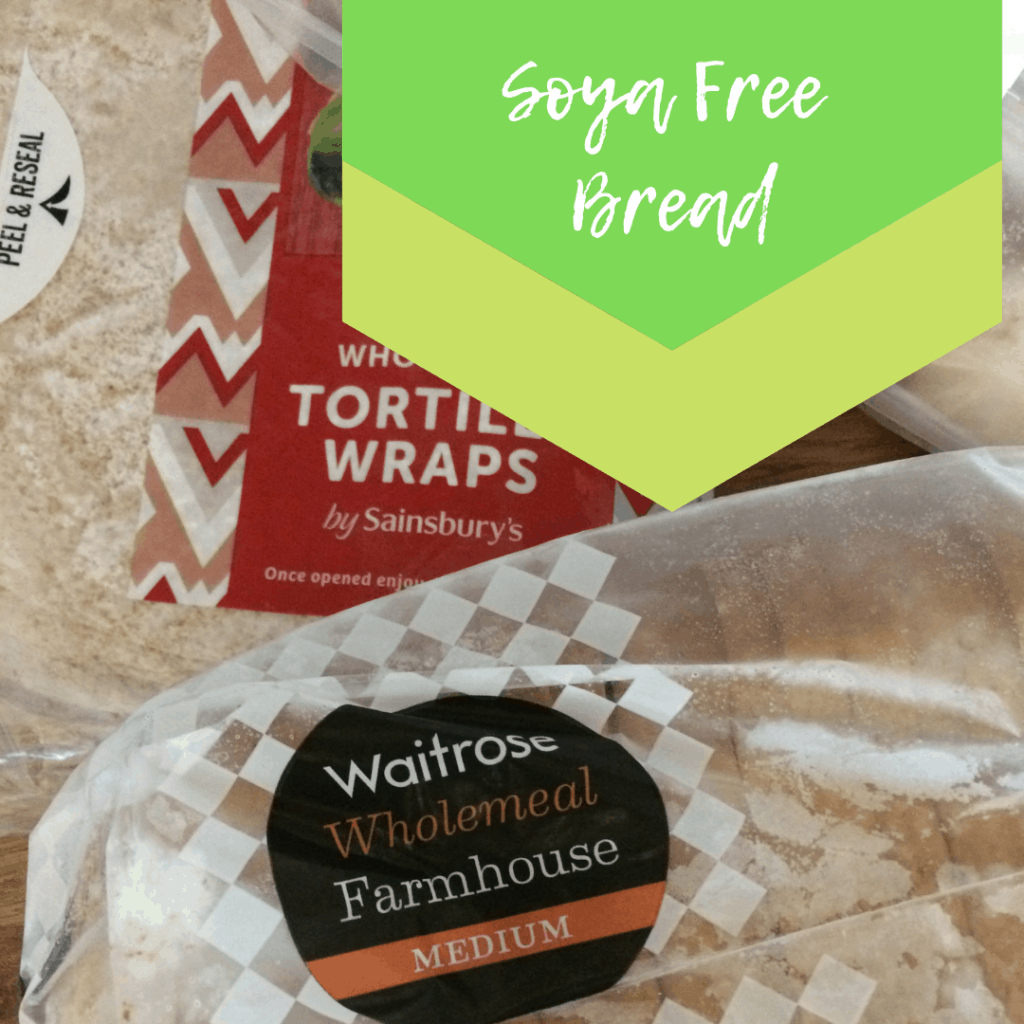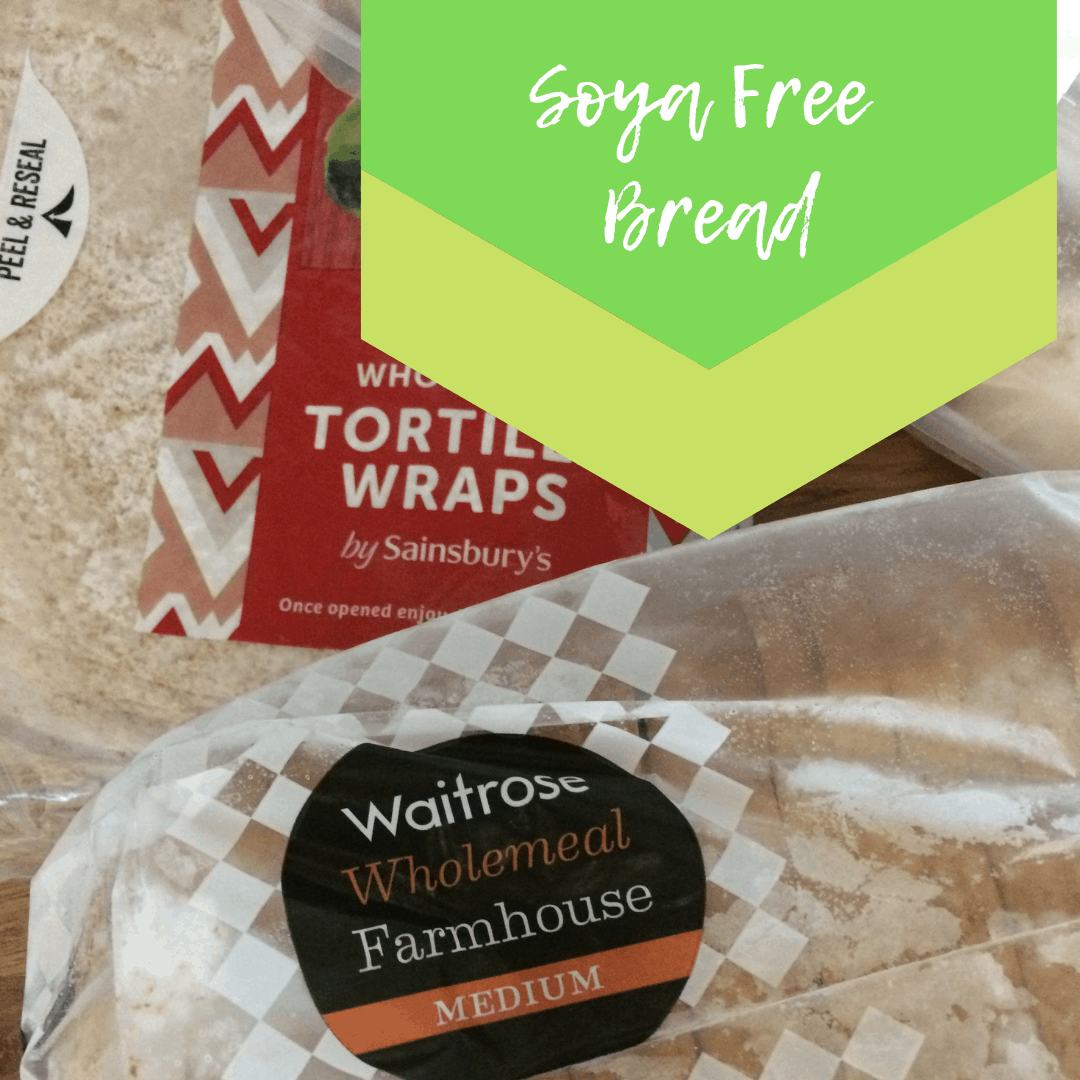 I hate shopping for bread because there are so few brands out there that don't contain soya. I tend to stick to the ones we know are ok. (We still have to check every time as manufacturers can change their recipes without notice.) But, if we end up in a different supermarket for any reason, it's a very frustrating experience to shop for bread! Picking up each loaf of bread, reading the label and most likely putting it back again. After a few minutes of this you feel like swearing... by the time you get to the end of the aisle you feel like punching the bread and screaming! How can it be so difficult to buy such a basic food? Or is that just me?
Soya Free Bread
So, soya allergy sufferers, I am here to help with a list of soya free bread in the UK. The breads listed below do not contain soya in the ingredients. Soya may be listed as a 'may contain'. And as I know many of you will also be dairy free, I've marked which ones contain milk in the ingredients (again, milk may be listed as a 'may contain'. There are gluten free options too.
If you know of any more breads that are soya free, please leave a comment below. Of course, this list is provided as a guide only. All ingredients were correct at the time of writing but please always check the labels to ensure the product is suitable for your needs.
Sliced Bread
Avoid the big brands such as Hovis, Kingsmill and Warburtons as they all contain soya. And sadly ASDA and Morrison's own brand products all contain soya. Soya free sliced bread is listed below. These breads are all made from wheat flour and may also contain other allergens - please check labels.
Jackson's White Bloomer, Brown Bloomer and Seeded Bloomer (stocked in selected branches of Waitrose, Morrison's, Tesco, Sainsbury's, Booths, Co-op, Nisa and Ocado)
Tesco Finest White Loaf and Finest Wholemeal Loaf
Waitrose Wholemeal Farmhouse, Multiseed Farmhouse, Wholemeal & Rye Cob, Farmhouse Batch Multigrain, Multigrain Farmhouse, Sunflower and Pumpkin Cob and Ancient Grains & Oat Cob loaves are all soya free but NOT Waitrose Soft White Sliced, Wheat & Rye Half Bloomer or Wholemeal & Linseed Half Bloomer
Sainsbury's SO Organic Multiseed Wholemeal Bread
All of Iceland's sliced bread is soya free except for their Thick Sliced White Bread.
Bread Rolls
All the bread rolls in the bakery aisle that I've checked contain soya flour. The best place to find soya free bread rolls is in the free from section - see below
Speciality Brands
Bertinet Bakery Sliced Sourdough Loaf (various) - available from Ocado, Sainsbury's and Waitrose
Biona Organic Rye Bread
Cranks Organic Unsliced Wholemeal Bread - stocked in Sainsbury's and Waitrose
Polish Bakery bread - stocked in Waitrose, Morrisons, Tesco, ASDA and Sainsbury's
Rankin Ancient Grain Muffins and Potato Slims are milk and soya free. Sliced Buttermilk Soda Breads, Stoneground Irish Wheaten, Wheaten Bannock, and Irish Fruit Soda Bread, Irish Brown Soda Bread
are soya free but contain milk. (Their other products contain do soya)
Free From Bread
Sadly, a food being in the free from section does not necessarily mean it is soya free. Gluten free breads may still contain soya. These are the ones I have found to be soya free:
ASDA Free From bread products are all gluten, dairy and soya free
BFree - all their breads are wheat, gluten, dairy, egg, soya and nut free.
Genius Gluten Free Sliced Bread
Juvela Gluten Free - contains milk
Tesco Free From Sliced White & Brown Bread (fresh and longlife versions)
Warburton's Gluten Free Sliced Bread
Sainsburys Deliciously Free From bread products are all gluten, dairy and soya free
Waitrose Free From bread products are all gluten, dairy and soya free
Other Breads
These breads are usually soya free, but may contain other allergens - please check the product is suitable for your own allergies.
Bagels - New York Bagels (most other brands/own brands do contain soya)
Baguettes (note there is a small risk of cross-contamination for breads baked fresh in store)
Bake at Home Petits Pains
Brioche - plain (contains milk - and most chocolate chip brioche contains soya lecithin in the chocolate) - also look out for brioche burger buns and hot dog buns
Ciabatta
Crumpets
Flatbreads (often contain milk, but not always)
Panini (contains milk)
Part Baked Baguettes
Pitta Breads
Sourdough (if traditionally made)
Tortillas (wraps)
Have you found this guide to soya free bread useful? Any more soya free breads I can add to the list? Leave a comment below and let me know! I read all your comments and I'd love to hear from you.