As an Amazon Associate I earn from qualifying purchases.
Imagine this: Standing in a giant exhibition hall, filled with people who completely understand the challenges of living a free-from lifestyle, and packed with brands and organisations who want to help! People who just get it. The Allergy & Free From Show 2019 was such a hugely positive experience, and I've come away buzzing with ideas and inspiration! This was my second year visiting the show, and already I can't wait for next year! Here are my best bits, starting with a little video montage I put together...
Natasha's Allergy Research Foundation
I met Natasha's parents Tanya and Nadim at the show, a moment that will stay with me forever. You can't fail to be moved by their strength following the tragic loss of their daughter Natasha to anaphylaxis. They have already managed to change the law around food labelling in the UK, and #NatashasLaw will help to keep allergy sufferers safe in the future.
Now, with the launch of the Natasha Allergy Research Foundation, Natasha's parents are raising vital funds for scientific research into allergies. Their goal is to prevent and cure food allergies forever. Alongside this, they are also working hard to raise awareness of food allergies in our society and help ensure food allergy sufferers' needs are met.
Fodilicious
My top new food find at the Allergy & Free From Show 2019 was Fodilicious Cookie Buttons. Are you ready for this? They are:
Top 14 Allergen Free
Vegan
Refined Sugar Free
Low FODMAP Certified
And they are delicious!
Fodilicious very kindly gifted me some cookie buttons to bring home. An instant hit with every member of the family, they were swiftly devoured! This product is definitely a winner, and a perfect treat for children with multiple allergies. Available to buy now on Amazon.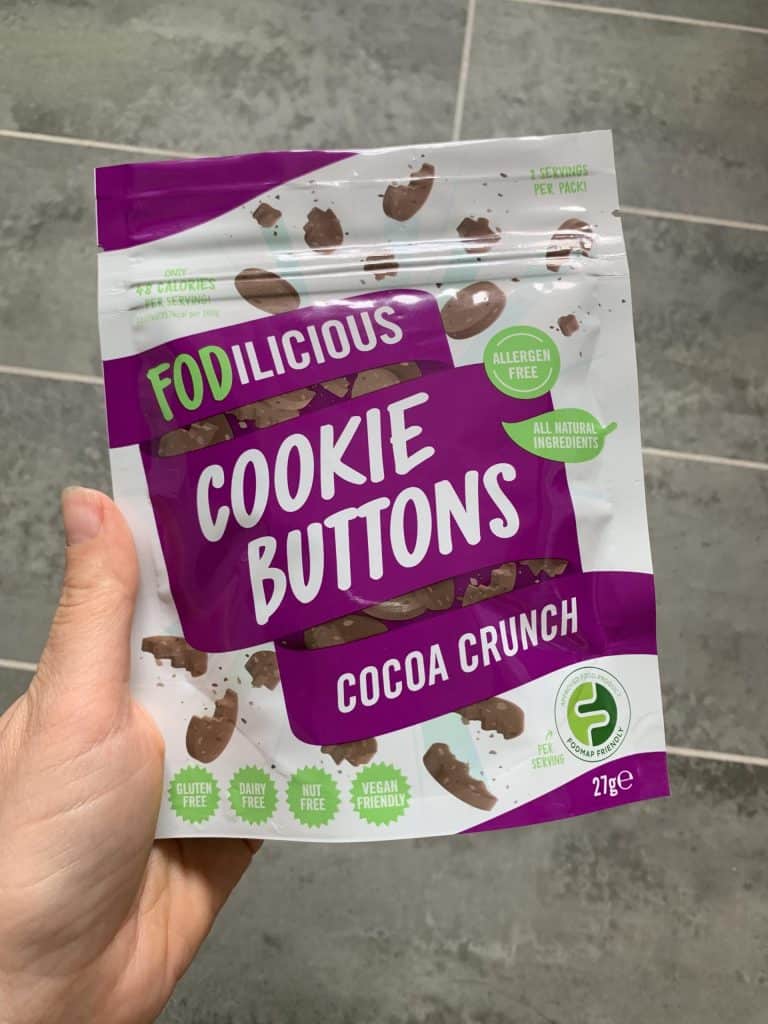 Bak'd Cake
A family run business who really understand the needs of allergy parents - because they are allergy parents! Bak'd Cake make a fabulous range of free from baking kits. My favourite was the honeycomb crunch brownie, but their standout product for me is their birthday cake kit. So many mums struggle with making a birthday cake for their child's party, and this is an ideal solution. It includes everything you need including a baking tin and even the candles!
Little Bandits
This brand is so new you can't even buy it yet! Little Bandits have developed three new flavours of dairy- and soya-free yogurt made from coconut milk. It's made with no added sugar, sweetened with fruit only, and their fun branding is perfect for kids.
Jess, the founder, is an allergy mum herself - she developed the yogurts for her son Jonah, and now she is sharing it will the world! My favourite flavour was banana - let's hope to see it hit the supermarket shelves very soon!
Cosi Care
If you're sick of telling you're child with eczema to 'stop scratching' then Cosi Care is for you. They have created a fabulous new tool that children can use to soothe the itch of eczema without damaging their skin. It's toy-like appearance has great child appeal. I was very excited to try it for myself and can't wait to get my hands on one for my 8-year-old daughter.
Eczema Outreach Support
This charity offers practical and emotional support to families with eczema. It's completely free and we've signed up immediately! With a competition every month and the opportunity to attend events and even have penpals, their kids club is a fabulous idea. This month Eczema Outreach Support are inviting children to decorate their pots of cream. I told my daughter about it when I got home and she immediately got creative. As you can see, she has really made her cream pots her own!
Guruji
Another allergy friendly snack, Guriji is made from popped lotus seeds! A healthy snack made with natural ingredients, it comes in 4 different flavours. My favourite is the cheesy vegan variety. Popped lotus seeds are considered a superfood in eastern cultures, and I bought a few packets to bring home. The children weren't keen on them, but I'm happy as that's more for me!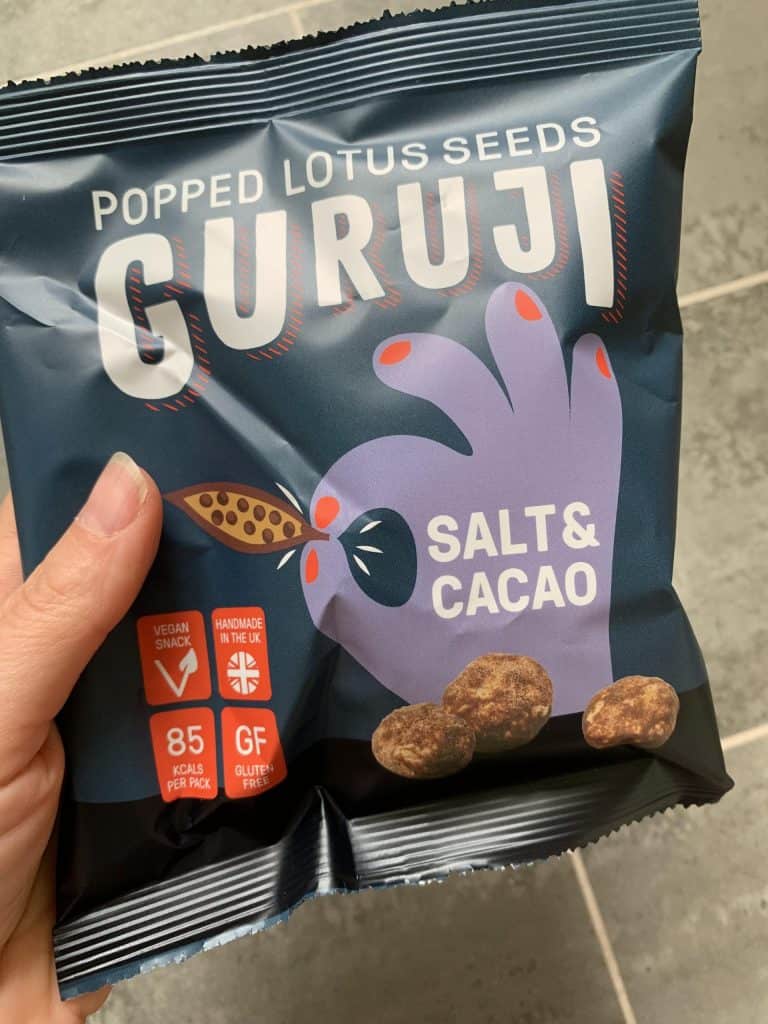 MozzaRisella
I'm not a huge fan of dairy free cheese at it is usually very processed with lots of additives, and really doesn't taste great. So, I was very excited to come across the MozzaRisella stall - their dairy free cheese is made with natural ingredients and actually tastes nice! This is the cheese used on vegan pizzas at Zizzi and Ask, as well at White Rabbit vegan pizzas.
Although my daughter is dairy free, I'm still rather a cheese addict, and this is the first vegan cheese that is tasty enough to make me consider the switch. Sadly there are no stockists near me, but I'll keep my eyes peeled for it!
Did you go to the Allergy & Free From Show 2019? What were your best bits?