Have you heard about the Teal Pumpkin Project?  It came to the UK in 2016 and aims to make Hallowe'en inclusive for all children.  Displaying a teal pumpkin outside your home means that you have non-food treats (you can still have sweets as well, if you like).  This means that children with food allergies and intolerances, coeliac disease and diabetes can still join in the fun along with vegans and children on other special diets.  Put my free teal pumpkin printable on your front door to tell others what the project is all about.
You might also like to make your own teal pumpkin to put outside your home - here are 3 Easy ways to Decorate a Teal Pumpkin.  And if you're having a Hallowe'en party check out these Dairy Free Halloween Recipes (most are top 14 allergen free and vegan, or can be adapted).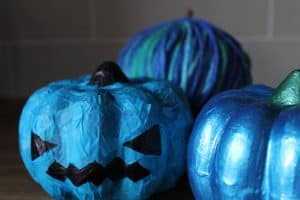 Non-Food Treats
You can easily pick up inexpensive, small non-food treats to give out from pound shops and anywhere that sells Hallowe'en items.  You can buy Hallowe'en themed treats or small party bag toys. There are loads of possibilities, including:
bubbles
glow sticks
pencils
rubbers
stickers
crayons
packs of cards
balloons (although consider those with latex allergy and keep these separate)
If you have any other non-food Halloween treat ideas please let me know in the comments below.  I'm particularly keen to hear of any plastic-free goodies!
Teal Pumpkin Printable
You can print and display my teal pumpkin printable on your door.  This explains what the Teal Pumpkin Project is all about for any trick or treaters who come a-knocking!