This healthy raw chocolate recipe is a guest post by my friend Margaret who is an expert on using Essential Oils for health. They'd be great for Christmas, Easter, or pretty much any time you need chocolate... oh that's every day... isn't it?
Healthy raw chocolate – Is there such a thing? I say…Yes! Today I am sharing my healthy raw chocolate recipe with you, so you can enjoy the benefits too.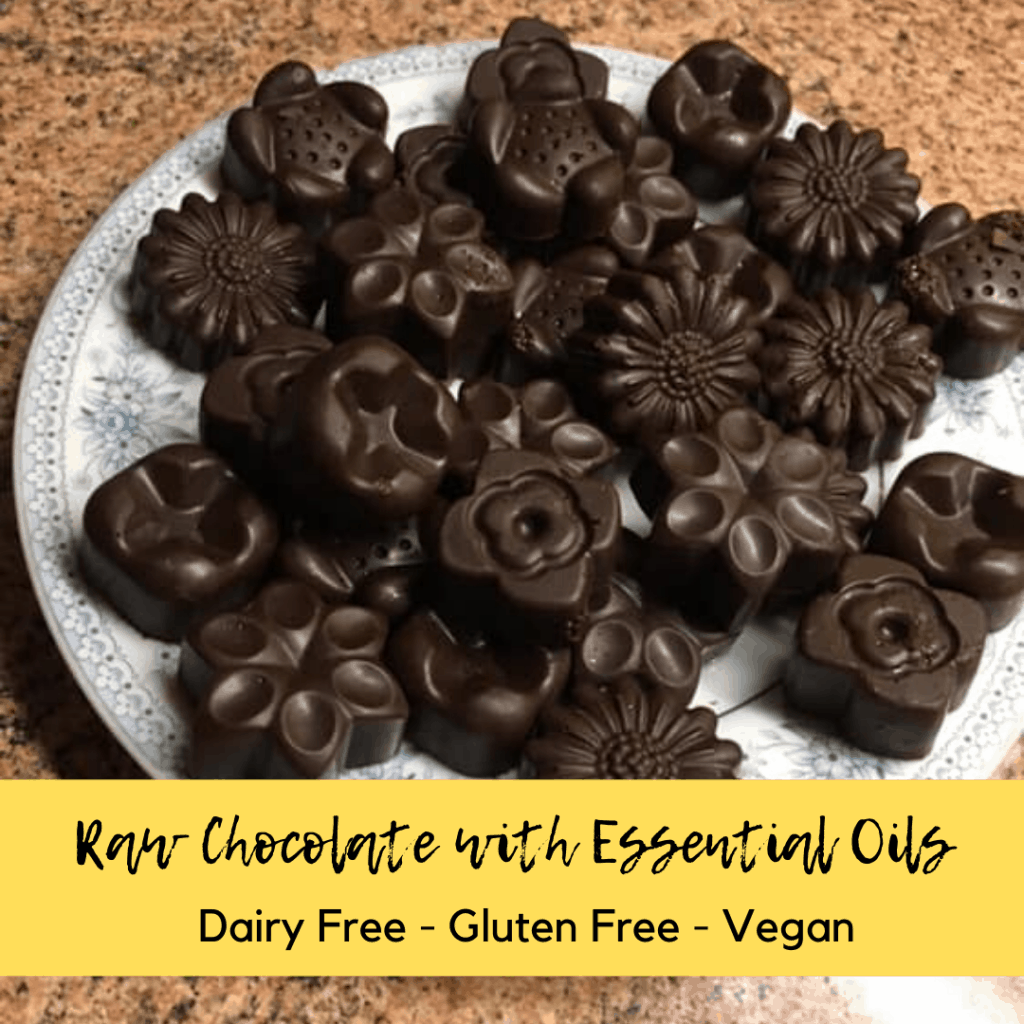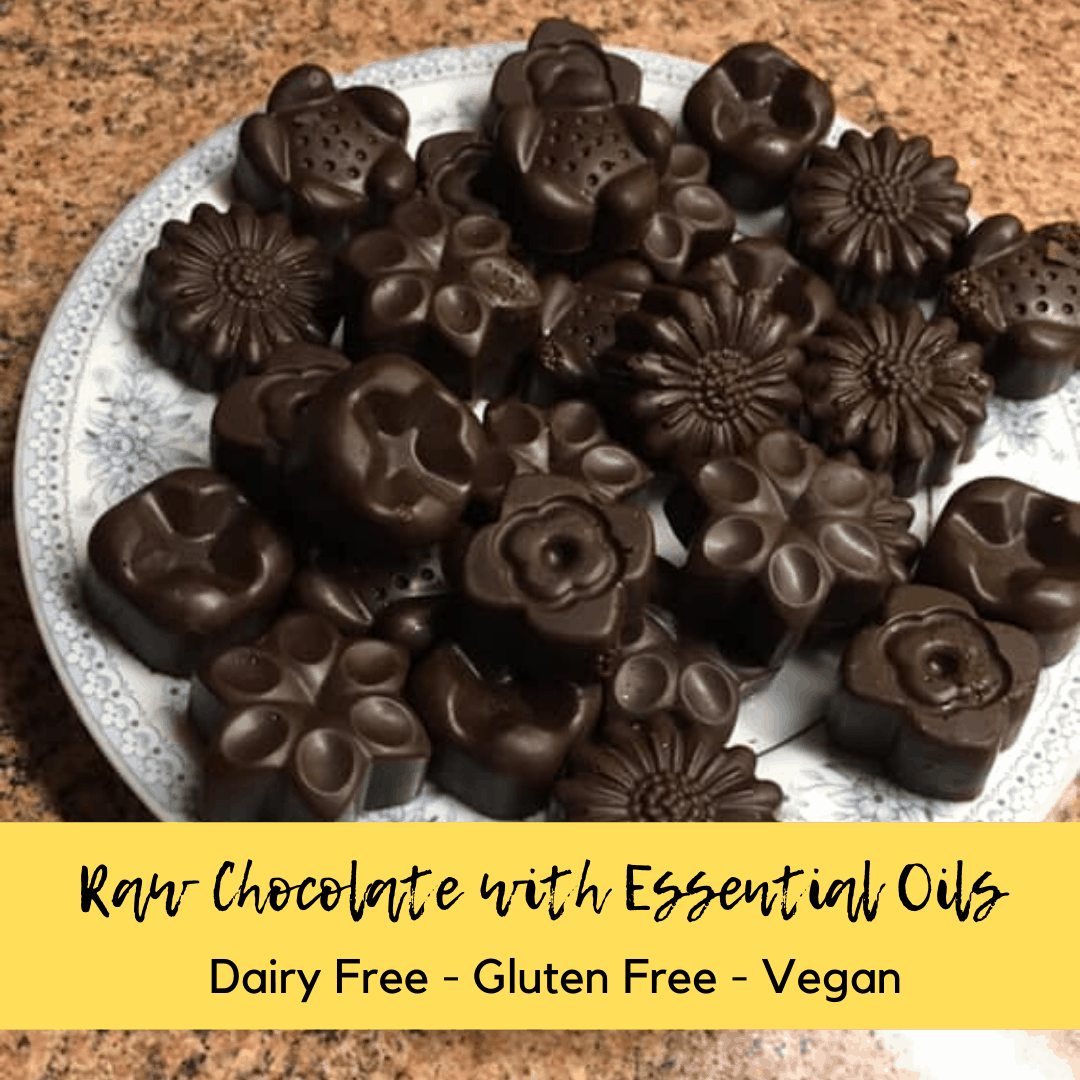 This raw chocolate uses organic virgin cacao butter and raw organic cacao powder, with honey or maple syrup to sweeten. We can then add in a few drops of Certified Pure Therapeutic Grade (CPTG) essential oil for their flavour and purity. As you can see from the recipe, you only need four drops to make a batch of 30 chocolates, due to their potency.
As you open the bottle of essential oil, inhale directly from the bottle. Or let a drop fall into the palm of your hand, rub your palms together, cup around your nose and inhale 4-5 times to fully enjoy the aromatic benefits. Essential oils are taken from plant material such as the flower, the roots, the bark, the leaves, stems, or branches, usually through steam distillation. Citrus oils are cold pressed from the rind of the fruit.
Essential oils have been used for their natural health, beauty and fragrance properties throughout the centuries in many different countries worldwide including Egypt, China, India, Italy, and France to name a few.
Essential Oils for Flavour
Which essential oils would you add into your homemade chocolate? Over time I've tried some different combinations. Wild Orange or Peppermint tend to be the ones we traditionally combine with chocolate. They are the ones I've mentioned in this raw chocolate recipe.
When I became a little more adventurous, I used Geranium, which tastes like chocolate Turkish delight. I've also tried two essential oils in combination such as Lime and Cardamom, or Lime and Ginger. Recently I tasted some homemade chocolate made with the Metabolic essential oil blend. This preblended combination contains grapefruit, lemon, peppermint, ginger and cinnamon… totally yummy and one I'll be making next time.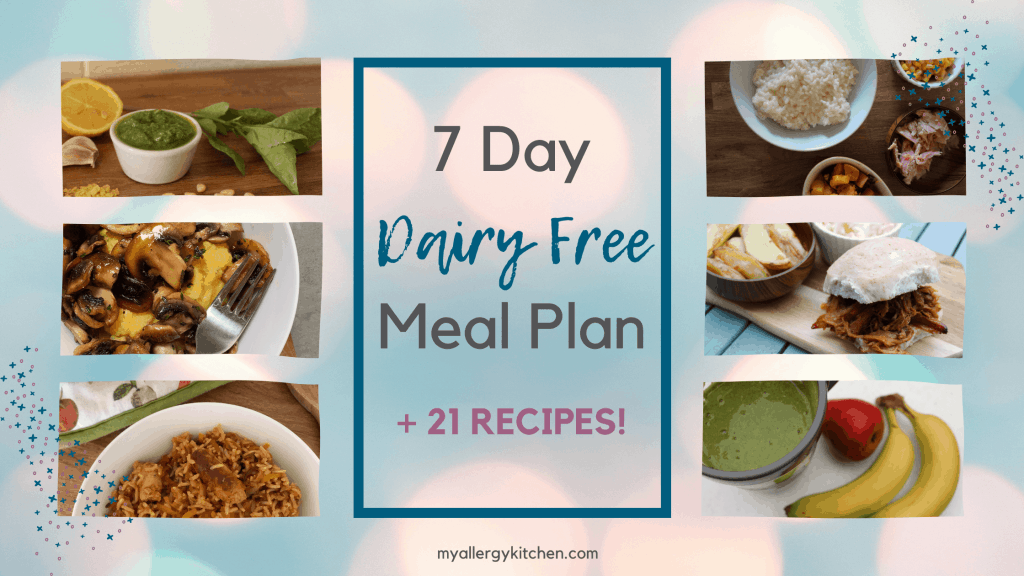 Benefits of Essential Oils
Aromatically Wild Orange is uplifting. When combined with Peppermint, it's an energizing and mood boosting combination. Together, the combination is perfect for that afternoon slump, or when struggling to get going in the morning.
Peppermint, on its own, may help with digestion, head tension and clearing the airways. It's an incredibly versatile oil. Keith, my husband, loves the peppermint raw chocolate. He also inhales peppermint every morning as it helps his breathing – yes men use essential oils too!
Did you know that essential oils are 50-70 times more powerful than herbs? These gorgeous oils are nature's pharmacy; a wonderful, natural way of keeping healthy.
Lime, just like other citrus oils, is uplifting, stimulating and refreshing. Other than as a food flavouring Cardamom, and likewise Ginger, may aid with digestion, amongst other issues.
Raw Chocolate Recipe
Below is the recipe that makes 30 chocolates (two silicone tray moulds) and as you can see it really isn't complicated: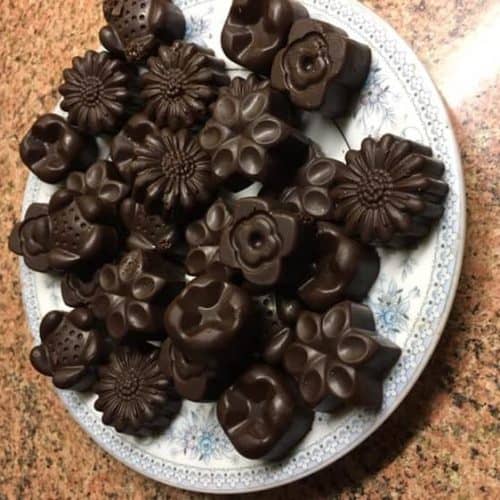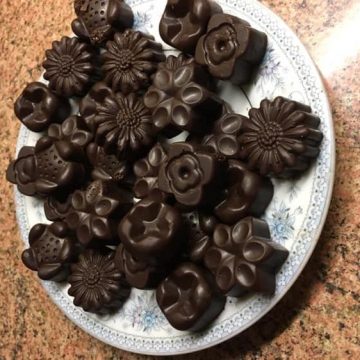 Healthy Raw Chocolate
Ingredients
90

g

organic virgin cacao butter

60

g

raw organic cacao powder

60

g

honey or maple syrup

4

drops

Peppermint
or Wild Orange (CPTG – Certified Pure Therapeutic Grade) Essential Oils
Instructions
Melt the cacao butter in a bowl/pyrex jug placed in hot water.

Mix in the cacao powder. Add the honey/maple syrup and top up to taste.

Add 4 drops of essential oil.

Pour into the moulds and place in the fridge to cool.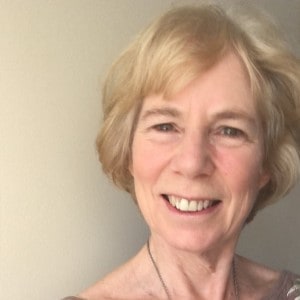 Margaret Holvec
Empowering families to use dōTERRA essential oils for their health.
Facebook: Margaret's Natural Solutions
Instagram: Margaret's Natural Solutions.