Pulled pork is one of my favourite meals - it's so flavoursome and tender. So why bother making pulled jackfruit? Well, for health, ethical and environmental reasons, I'm trying to reduce my consumption of animal products and cook more plant-based meals. I'm not vegan but I do eat meat free meals a few times a week. I'm trying to build up my repertoire of vegan dishes. So I decided to have a go with pulled jackfruit.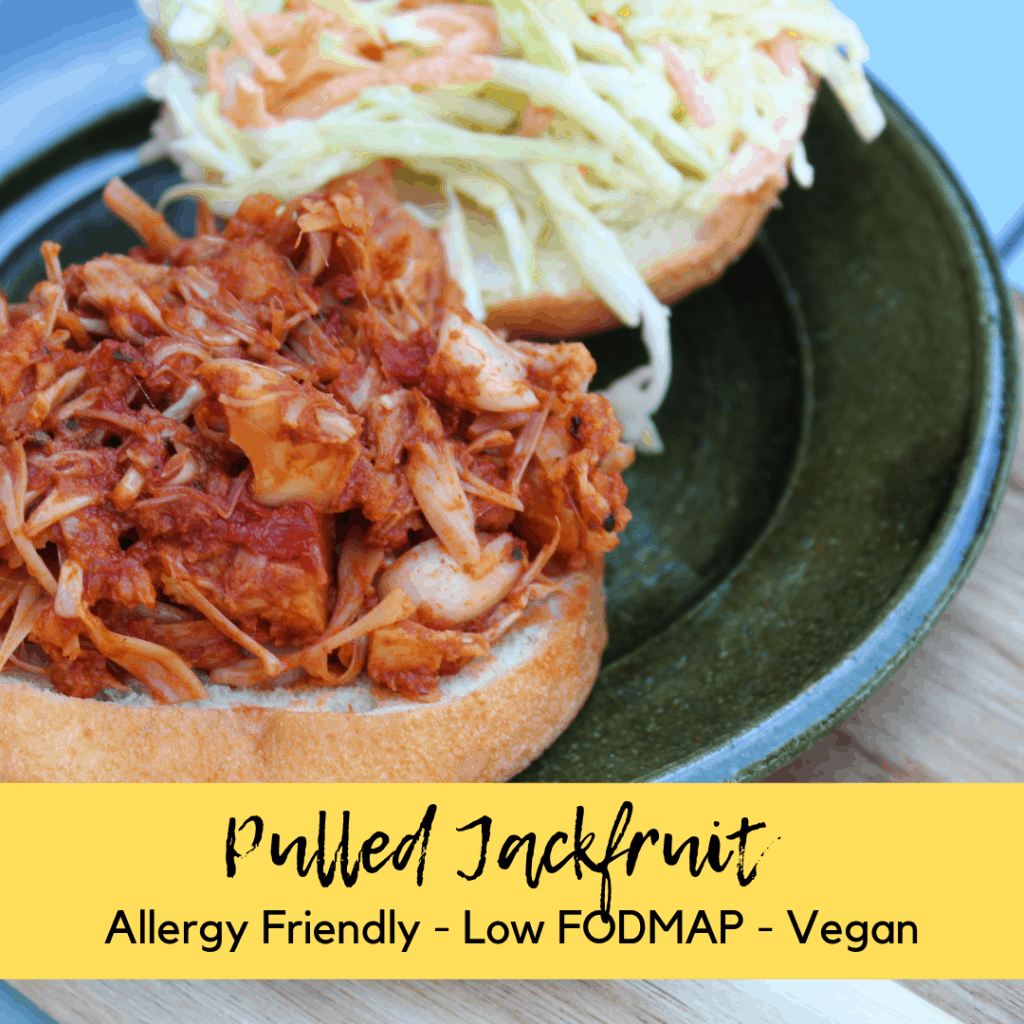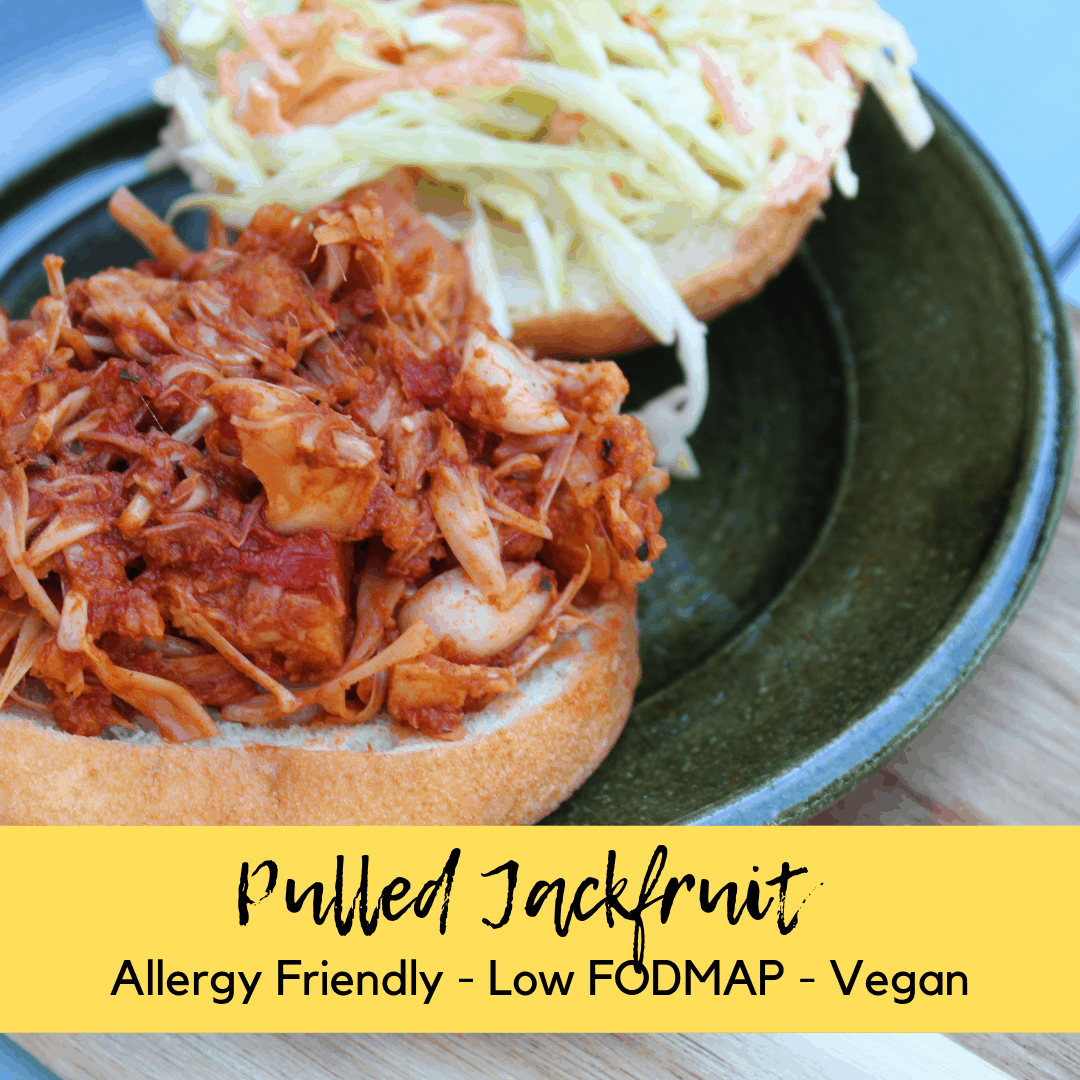 I simply adapted my pulled pork recipe with a couple of small tweaks. To my surprise, it was really yummy! The texture of pulled jackfruit is very similar to pulled pork, and I don't think people would notice the difference. It's also massively quicker to make than pulled pork - just simmer all the ingredients in a pan for around 20-30 minutes.
My low FODMAP pulled jackfruit is a great option for inclusive food, if you're catering for a group that includes vegans and/or people with food allergies. The ingredients in this recipe are also all suitable for the low FODMAP diet in the quantities suggested here. And at the same time, easy enough to whip up for a weeknight meal. We like to serve it in bread rolls with potato wedges, coleslaw and salad.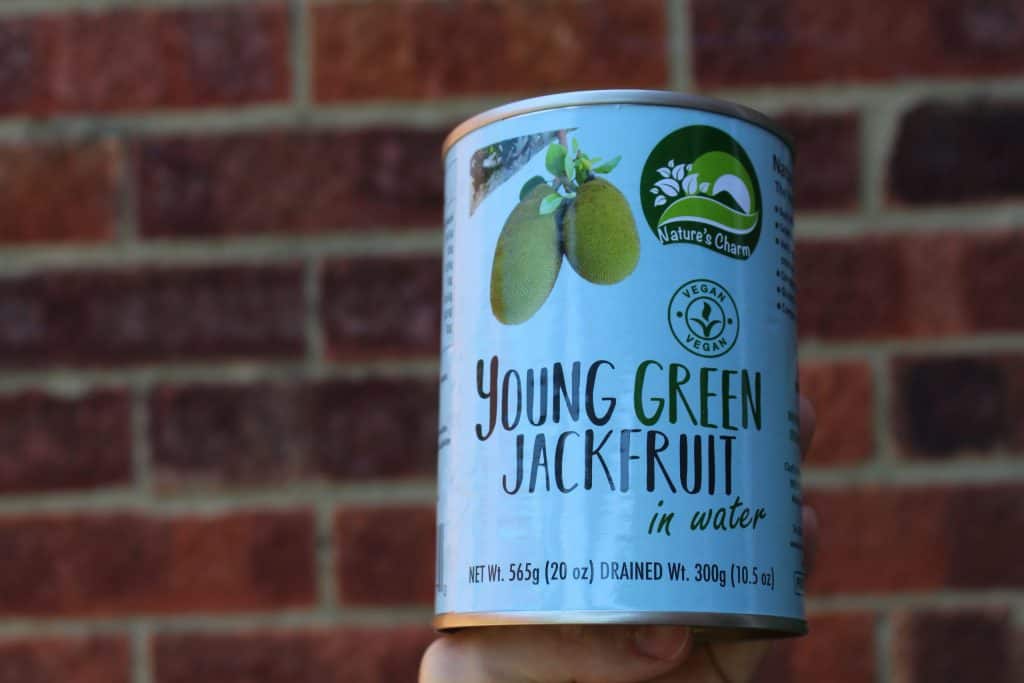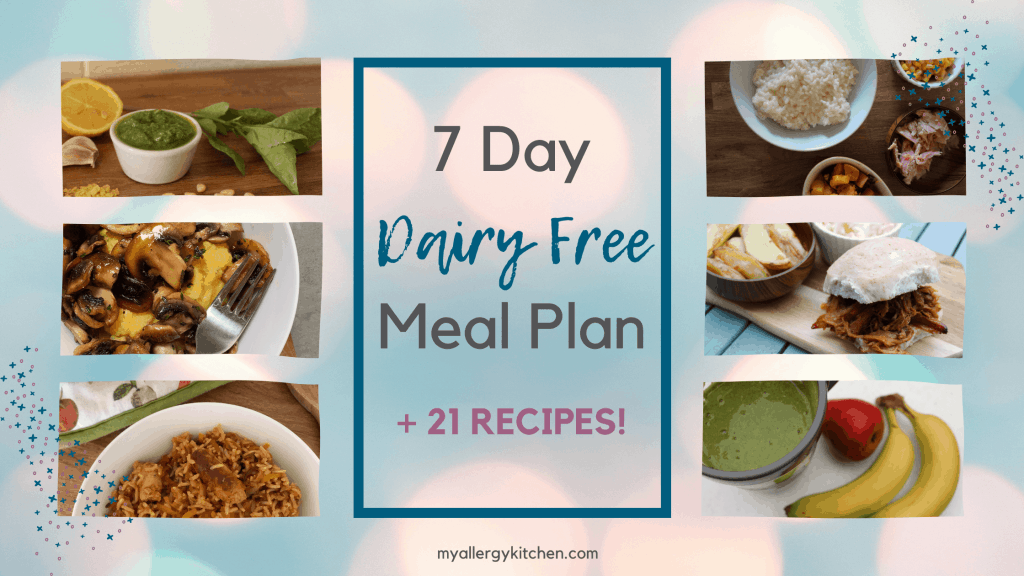 So What is Jackfruit?
Jackfruit comes from tropical climates. In the UK, we usually buy it in tins. It's labelled as 'young jackfruit'. Don't buy an actual whole jackfruit (if you can even find one) for this recipe as it won't work! When you take it out of the tin, you'll see it's in big lumps. Don't worry as these will break down when you cook them, as you can see from these photos: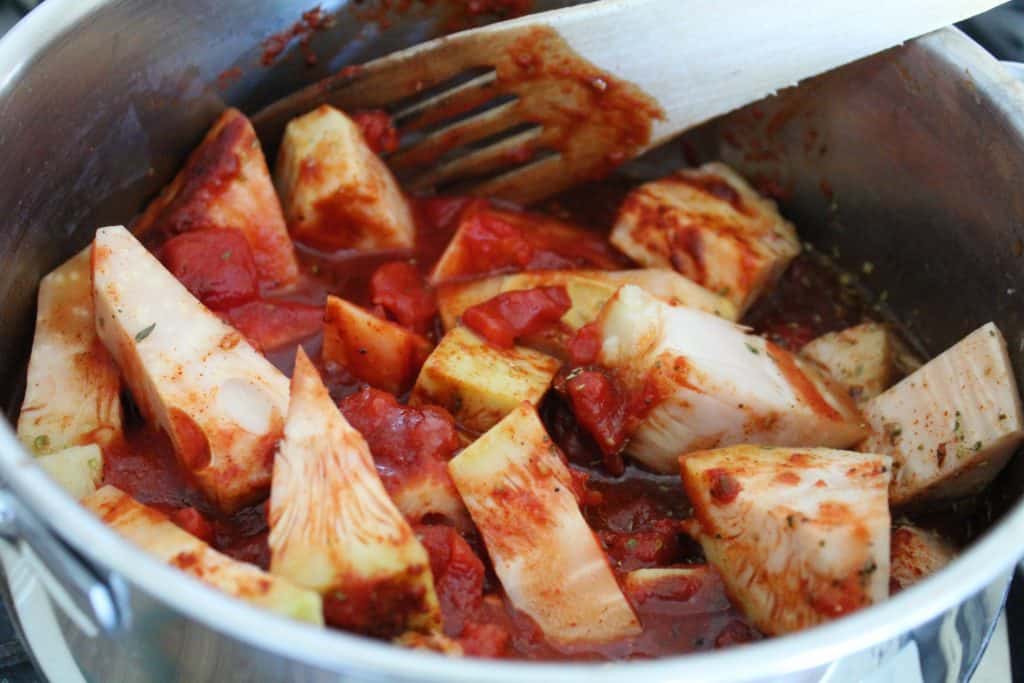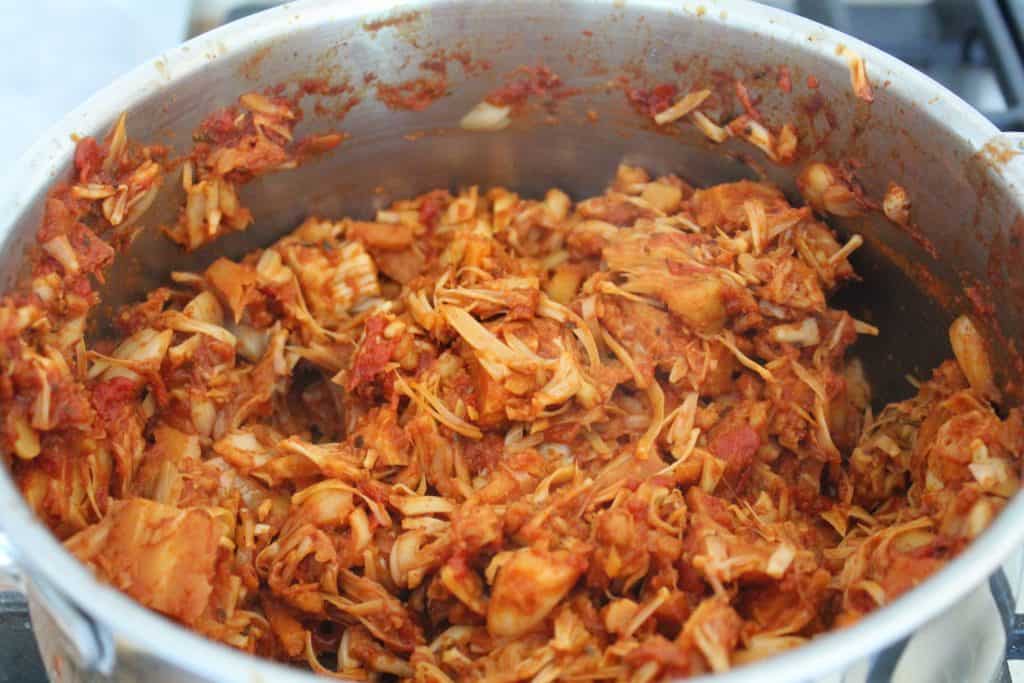 It's a hugely sustainable crop, with each jackfruit tree producing up to three tons of the massive, bumpy, bulbous fruits. Jackfruit's neutral flavour and high fibre content makes it perfect for recipes like this, as it readily absorbs all the flavours. It's also highly nutritious and packed with vitamins and minerals.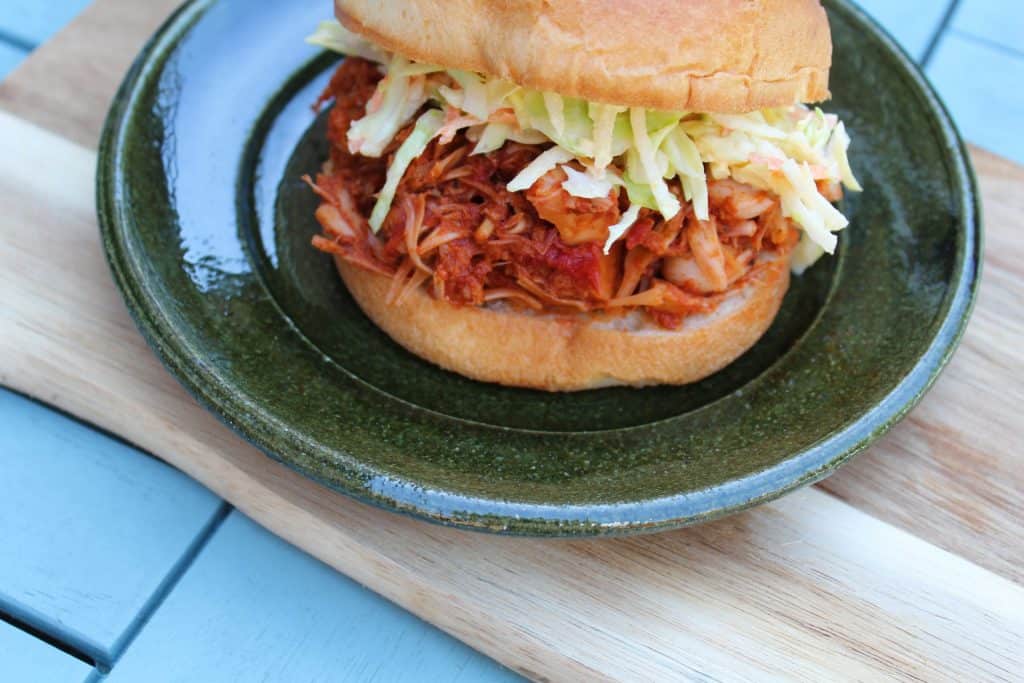 Have you ever cooked with jackfruit?
How to Make Low FODMAP Pulled Jackfruit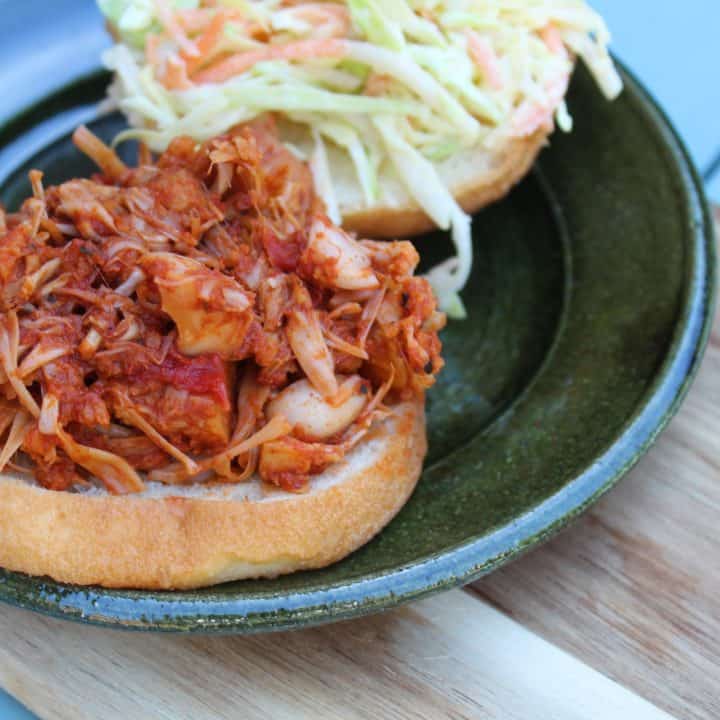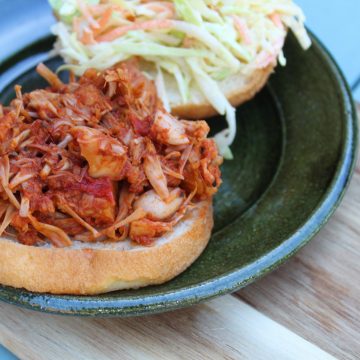 Low FODMAP Pulled Jackfruit
Ingredients
2 x 400

g

tinned young jackfruit, drained

400

g

tinned chopped tomatoes

3

tablespoon

smoked paprika

1

teaspoon

salt

2

teaspoon

black pepper

1

teaspoon

dried mixed herbs

½

cup

maple syrup

¼

cup

red wine vinegar
Instructions
Put all the ingredients into a large saucepan.

Simmer for 20-30 minutes, stirring regularly, and using a wooden spoon to break up the jackfruit.

Serve with your favourite trimmings!