Kale, along with other dark leafy green veg, packs a nutritional punch that is hard to beat.  However, it can be difficult to get children to eat it.  And sometimes grown ups!  Enter: kale chips!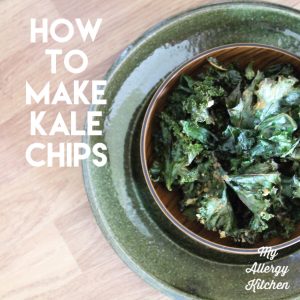 My 4 year old has inspired me to share this recipe today, as she actually asked me to make some kale chips this week.  Well, what she actually said was "Mummy, what are those green crunchy things I like? Can you make me some of those please?"!! I have made this for her regularly since she was a toddler - she doesn't have much of a sweet tooth and prefers savoury snacks.  She enjoys eating them, and I enjoy knowing she's eating something that's doing her a lot of good!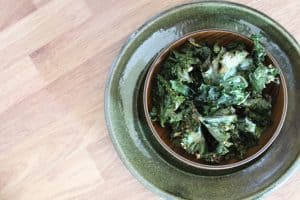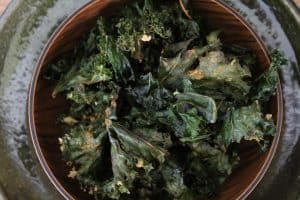 Why Eat Kale?
All dark green, leafy vegetables are very healthy and nutritious.  Kale in particular contains many different nutrients including:
Calcium and other minerals - great if you don't eat dairy
Protein - handy for vegans
Folate - important for brain development and especially during pregnancy
Omega-3 - anti-inflammatory, great for skin, brain and joint health and more
The bottom line is, if you're dairy free and/or vegan, kale is a valuable addition to your diet.  And even if you're not, it's still a very healthy food to eat.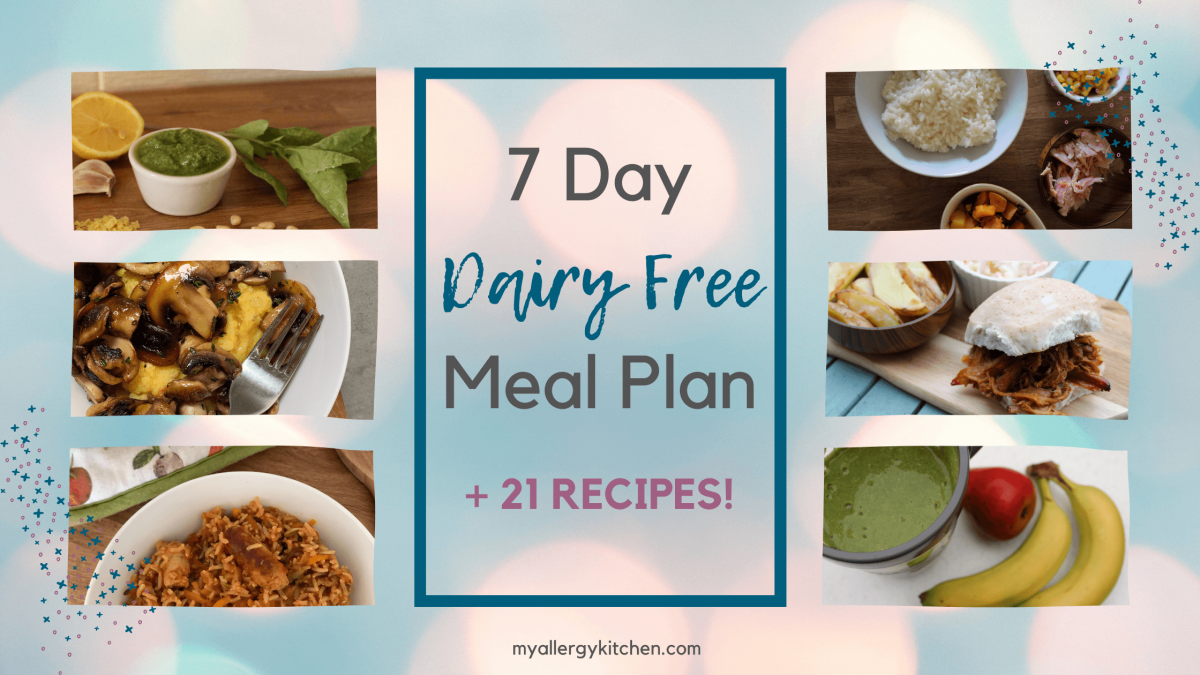 What Are Kale Chips?
Kale can be eaten raw in salads or sauteed in oil.  However the leaves are quite tough and not easy for children to eat.  Baking the leaves with a little oil transforms them to become light and crunchy, and a joy to eat.  It's a much easier way to introduce your child to kale.  You can also add nutritional yeast for a cheesy flavour, or salt if preferred.  Nutritional yeast is also fortified with B12 which is an essential addition to a vegan diet.
The key to the crispiest kale chips is to make sure they are as dry as possible before you cook them.  After washing, drain the kale thoroughly using a colander.  Then, place it inside a teatowel.  Gather the corners together to make a parcel and shake.  This will help to get rid of any moisture still clinging onto the leaves.  Get rid of the stems before cooking, as these contain more moisture, and don't taste good anyway.
Once cooked, the kale chips are best eaten straight away.  They can be stored in the fridge for a few days, although they will start to soften.  You'll just need to pop them in the oven for a few minutes to crisp them up again.
How To Make Kale Chips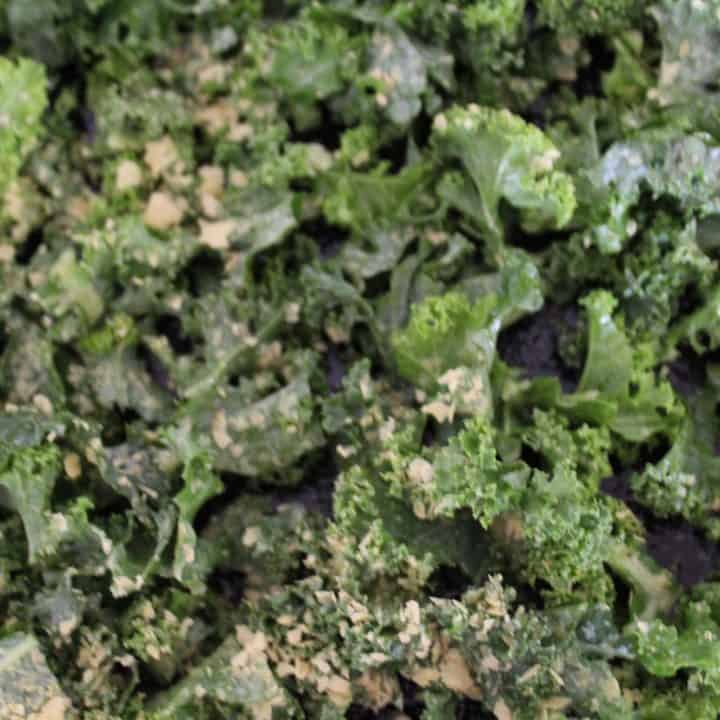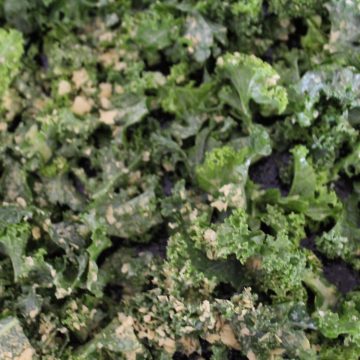 Kale Chips
Ingredients
1

tablespoon

olive oil

100

g

kale

1

tablespoon

nutritional yeast

optional
Instructions
Preheat the oven to 150C.

Wash the kale and dry thoroughly.

Shred the kale, discarding any tough stalks.

Spread the kale evenly over a large baking tray. Drizzle with the oil and toss to coat.

Sprinkle nutritional yeast over the top, if using, or season with salt if preferred.

Bake in the oven for 20-30 minutes, turning the kale over with a spatula 2 or 3 times.

When the kale is crispy and crunchy, remove from the oven. Leave to cool for a few minutes before serving.
Like this? Sign up to get all my latest recipes and blog posts direct to your inbox!