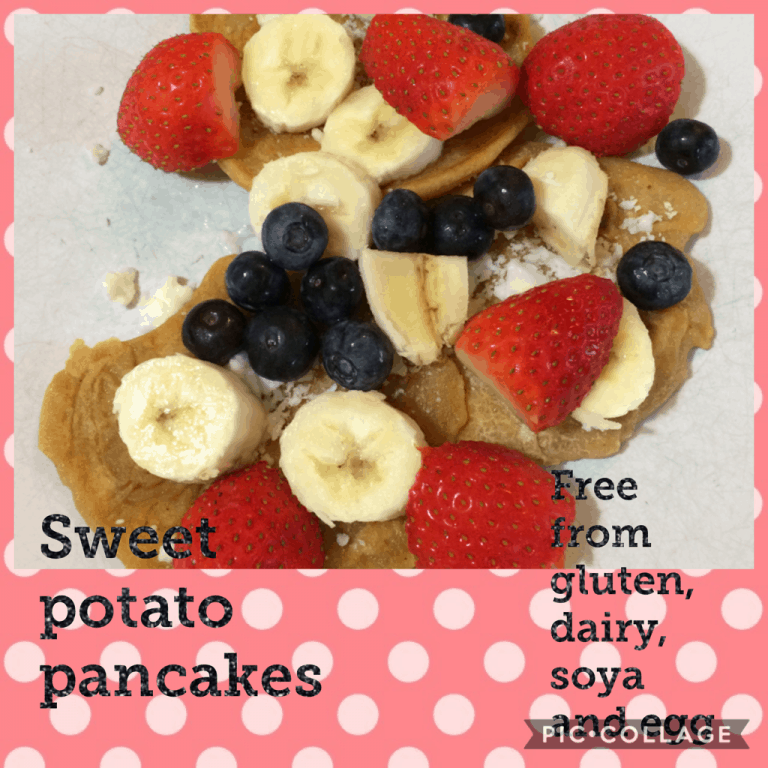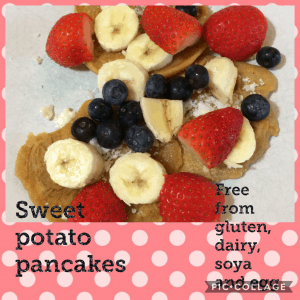 Flipping heck! (sorry, couldn't resist!!).  Here's our favourite allergy-friendly pancake recipe.  These gluten free vegan pancakes are of course dairy and egg free.  They're actually free from all of the top 14 allergens!  My children like them with dairy free chocolate spread, maple syrup or jam, and I like them with coconut butter and fresh fruit.  They also taste great with fruit puree or compote on top.  I often make a double batch as they keep well in the fridge and can be reheated in the microwave.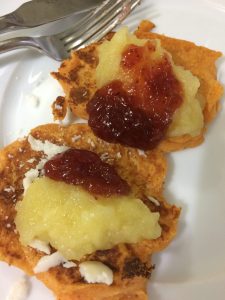 Traditionally, pancake recipes use wheat flour, milk and eggs - all of which are common allergens, and it's not unusual to be allergic to all three!  I came up with this recipe for my daughter who used to suffer with multiple food allergies. We made them every weekend and the whole family enjoyed them.  They really are yummy, even if you're not allergic to anything.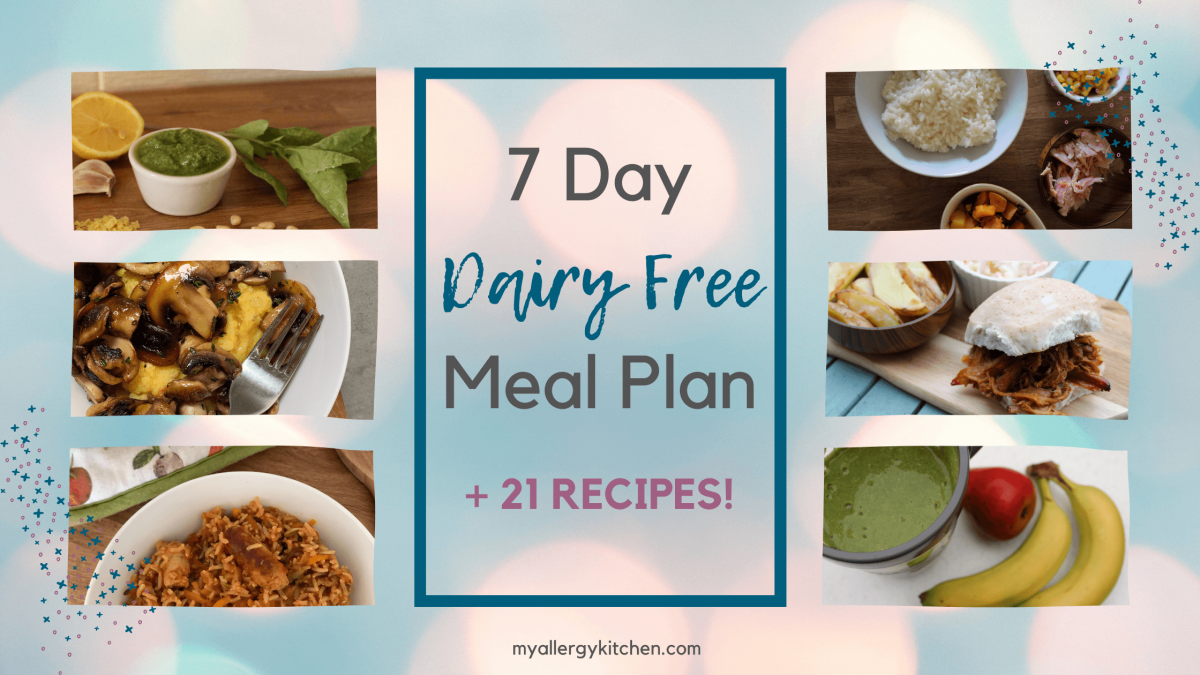 This recipe was inspired by Deliciously Ella's Sweet Potato Pancakes.  However I have adapted it to make it completely gluten free (no oat milk), vegan and low FODMAPs.  I've also normal gluten free plain flour which is about one tenth the price of brown rice flour, plus you can find it in any supermarket.  If you're gluten free, you probably already have some in your kitchen.  I don't know about you, but I already have enough different packets of flour in my cupboard, I don't need another one!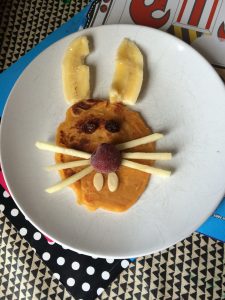 Whatever your dietary needs, make these gluten free vegan pancakes for a lazy weekend breakfast or brunch.  This recipe only needs a small amount of maple syrup to sweeten, as of course the sweet potatoes are naturally sweet, making this a healthy pancake recipe - depending on what toppings you choose!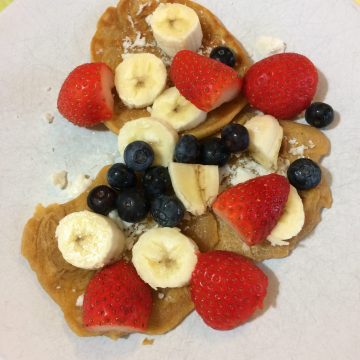 Gluten Free Vegan Pancakes
Ingredients
200

g

sweet potato

200

g

gluten free plain flour

200

ml

dairy free coconut milk alternative

e.g. Koko dairy free

2

tablespoon

maple syrup

1

teaspoon

ground cinnamon

coconut oil, for frying
Instructions
Wash, dry, and pierce the sweet potato with a sharp knife. Place on a suitable plate and microwave for 5-10 minutes until soft and tender. Alternatively you can roast the sweet potato in the oven for 45-50 minutes.

Cut the sweet potato into quarters and allow to cool slightly, then peel the skin off with your fingers (it comes off very easily when cooked). Discard the skin and place the sweet potato in a food processor.

Add 200g gluten free plain flour, 200ml dairy free milk alternative, 2 tablespoon maple syrup and 1 teaspoon ground cinnamon to the food processor and blend until smooth.


Melt a teaspoon of coconut oil in a frying pan over a medium heat. Place a large heaped tablespoon of batter into the pan and spread into a circle with the back of the spoon. Allow to cook for a couple of minutes until it is firmed up and golden brown on the underside (use a spatula to check), then flip and cook on the other side.

Cook in batches of 3-4 pancakes until you've used up all of the mixture. Add more coconut oil in between batches if the pan dries out.
If you try these gluten free vegan pancakes let me know how you get on in the comments below!  What's your favourite pancake topping?