As an Amazon Associate I earn from qualifying purchases
My dear readers, you have asked me many times to recommend the best children's books about food allergy. So I've created this blog post especially to help you guys out! I have included a number of books here that would suit different types of food allergy, so I hope you are able to find something that is relevant to your child.
Why does your child need a book about food allergies? Well firstly, sharing a book together can be a great way to teach your child about food allergies. It can help them to understand why they mustn't eat certain foods. Secondly, reading a book about food allergy can help to open up a conversation with your child and give them an opportunity to ask questions. And thirdly, these books can be brilliant for helping other children (e.g. siblings) to understand about food allergies too. Your child might also like to take one of these books to share with their preschool or school to help raise awareness among their friends and classmates.
Whenever possible, I've chosen children's books that are written and published in the UK so spelling and phrases should all be British English, to avoid any confusion. For each book I have indicated the age group it is suitable for and what type of allergy it covers. Please note that we have personally read most, but not all of these books - but I have looked carefully at online reviews of each one, and am recommending them in good faith.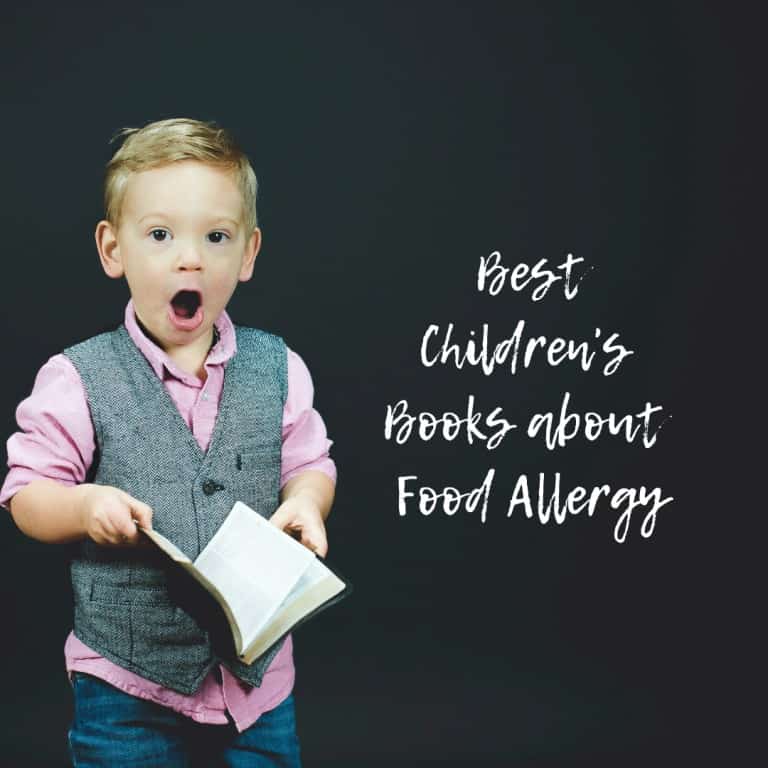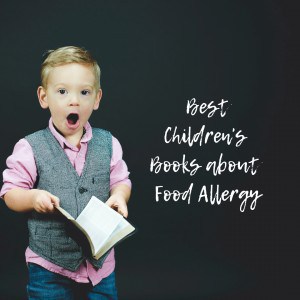 Matilda Has An Allergy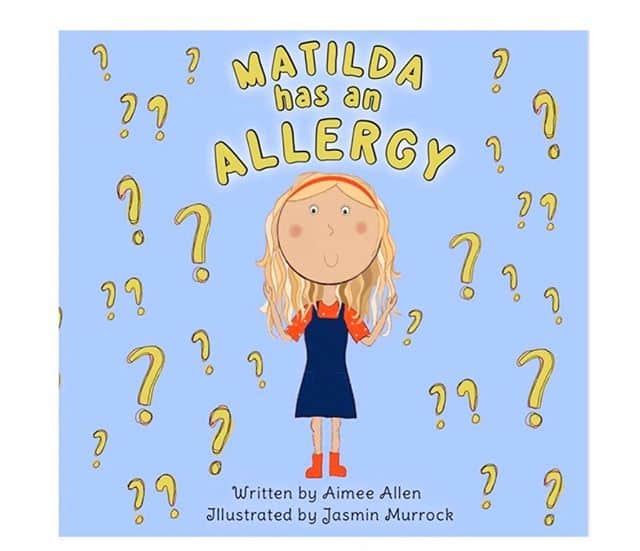 by Aimee Allen
published 2020
age range: 3 - 8 years
Aimee says:
'Matilda has an Allergy' is a children's book aimed at young children around 3-8 years to explain what an allergy is and what life is like . It's told from Matilda's point of view so children can identify with her and is beautifully illustrated.

It is inspired by my daughter who is now 7 . At the age of 3 after a frightening reaction to peanuts she was diagnosed with a peanut and Brazil nut allergy . Life changed overnight and this caused me to have a lot of anxiety . After having panic attacks and CBT I was inspired to write a book to explain allergies to children to raise awareness.

It was inspired by all the children who feature on my page - they along with my daughter are true stars . In my role as a primary teacher I am able to share the book with children and staff and raise awareness in education.
My daughter's favourite part was the page showing foods that children are commonly allergic to - she was excited to see her allergens on there! And she also enjoyed the self-portraits of other children with allergies. It's a very sweet book and I think it would be perfect for gently introducing the idea of food allergies to young children, or for sharing with siblings, friends or at preschool and school.
You can order the book direct from the author, Aimee, via her Instagram account @allergystars. Just send her a DM to find out more.
Dairy Free and Happy
by Michelle Diana Lowe
published 2019
age range: 5 - 11 years
This is a Kindle ebook (read on any device with the Kindle app) with advice for children who are allergic to dairy products. I received a free copy to review and I enjoyed reading it with with my young daughter. It's very positive and led to some interesting discussions. My little girl certainly found it very reassuring, and was quite excited to see that there are other children with milk allergy. It's helped her to realise that she's not the only one affected. You can read my full review from my Instagram page below:
https://www.instagram.com/p/B7G2BuwHPYU/
Buy Dairy Free and Happy on Amazon
You, Me & Food Allergies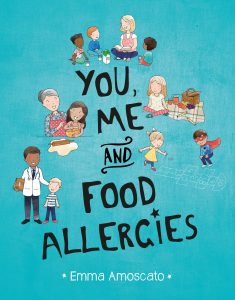 by Emma Amoscato
published 2020
age range: 3 - 8 years
Written by bestselling author of Living with Allergies, You, Me & Food Allergies is Emma's first children's book about food allergies. This differs from other children's books available because it is a non-fiction book, presenting clear factual information. Emma says:
You, Me & Food Allergies is the book I wanted for my children, but couldn't find. It includes beautiful illustrations, practical exercises and will be clinically reviewed and endorsed by Allergy UK.
This is an excellent book to help your child answer all their questions about food allergies. Emma has handled difficult topics very sensitively, and I'm pleased to say it covers both IgE and non-IgE food allergies. I think this would be perfect if your child has a lot of anxiety about their allergies, or you want to develop their understanding as they start to get ready for nursery or school.
Luca The Lion Who Couldn't Eat Meat
by Tersha Cutmore
published 2020
age range: 3 - 8 years
Poor Luca is a lion who is allergic to meat and feeling very sorry for himself, as he has to watch his friends tucking into juicy steaks for school dinners each day. Until his friends and family cheer him up by showing him that he is not alone, and focusing on all the fun things he CAN do.
The rhyming text and colourful illustrations are ideal for young children, and this book would be suitable for any type of food allergy or intolerance. Plus this would also be a great book for children who don't have allergies, to help them understand what it feels like to always have to eat something different to everyone else. Of all the books we've shared about food allergies, this is the one my daughter comes back to time and time again.
Katie Can't Eat Nuts
by Katherine Kise
published 2021
age range: 6-12 years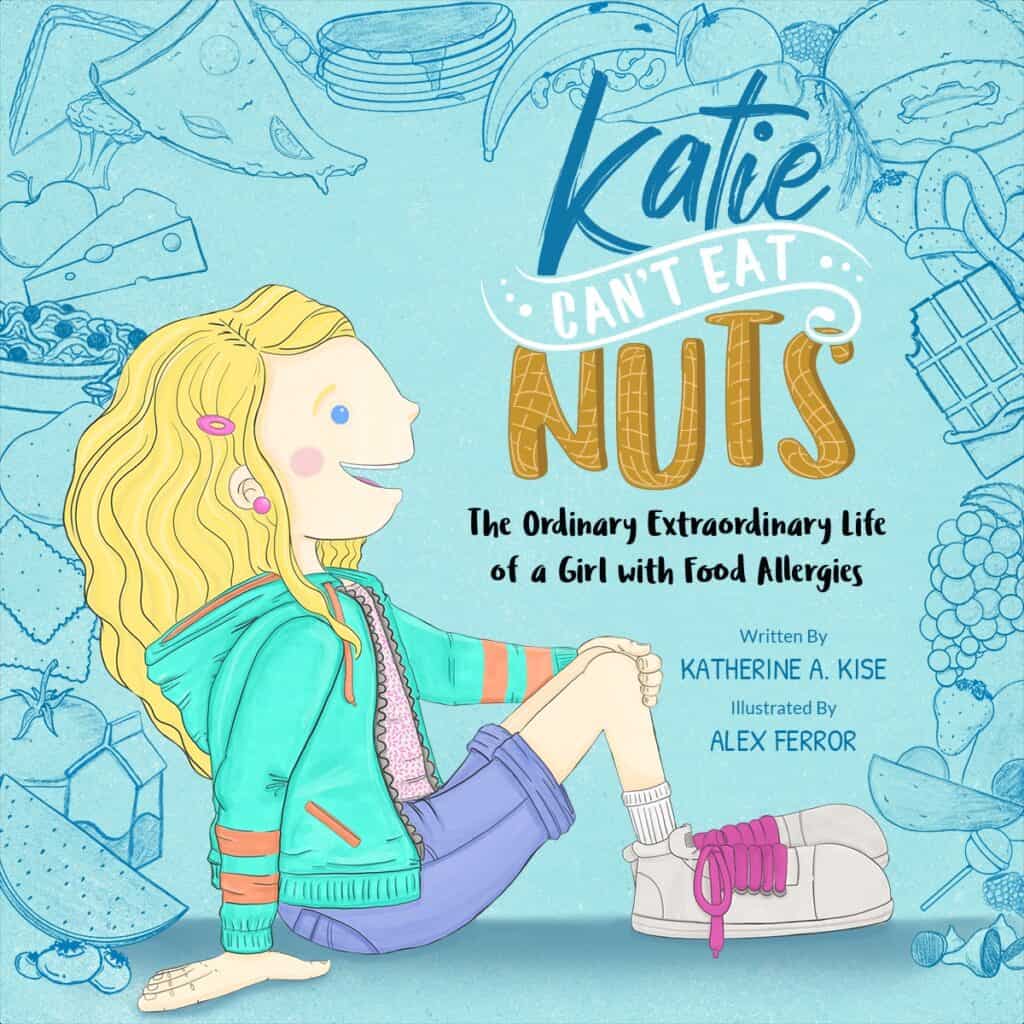 This is the sweet story of Katie, a feisty girl who loves to play soccer, do ballet, and make pancakes with her dad! This book touches on a few difficult issues that affect allergy kids and could be a great way to start a discussion with your child, for example: a severe allergic reaction, worrying about eating an allergen by mistake, and feeling different.
Overall, however, the book is very positive in tone, focusing on all the things Katie CAN enjoy, how her parents, teachers and friends look out for her, and how sometimes her friends even make allergy-friendly snacks that they can all share together. Katie also has a friend with a gluten allergy and knows that there are millions of kids with allergies, so she doesn't feel alone. There is also a fun activity section at the back for little ones to complete.
Buy Katie Can't Eat Nuts on Amazon
Allergy Adventures
by Hailey Phillips
published 2013
age range: 3 - 7 years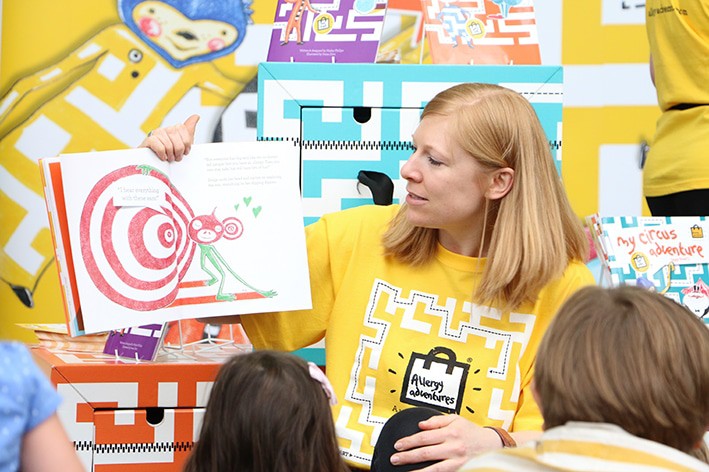 Graphic designer Hailey created these fun and eye-catching books after her niece was diagnosed with egg allergy at 8 months old. There is a different version of book for dairy, gluten, egg and nut allergies. She self-funded the project and has lots of great resources on her website, including a free schools workshop with video resources and classroom activities. Hailey says:
If you've not met the onion ringmaster or the beetroot monkey, then what are you waiting for?! Allergy Adventures' storybooks take children on a magical adventure inside a lunchbox! The stories teach positive messages about living with food allergies, while reinforcing the importance of staying safe around food.
The books are a fantastic for reading at home, and can also be used to raise allergy awareness in schools and nurseries.
Buy Direct from Allergy Adventures
Tom's Secret Agents
by Jamie Waggott
published 2014
age: 3 - 8 years
This book was written by Jamie, a young child with food allergies. After he developed a nut allergy, his parents started to teach him about food allergies. One bedtime, he had an idea that helped him to visualise what was going on inside his body:
He imagined that in his tongue were tiny Secret Agents that, on detecting even the smallest spec of nut, would send messages all around his body and trigger a huge fight. It was suggested Jamie illustrate his story and, with added graphic design skills and edits from mum, he found himself the proud author and illustrator of a great little book explaining a big issue to little people.
Buy Tom's Secret Agents on Amazon
Food Allergies and Me
by Juniper Skinner
published 2010
age: preschool/Key Stage 1
Juniper wrote this book to empower parents, caregivers and children, as a mother of an allergic child herself. It covers a range of scenarios that an allergic child might recognise, like taking your own food to birthday parties, washing hands after eating, and going to an allergy clinic. The child in the story has more than one allergy, but the focus is not specifically on those foods so it would be suitable for any child with an allergy.
Note: This is an American book and the language is American English.
Buy Food Allergies and Me on Amazon.
Gluten Free is Part of Me
by Laurie Oestreich
published 2018
age: 4 - 8 years
This sweet, rhyming book would be ideal for children following a gluten-free diet, whether due to allergies or coeliac disease. A positive and compassionate book, written by a child and family therapist after her granddaughter was diagnosed with coeliac disease:
If you're a kid who's gluten-free, Be all that you would like to be.

It's just a part of who you are, You're still a bright and shining star!
Buy Gluten Free is Part of Me on Amazon
The BugaBees: Friends with Food Allergies
by Amy Recob
published 2009
age: 4 - 8 years
This American story covers a range of food allergies, and each of the buggy friends talk about their food allergy. Written by an allergy mom, this book is great fun with colourful illustrations. While it doesn't go into too much depth, it could be a great first introduction to food allergies for a very young child.
Buy The BugaBees: Friends with Food Allergies on Amazon
Tom, Rosie, and the Battle of the Allergy
by Anat Shabi
published 2016
age: Key Stage 2
This book explores why the main character Rosie has allergic reactions to peanuts. Part of the BodyWords4Kids series, Rosie and her friends go on an adventure to explore what happens inside the body to cause an allergic reaction.
Buy Tom, Rosie, and the Battle of the Allergy on Amazon
What's your child's favourite book about food allergies? Are there any children's books about food allergies I've missed and readers should know about? Leave a comment below!