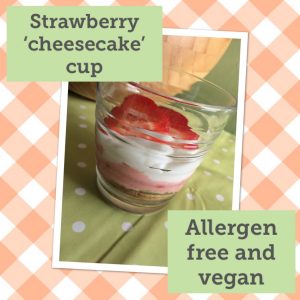 This dairy free cheesecake is a quick and easy, delicious dessert. It's allergy-friendly and can be made vegan too! I've been experimenting a lot with quick puddings you can throw together in a cup in just a few minutes, and this is my favourite. Even my super fussy 7-year-old loved it and ate the lot!
Cheesecake is my favourite dessert. I've been wanting to make one for ages that I could share with my whole family with all our multiple allergies and intolerances. I was so excited when both Koko and Violife came out with new dairy free cream cheese that doesn't contain any other allergens! It's not a true cheesecake, as it wouldn't set in the same way, but the flavour and texture is there.
As well as being allergy-friendly, I think it is also low-FODMAPs. The only ingredient I'm not sure about is the dairy-free cream cheese. It definitely doesn't contain lactose! But I'm not sure if it's completely FODMAP free.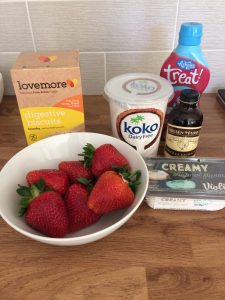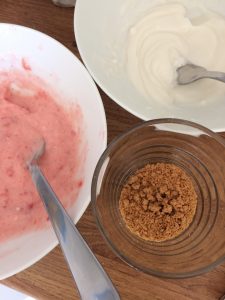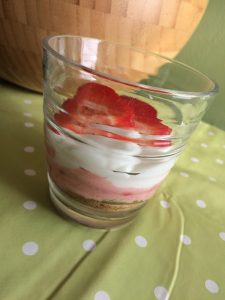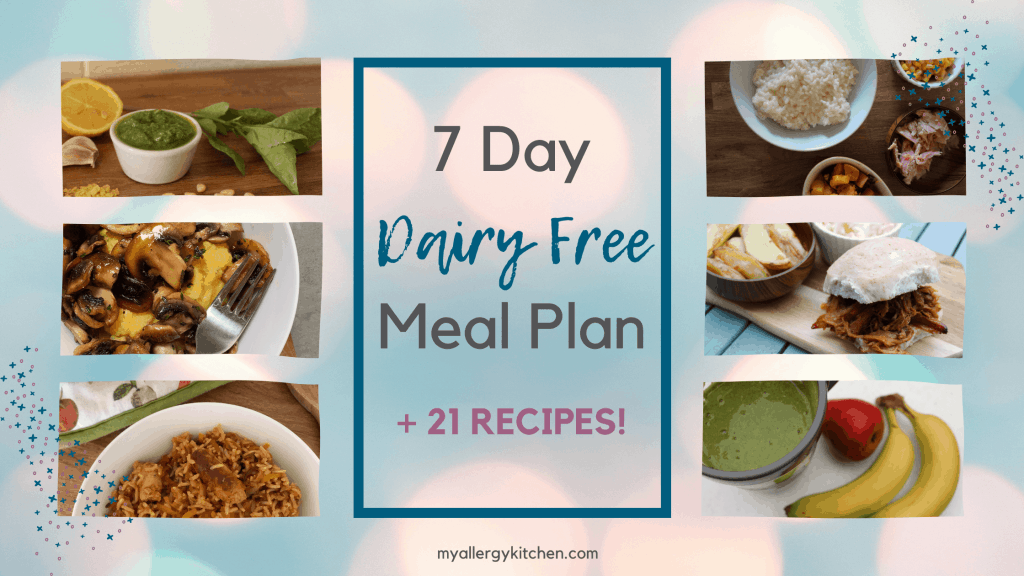 Notes:
Use your favourite biscuit according to your dietary needs. A digestive is the classic base for a cheesecake, and there are lots of free from options out there. Gluten free Hob Nobs are a gluten free and vegan option (but they do contain oats). Of course you could use free from shortbread biscuits or whatever you have to hand.
In my Dairy Free Banoffee Pie recipe post I have a rundown of all the biscuit options and which allergens they contain, so hopefully you can find something that suits!
Dairy-free yogurt - again, there are lots of choices out there nowadays, I prefer Koko dairy free as it doesn't contain any allergens at all. If that doesn't suit there are soya yogurts and nut milk yogurts available too. I used plain yogurt but strawberry would work too of course.
Dairy-free cream cheese - Koko is my favourite taste-wise and Violife is good too. Both are free from the top allergens. Sainsbury's and Tesco have their own brand versions (which contain soya).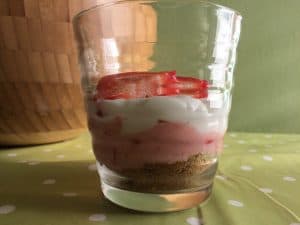 How to make Dairy Free Cheesecake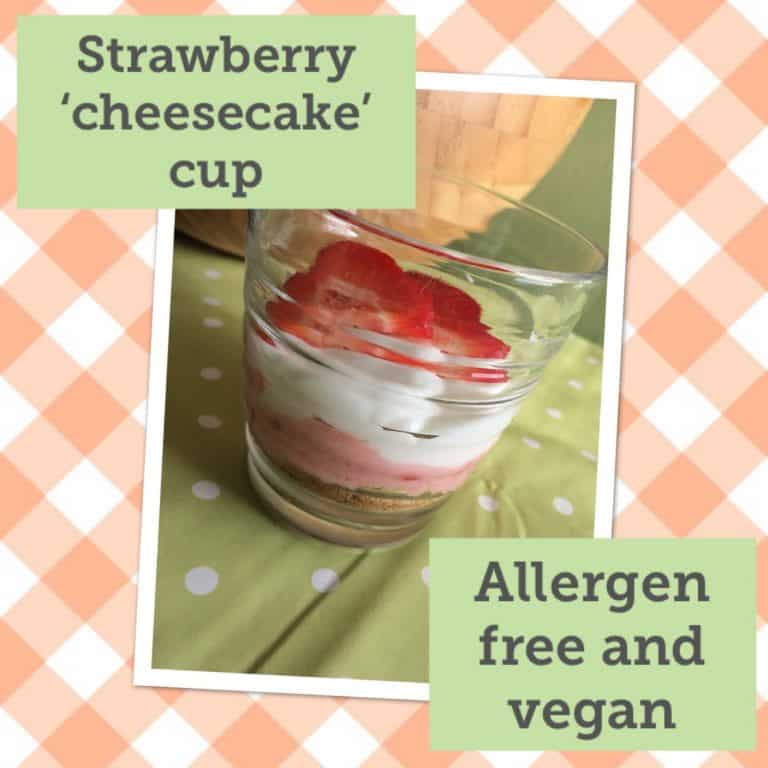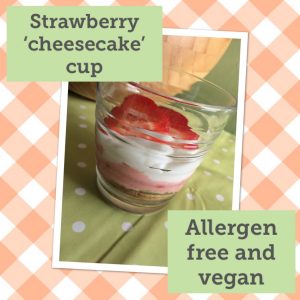 Allergy Friendly Strawberry Cheesecake Cup
Ingredients
1

allergen-free/vegan biscuit

2

tablespoon

dairy-free cream cheese

2

tablespoon

dairy-free plain yogurt

5

medium-sized ripe strawberries

1

teaspoon

icing sugar

¼

teaspoon

vanilla extract

Strawberry sauce

optional
Instructions
Biscuit layer: Crush 1 allergen-free/vegan biscuit in the bottom of a small glass.

Pink layer: in a separate bowl, mash together 1 tablespoon dairy-free cream cheese, 1 tablespoon dairy-free yogurt and 3 ripe strawberries. Carefully spoon on top of the biscuit layer.

White layer: in another separate bowl, mash together 1 tablespoon dairy-free cream cheese, 1 tablespoon dairy-free yogurt, 1 teaspoon icing sugar and ¼ teaspoon vanilla extract. Carefully spoon on top of the pink layer.

Top with sliced strawberries and/or strawberry sauce