Treat Trunk Healthy Snacks Review
Treat Trunk is a brand new healthy snack box subscription service for the whole family, delivered to your door every month. Containing a mixture of new and independent brands along with a few old favourites,
all the snacks are vegan (meaning they are perfect for those with milk and/or egg allergies) and made with natural ingredients. Great to pop into lunchboxes, for after school, or just when you're out and about. As an allergy parent, you always gotta have snacks in your bag, right? Plus the box includes a couple of grown-up treats for parents as well. We often get so busy we forget to look after ourselves. I know I get hangry sometimes, so having a healthy snack to hand is great to stop me reaching for the biscuits!
#ad #gifted
Finding natural, healthy snacks can be time consuming, so Treat Trunk does the hard work for you and sends you a selection of snacks every month. One less job for us parents to worry about! The exact contents of the box will vary each month and are kept secret so you get a fun surprise, (or you can email them at hello@treattrunk.co.uk for full details). The video below has a sample and they have more pictures of sample boxes on their site.
What's in a Treat Trunk?
Each Treat Trunk box contains 20-25 snacks for £35.99, or Treat Trunk Mini with 10-15 snacks for £19.99. They also offer a one off 'gift' Treat Trunk for £39.99 which you could use as a trial. At first I thought it sounded expensive, but to buy all these snacks myself would either mean spending a lot of time trawling around health food shops. I could order them from each company individually. but this would again be time consuming, not to mention the astronomical postage costs that would be involved. As prices include delivery, Treat Trunk offers great value for money.
What about allergies?
As the snacks are vegan, they are all dairy and egg free, woohoo! Some may be listed as 'may contain' milk due to the factory in which they are made, but if you let them know you can't have these, they won't put them in your trunk. And a heads up, many of the snacks do contain nuts. Some of them have wheat, spelt or oats, or are made in a location where wheat is processed, so they cannot be classed as 100% gluten-free. So unfortunately they won't be suitable for everyone – although this is something they hope to offer in future. If you have a particular dietary need, email them at hello@treattrunk.co.uk and they will do their best to help you.
What's the story behind Treat Trunk?
I 'met' Sally on Facebook several years ago through a local parenting group (although somehow, we've never yet met in real life! C'mon Sally, let's do coffee!). She has two young children, and has started the Treat Trunk business from home with her husband, Adam. We've had many conversations over the years and I know she's absolutely dedicated to giving her children the best start in life with a super healthy diet and lifestyle.
Our Sample Box
Sally was kind enough to send me one of her December boxes, with some lovely Christmas-themed snacks. We absolutely loved their packaging – bright and colourful and 100% recyclable too!
Inside, there is a little personalised booklet which tells you a bit more about some of the snacks and why they are included…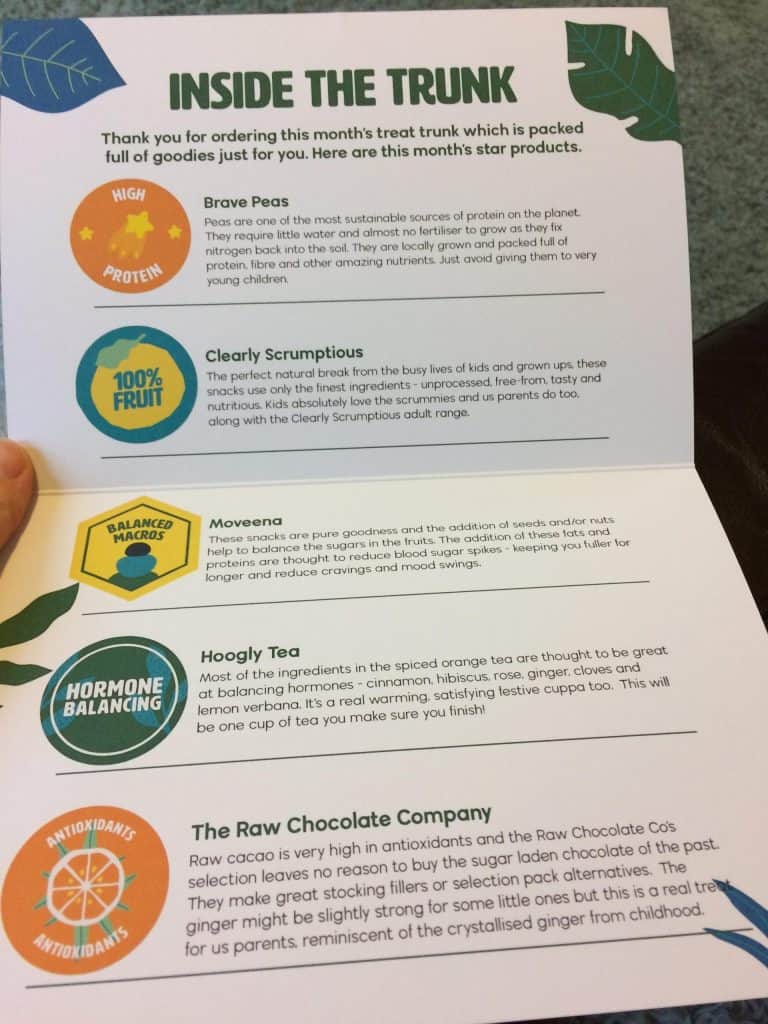 And of course, the most important part…the snacks!
We had great fun opening the box and the lively packaging is really appealing. It was really exciting to find what surprises were inside, with lots of "oohs" and "aahs". The girls wanted to get stuck straight in – I did have to remind them that it was a *month's* worth of snacks and not all to be eaten in one go!
Our Favourites
(My girls (aged 8 and 4) loved the Bear fruit snacks and Nakd bars – brands they already know and love. They also enjoyed the Scrummies flavoured raisins, and Raw Chocolate Co chocolate raisins. They loved being able to choose what they wanted from a selection. This encouraged them to try new things that they wouldn't normally have eaten. As well as being dairy free, all the snacks were soya free, even the chocolate ones! My 4-year-old (who has milk and soya allergies) was very happy to have free rein.
My favourites were the Wholey Moly Cacao & Orange cookie, Oloves olives, and Nibble sour cherry protein bites. I was very happy about the Ombar raw chocolate too. That's an old favourite of mine that I find it hard to get hold of. There was only two snacks that I really didn't like. They were the Raw Chocolate Co chocolate covered stem ginger, and one of the Moveena linseed fruity snacks with ginger. I guess ginger is just not my cup of tea. Luckily, there were some yummy herbal teas by Raduga and Hoogly that were my cup of tea *badum tish*…. Wait, come back, I promise no more terrible jokes! I tell you what, I wish Treat Trunk had been around when I was breastfeeding my baby with food allergies!
Since receiving the box for this review, I've decided to become a subscriber. (PSSST…enter code NEWSTART25 to get 25% off your first order, by 31st Jan 2019). It was a fun family moment opening the box and I'm looking forward to doing it every month. It was also great to see the kids getting excited about trying healthy snacks that I am happy for them to eat! I think it will be a fun way to get a bit more variety in their diets. Plus I enjoyed eating some of the snacks too! And I love the fact that I'm supporting both a local business mum that I know as well as some small independent snack companies.
Giveaway Time!
Edit: This giveaway is now closed.
Now's your chance to win your very own Treat Trunk gift box, worth £35.99! I'm running a giveaway all this week over on my Instagram page @myallergykitchen, so head over there to enter!
Hmm…writing this has made my tummy rumble…pass me a snack!
Disclaimer: I was sent a free Treat Trunk box for the purposes of this review. All opinions are my own – I loved it so much I'm now a subscriber!