Could You Handle The One McPeake Challenge?
Imagine that eating out means you are putting your health and possibly even your life in the hands of strangers.
Imagine that supermarket shopping means reading every ingredient on every label of every item of food you buy.
Imagine that every day requires planning and preparation just to make sure you can eat.
Imagine having to risk assess everything you put in your mouth.
This is what food allergy sufferers deal with every day of their lives.
Could you handle the challenge?
What is the One McPeake Challenge?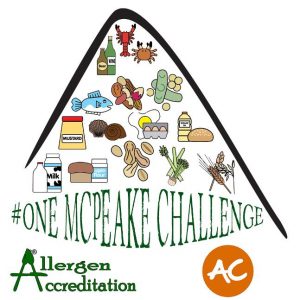 To take up the challenge, people are giving up one of the top 14 food allergens for the first 2 weeks in September.  Like millions of food allergy sufferers do every single day.  Simple, right?  Or is it?
There are specific activities within the challenge, and participants have been asked to feed back on the following:
visit local supermarkets and smaller shops to purchase appropriate foods
dine out at least once
order a takeaway
make a packed lunch
buy a snack whilst out
reactions of family, friends, colleagues etc
The challenge aims to raise awareness of food allergies as well as some funds for the Anaphylaxis Campaign, a UK charity supporting food allergy sufferers.  Their target is to raise £1500 – donate now.
Who is behind the One McPeake Challenge?
Jacqueline McPeake originally came up with the idea, winner of the FreeFrom Hero award at the 2018 FreeFrom Food Awards for her work as catering manager at Manchester Metropolitan University.
The challenge is now being taken forward on a larger scale by Jaqueline's new venture, Allergen Accreditation.  This initiative aims to help catering outlets comply with the laws on allergen labelling and meet the needs of people with food allergies.  There are an estimated 2 million people in the UK with diagnosed food allergy, and 600,000 with coeliac disease.  This is a huge number of people and by becoming a trusted food provider for people with food allergies, businesses can win themselves a lot of loyal customers.
Who is doing the challenge this year?
To find the latest updates on the challenge search on social media for the hashtag #OneMcPeakeChallenge