Pumpkin Seed Butter Freezer Fudge (Allergy Friendly, Vegan)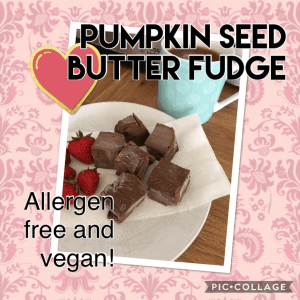 Here are the reasons why I LOVE this recipe and I'm so excited to share it with you today:
It's made with healthy ingredients that are really good for you: medjool dates, pumpkin seed butter and coconut oil.
It will satisfy your cravings if you are on a restricted diet due to food allergies, because it is naturally sweet and contains healthy fats.  That's what makes it taste so yummy.
You can make a big batch and it will keep in the freezer for weeks.  It's like a gift to yourself that keeps on giving!
It is so satisfying that you can't eat too much of it at once, it really will last you a while!
It's chocolatey and you can make vanilla, orange, or mint versions.
It will give you an energy boost – perfect for that mid-afternoon slump.
It doesn't contain any allergens.  Ideal for those with multiple allergies.  It's also vegan.
Hopefully that's convinced you to give it a try!  I was thinking of all you breastfeeding mamas of babies with allergies out there who really deserve a treat.  Let me know what you think! Here's the recipe:

Pumpkin Seed Butter Freezer Fudge (Allergy Friendly, Vegan)
Ingredients
200g Medjool dates, pitted
5 tbsp pumpkin seed butter
2 tbsp coconut oil
1.5 tbsp cocoa powder
¼ tsp vanilla, orange or mint extract
Instructions
Cook the dates in a saucepan with a little boiling water for about 5 minutes, until soft and sticky.
Drain any excess water and leave to cool for a few minutes.
Put all the ingredients into a food processor and blend until smooth.
Line a small dish or tupperware pot with baking paper and pour the mixture in. Cover and freeze for at least 3 hours. Cut into squares or slices.
Keep stored in the freezer. Remove and allow to warm up to room temperature for a few minutes before eating.