Chicken, Leek and Mushroom Pie (Allergy Friendly)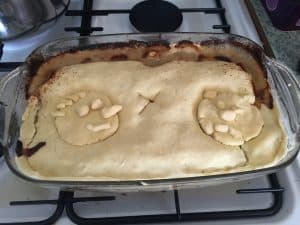 Chicken, leek and mushroom pie is one of my favourite dinners, ever since I learned to make it for the first time in home economic classes at school. Who doesn't love pie? The crisp pastry on top and the delicious saucy filling underneath. Yum! My husband actually made the pie shown in the photo, using this recipe.  He was obviously in an Angry Birds kinda mood that day!
To save time I like to use ready made pastry, but you can of course make your own if you prefer.  There is a great recipe for allergen-free shortcrust pastry in The Intolerant Gourmand by Pippa Kendrick.  Did you know that Jus-Rol ready made pastry doesn't contain any dairy or egg.? The only allergen it does contain is wheat, and there is a gluten-free version available as an alternative, so there's an option for everybody.
This recipe calls for cream.  If you can eat dairy, you just need to use double cream.  If you are a dairy-free person, you can substitute with your favourite dairy-free cream alternative such as oat cream, soya cream or coconut 'cream'.

Chicken, Leek and Mushroom Pie (Allergy Friendly)
Prep time:
Cook time:
Total time:
Ingredients
4 leeks, sliced
4 sprigs fresh thyme, stalks removed
olive oil to fry
250g baby chestnut mushrooms, halved
4 chicken breasts, diced
50g plain flour
250ml chicken stock
150ml double cream, or dairy free alternative
1 pack prerolled pastry - puff or shortcrust
1 egg, beaten to glaze (optional)
Instructions
Preheat the oven to 180C
In a large saucepan, fry the leeks and thyme in oil until soft.
Add the mushrooms and chicken and cook until the chicken is no longer raw.
Add the flour and stir well to combine.
Season with salt and pepper and stir in the stock and cream.
Pour the mixture into a pie dish.
Unroll the pastry and place on top of the pie. Cut to fit with scissors. Cut a cross in the middle and brush with the beaten egg, if using.
Bake in the oven for 30-40 minutes until golden.